70 Best Newborn Gift Ideas for Girls & Boys
A thoughtful and useful list of baby newborn gift ideas, for girls, boys, parents, unique and personalized gifts. Some of these gifts will make parents life a whole lot easier and time is priceless especial for parents with a newborn baby. We understand that some of you have a lower budget, especially if the parents aren't family or close friends, so we included a list of 12 gifts under $10, so start scrolling and pick the perfect gift.
---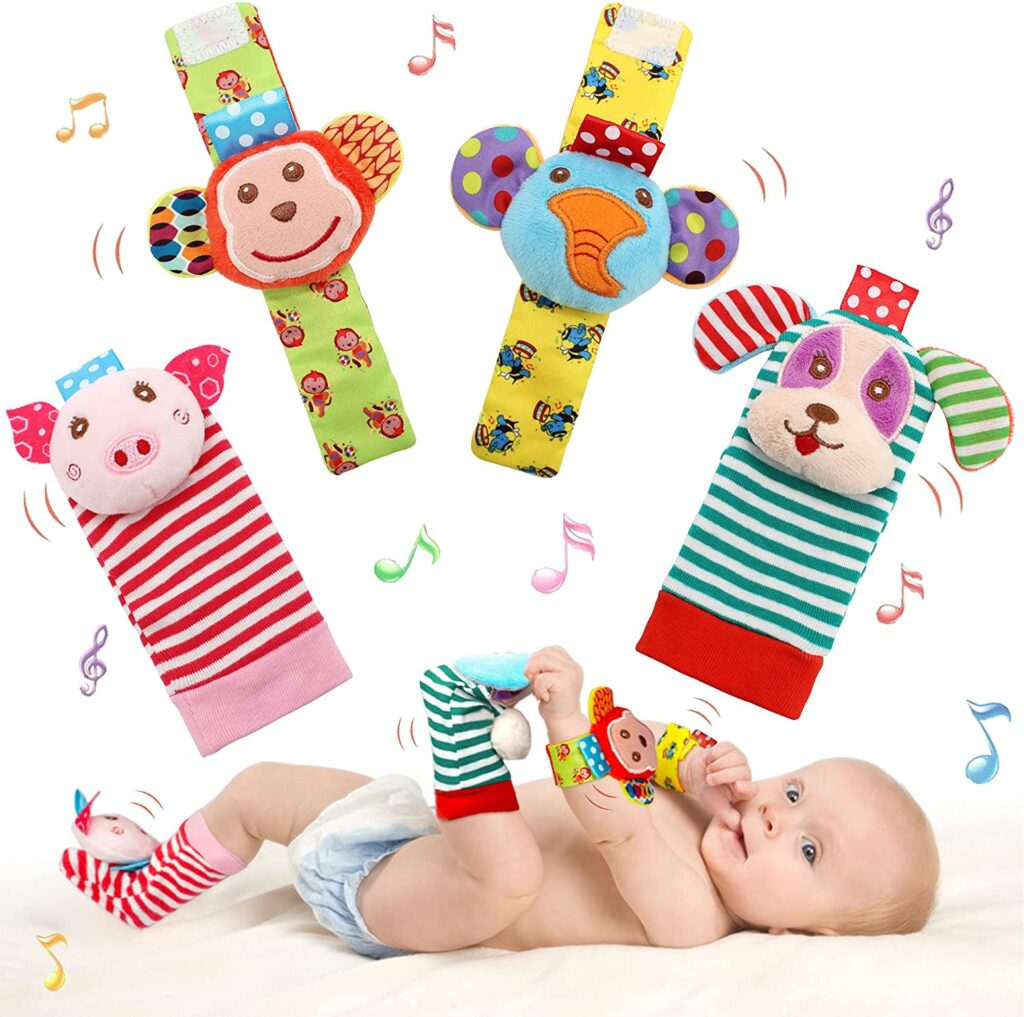 Baby Foot Finder Socks
Have you ever seen such cute baby socks? These 4 cute animal socks are made of high quality and eco friendly material, very soft and comfortable for babies, they also have they also have bells inside and most importantly, full of colors.
---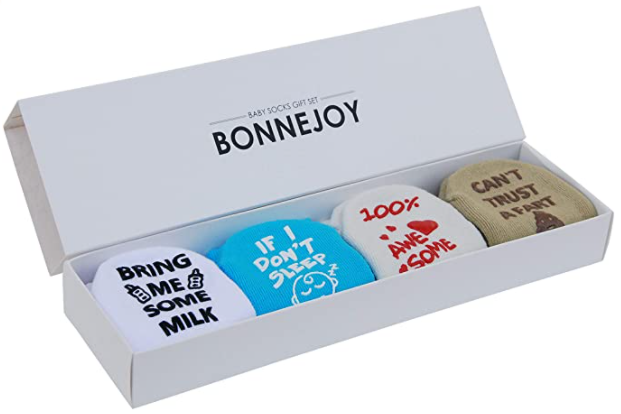 Funny Newborn Socks
These 4 pair cuty and funny socks will bring even more smiles when anyone sees the baby, they come in a nice box which makes it a perfect newborn gift for girl or boy.
---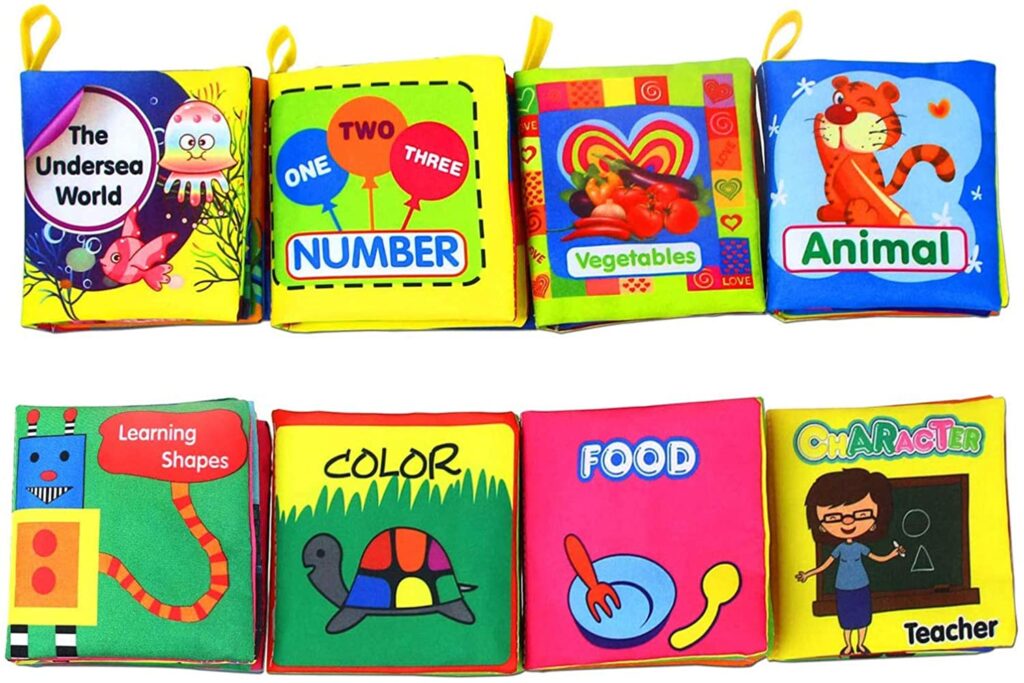 Baby's First Soft Cloth Book Set
Although these set of non-toxic soft cloth book set are for 12 to 18 months toddlers, that time will come fast, so if you are looking for an educational baby gift, this set is perfect for babies to start learning.
---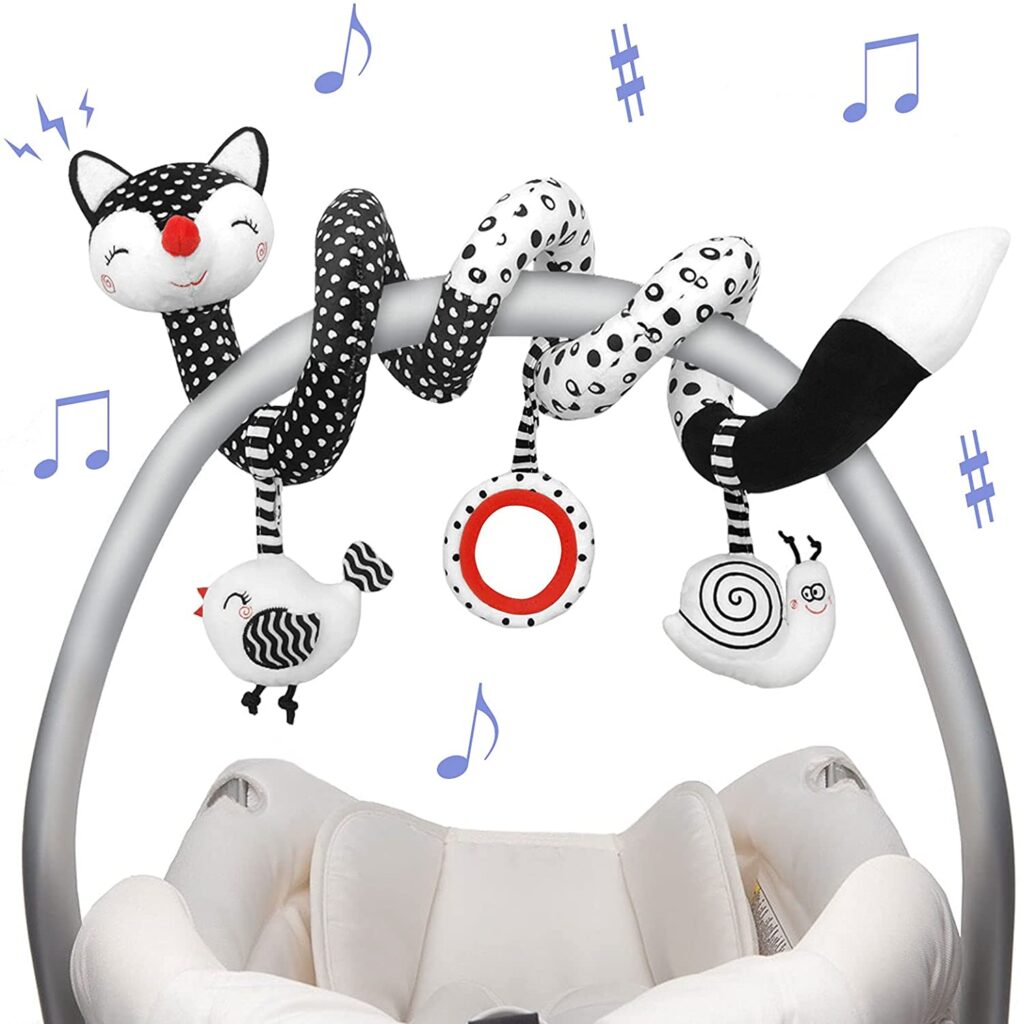 Spiral Plush Toy for Car Seat
Perfect to keep the baby entertained while driving, especially for long drives. Black and white series of spiral activity toys are said to be the best choice for the baby's vision for babies up to 12 months, the chicken makes a BiBi sound when squeezed, the middle one has a mirror and the snail makesa bell sound when shaken.
---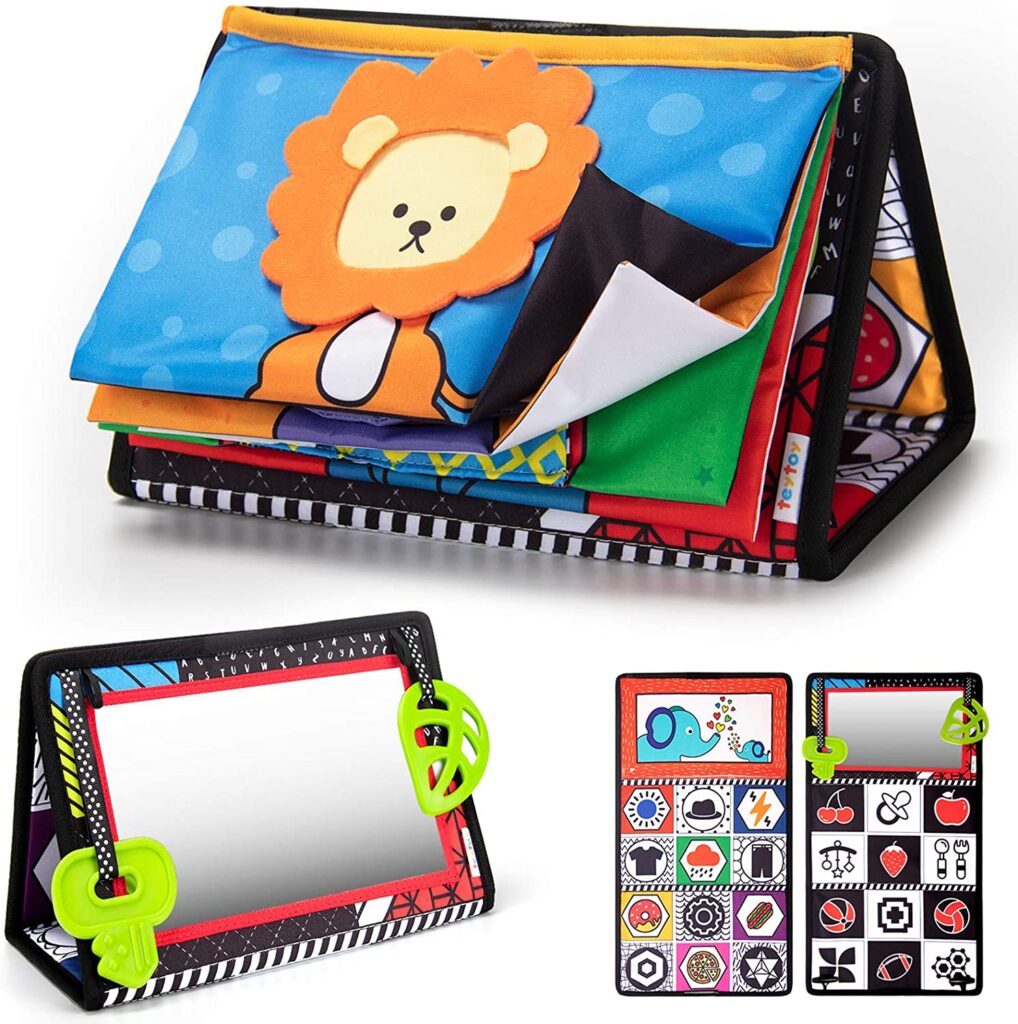 Floor Book for Newborn
This cute little book is a great gift for newborns, it has a mirror, baby teethers, bright colors which are great for the baby's brain stimulation. The Velcro strips help it stand up well on it's own, which makes it perfect for tummy time.
---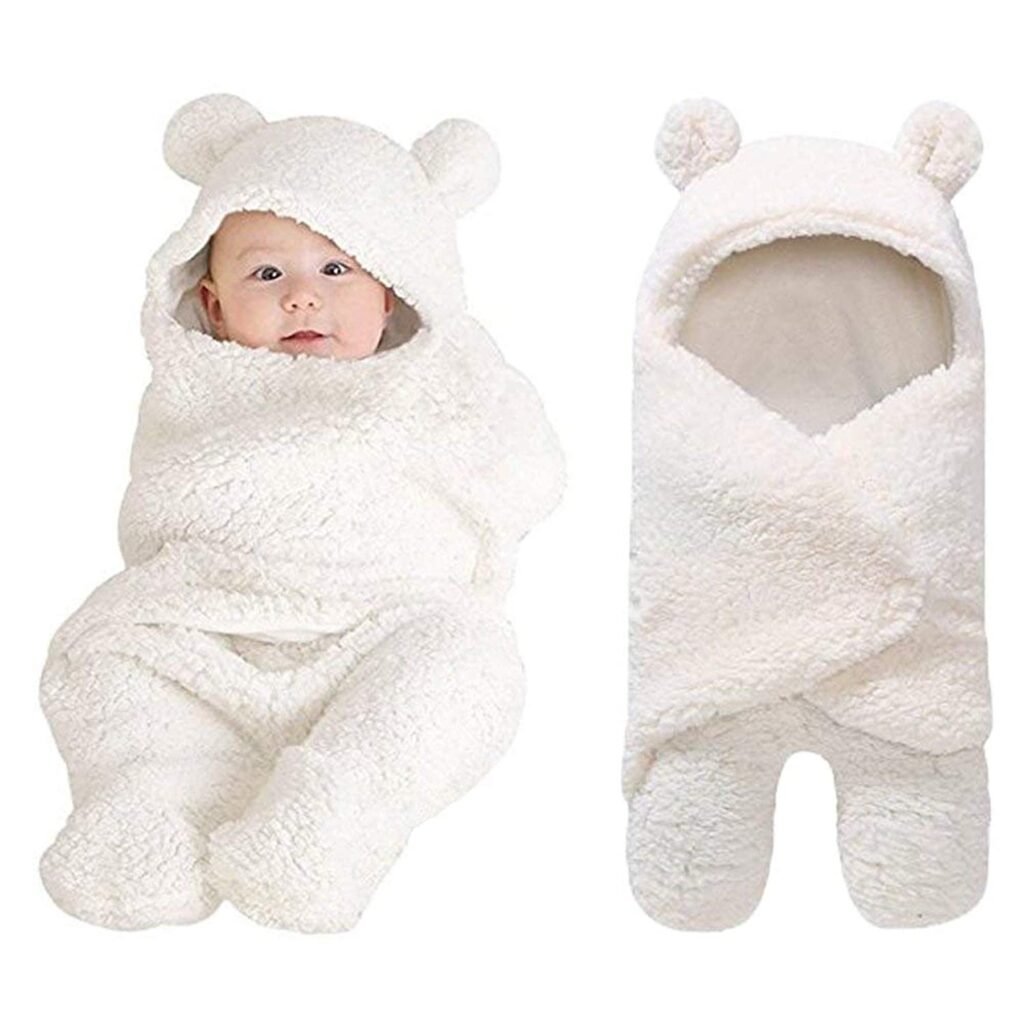 Hooded Baby Blanket
Gift fall or winter babies this adorable extra soft hooded blanket, it's like a sleeping bag with cute little ears. It has a windproof cap design, so mummy and daddy will love this, especially on those cold windy days.
---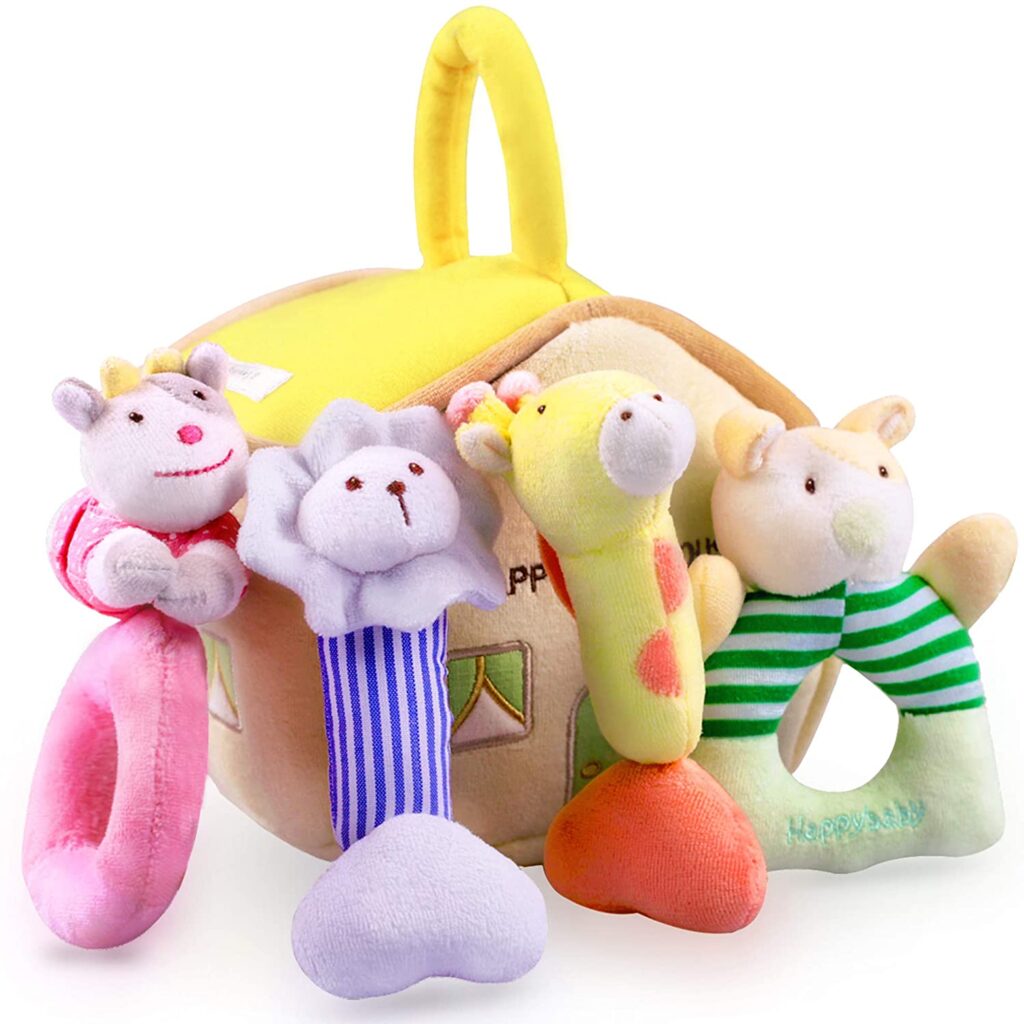 4 Plush Baby Soft Rattle Toys
A set of 4 adorable farm stuffed animals that will surely bring joy to the newborn baby, these cute plush toys make sounds by squeezing or shaking and they all come packed in a soft house bag that can be hanged toa stroller.
---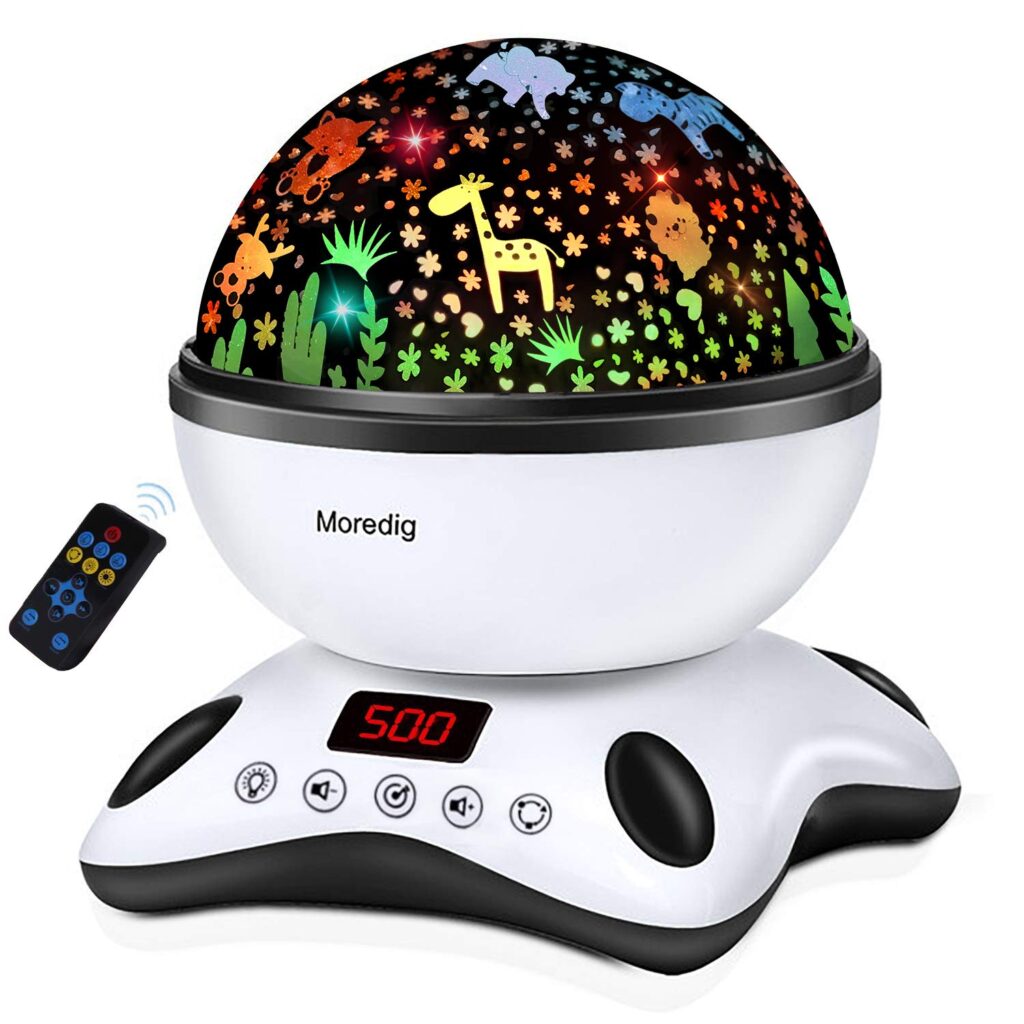 Rotating Baby Projector
With an up to 500 minutes timer on the 260 degree rotating 8 color changing projector along with 12 different songs, it will surely entertain the newborn for hours. This newborn gift will be handy when the parents need to rest for a while, so this cool gift will serve everyone.
---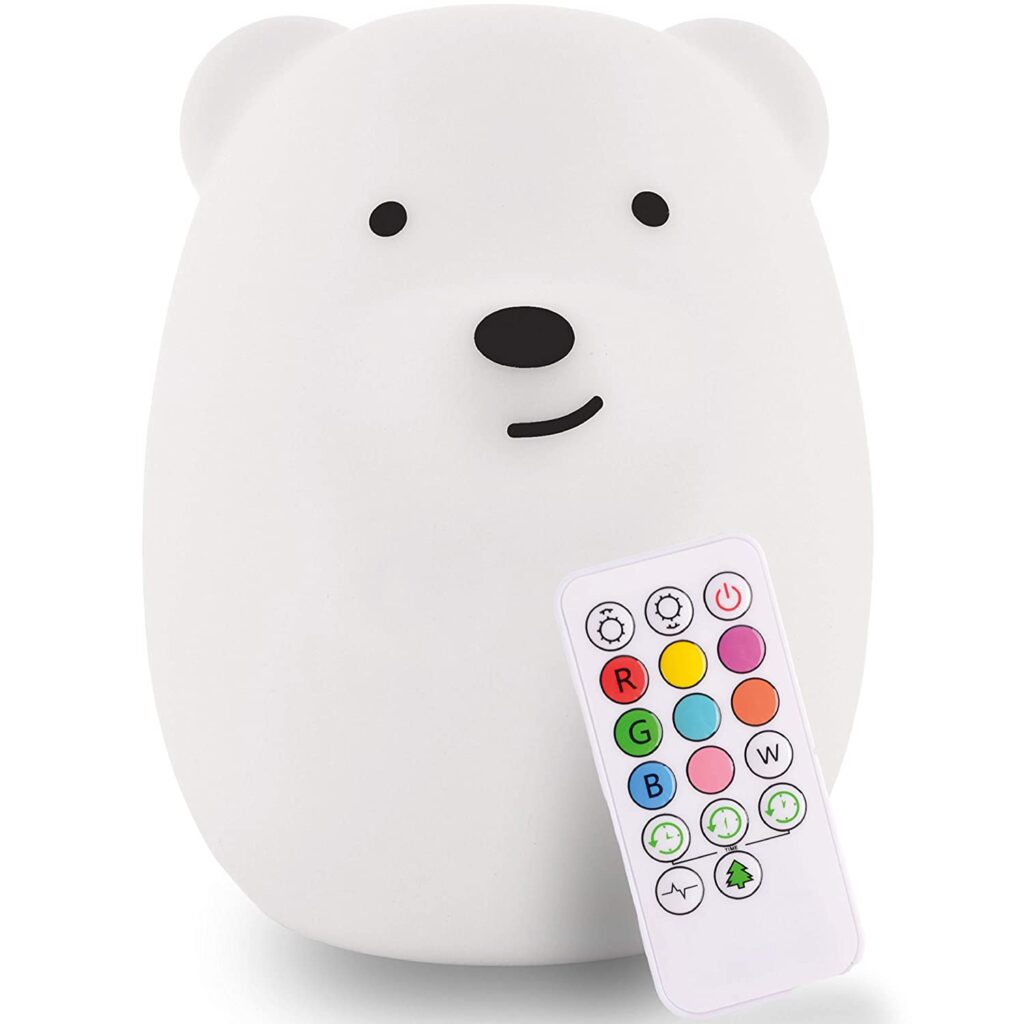 Bear Kids Night Light
This gift will come in handy when the newborn start to cry in the middle of the night and the parent need to respond to their baby and avoiding hitting the toe to some kind of furniture, everybody knows how painful that can be. The night light is USB rechargeable with auto shutoff and has 9 different colors, to which you can pitch in this idea, when the baby starts to learn colors, the parents can switch lighting colors with the remote and the toddler has to say the correct color.
---
Newborn Gift Ideas for Girls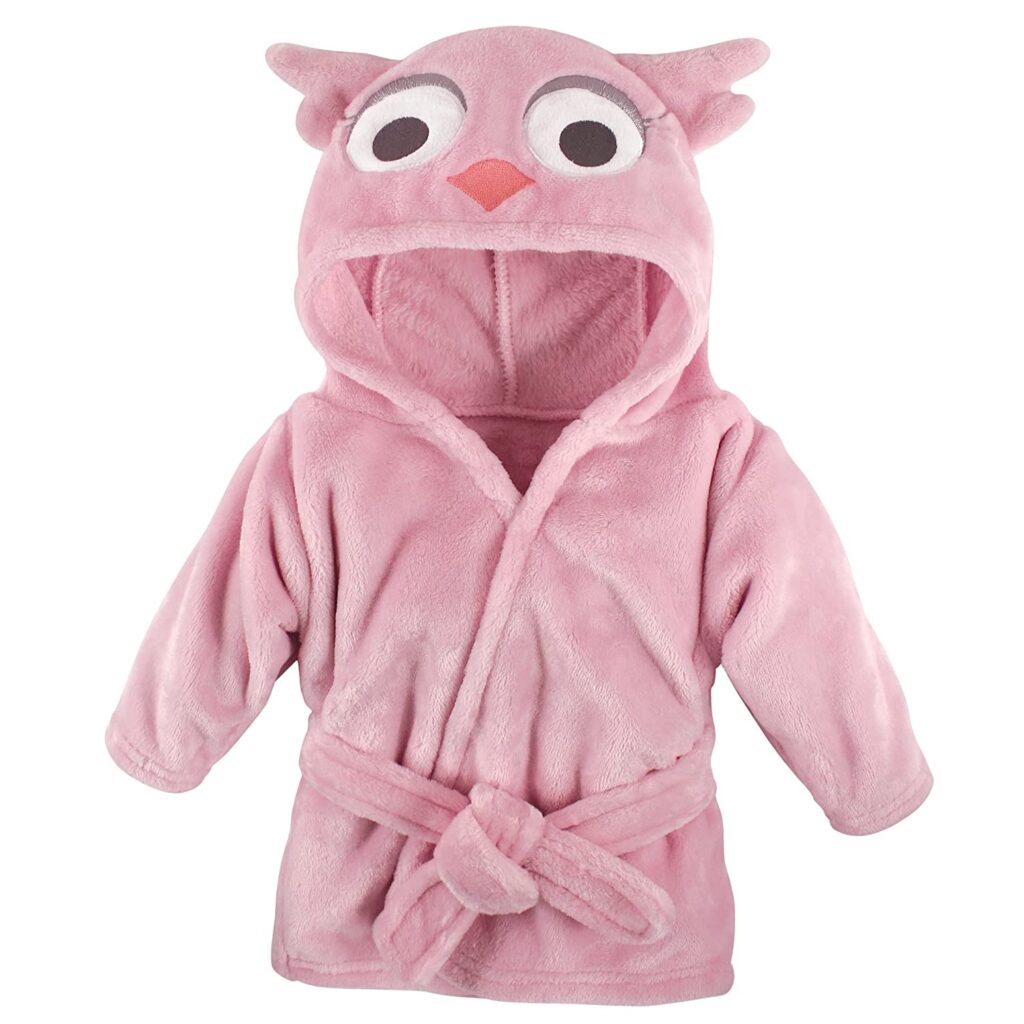 Newborn Pink Owl Face Robe
With over 23,000 positive reviews, it's safe to say that this is a good buy. You can scroll through over 25 different animal designs if you prefer something other than the pink owl.
---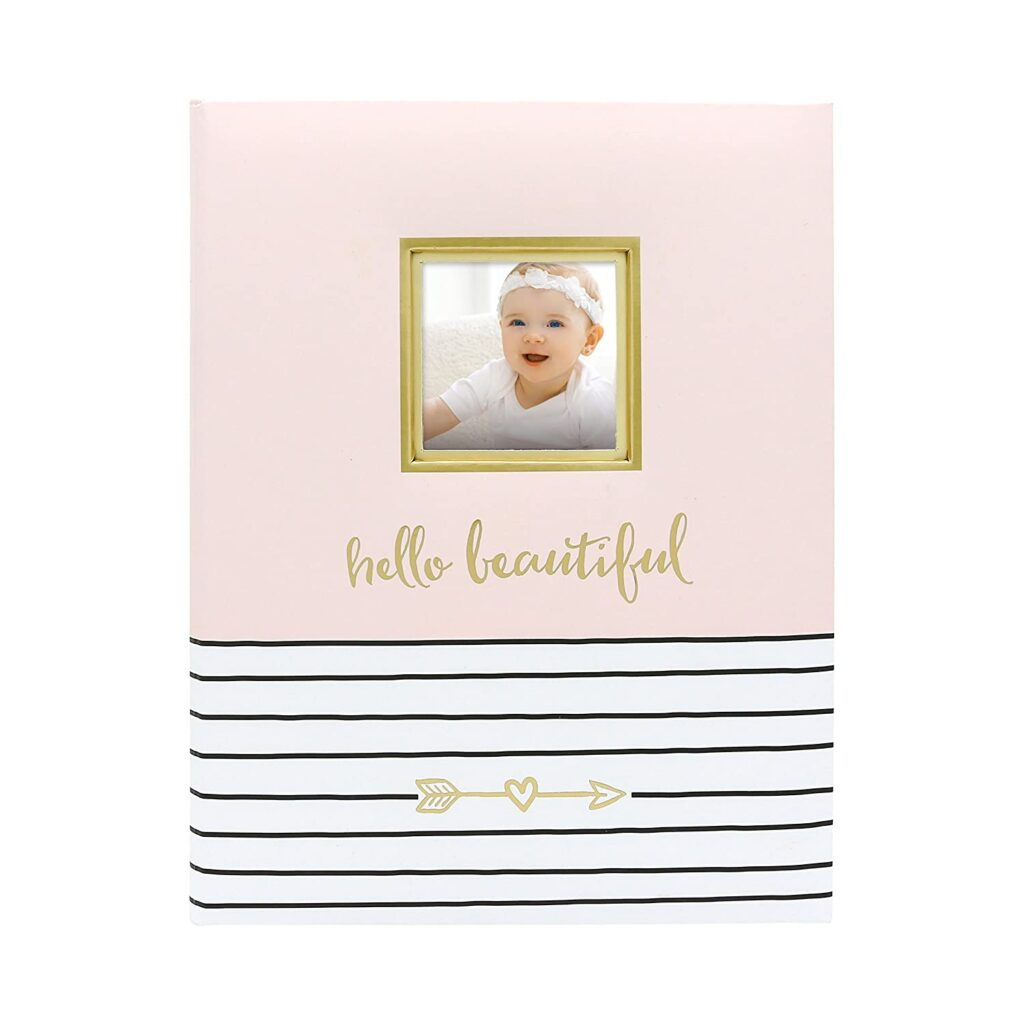 Hello Beautiful 5 Years Memory Book
A 5 year memory book for the little beautiful new baby girl, the parents will love this book and the baby will too one day, unless the parents is showing of the the new boyfriend in the future.
---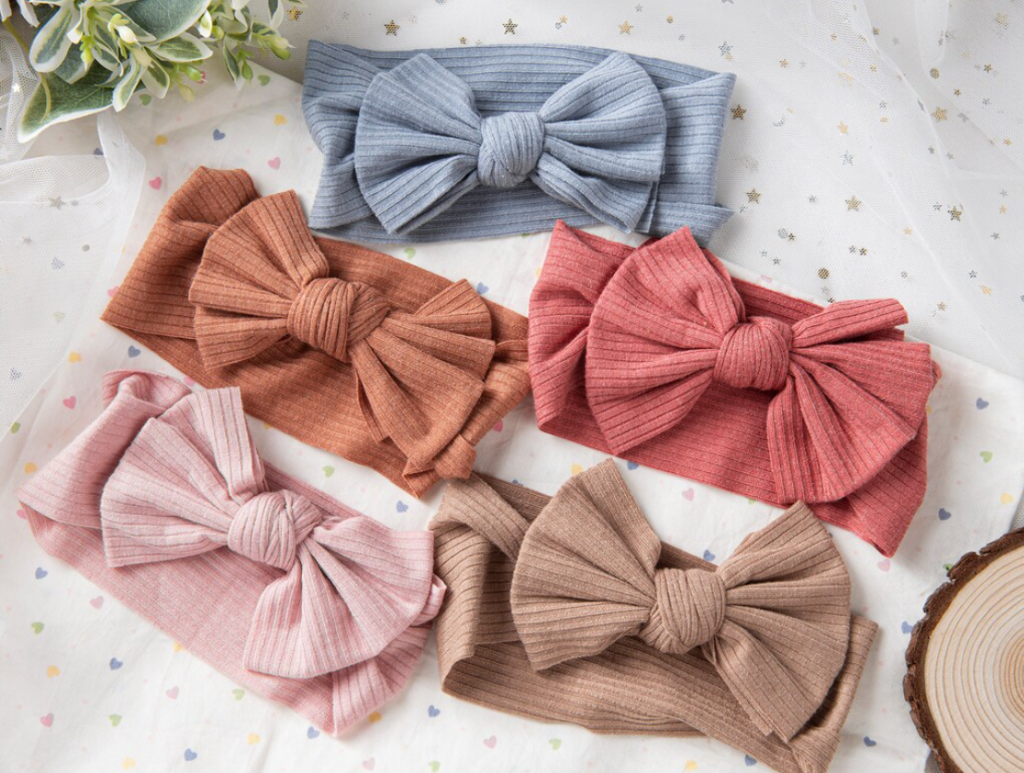 Baby Bow
Made of ultralight weight elastic nylon, very soft and comfortable, won't hurt or sting the baby's skin and available in a variety of colors to match any style of clothing, suitable for any occasion.
---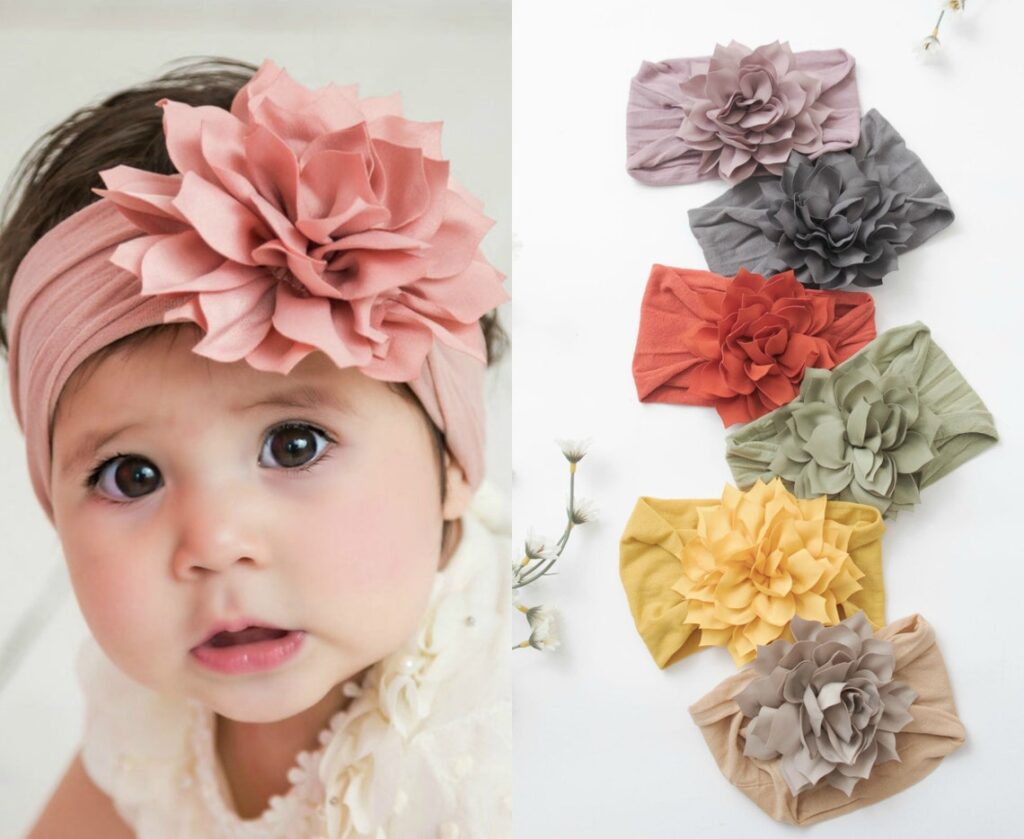 Baby Flower Headband
Perhaps you liked the baby bow idea above, but prefer a flower, can't make up your mind, get one of each.
---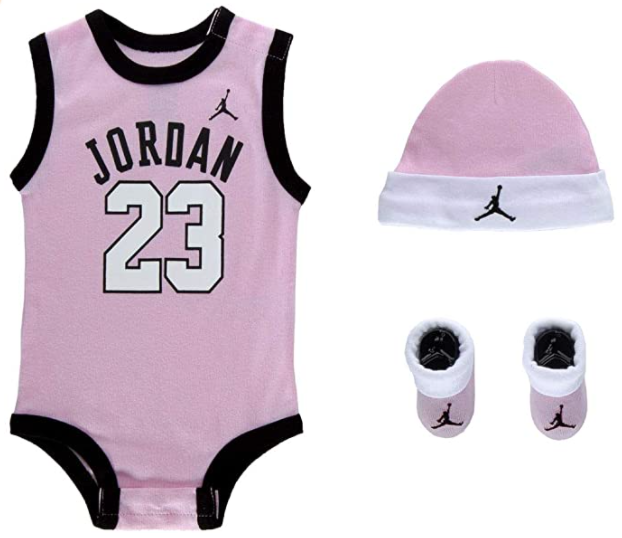 Jordan Baby Girl 3-Piece Set
For the sporty type of parents, a super cute Jordan three-piece set of hat, bodysuit and Jordan booties to help keep the newborn covered in comfortable warmth and in a sporty style.
---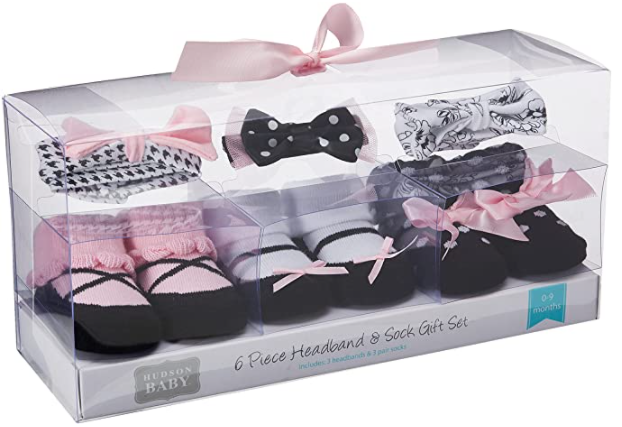 Baby Girl's Headband and Socks Gift Set
One the parents put these on the baby girl, no one will resist the overload of cuteness and they will surely praise your little newborn gift set.
---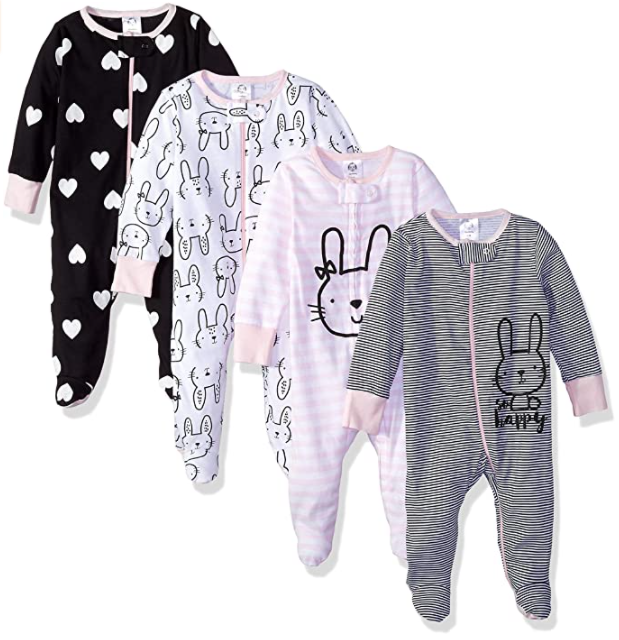 Baby-Girl 4 Pack Sleep 'n Play
These cute baby onesies are a must have and a pack of 4 is a good start for the parents, remember babies need to be changed very often and having a cute 4 pack will surely help them out. They have other designs if you are not fond of the ones in the image.
---
Newborn Gift Ideas for Boys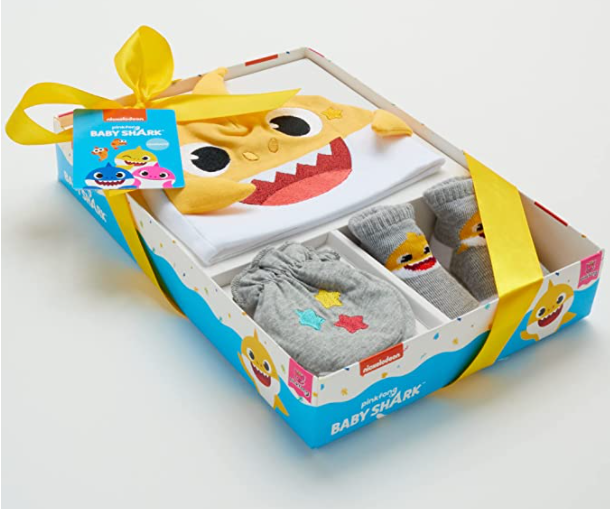 Nickelodeon Boys' Baby Shark Gift Set
Babies are cute and there's no denying it, so why not dress up the little boy and make him look even cuter, you probably know the parents well enough that they would agree with you.
---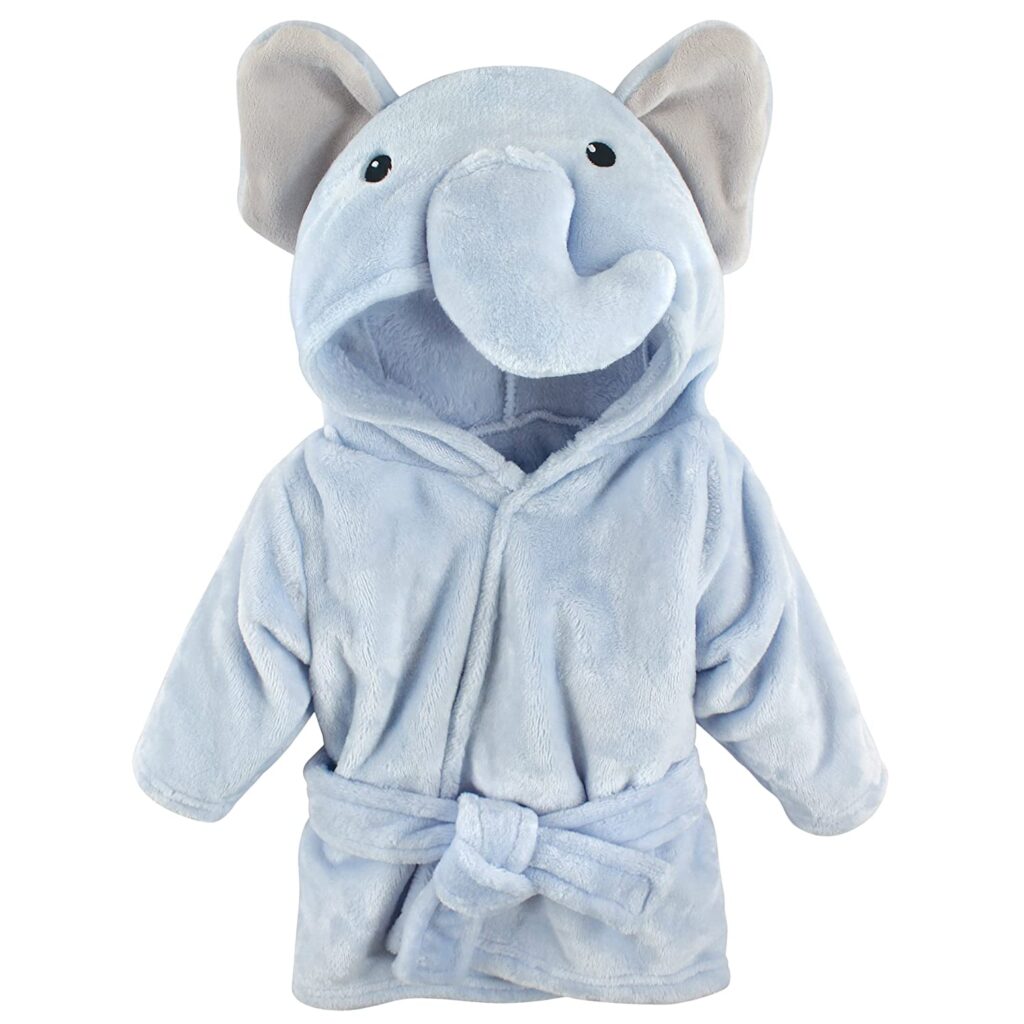 Newborn Elephant Face Robe
A cute gift for a cute little boy, this soft and adorable baby robe is praised by thousands of parents, so you can't go wrong with this, if you don't like the elephant, there is a large selection of different animals and designs to choose from.
---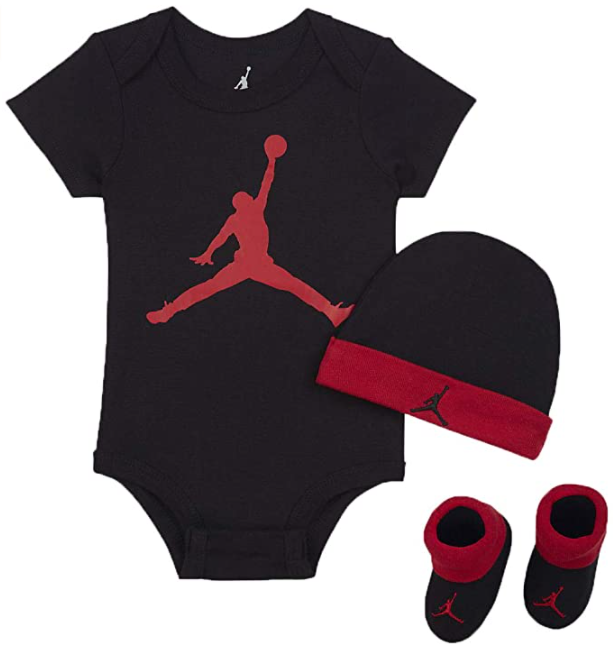 Jordan Baby Boy 3-Piece Set
For the sporty type of parents, a super cute Jordan three-piece set of hat, bodysuit and Jordan booties to help keep the newborn covered in comfortable warmth and in a sporty style. Available in multiple colors and designs.
---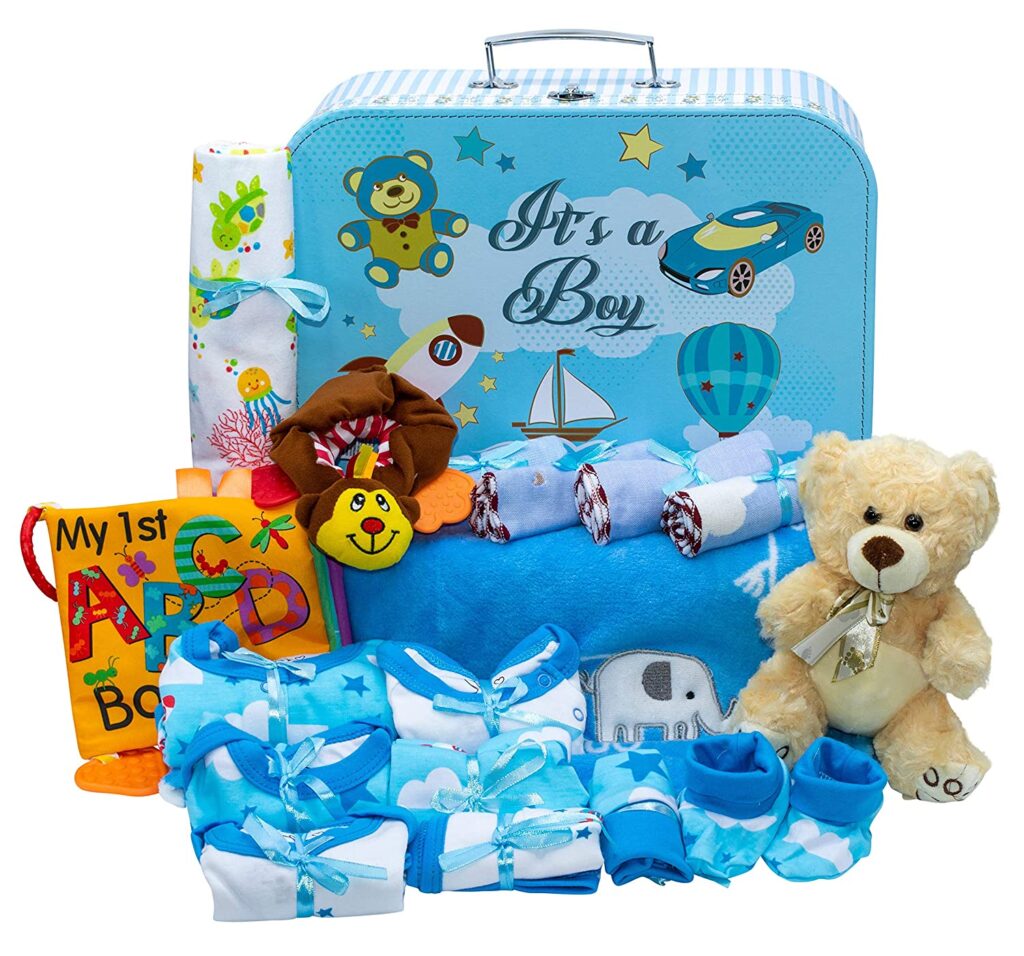 Welcome to The World Baby Boy Gift Set
This 17 piece gift set is the perfect gift idea to welcome the cute baby boy to the world. The eight piece clothing is for a 3 month baby and along with the rest they come packed in a cute "It's a Boy" suitcase. Optionally, you can also get a smaller
---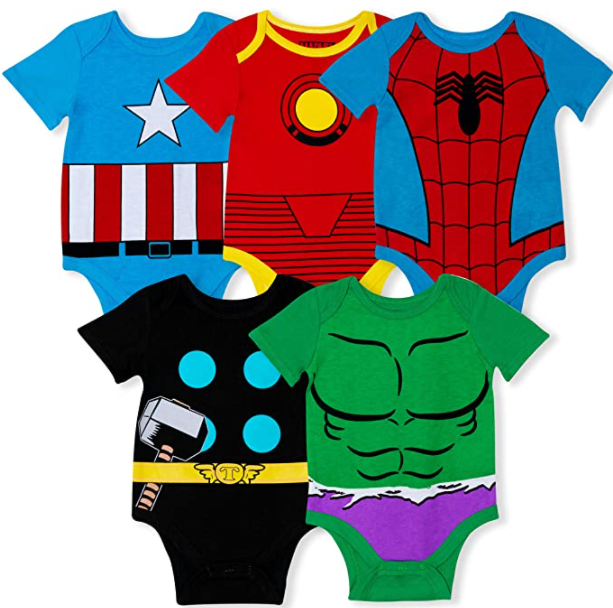 Marvel 5-Pack Avengers Baby Creepers
This one is for the superhero fans, these Iron Man, Captain America, Spiderman, Hulk, & Thor baby creepers are Marvel licensed high quality material and if the parents love comics they will be amazed with this gift. If you wish to spend a little less, a 14 piece gift set for $49.99 is also available.
---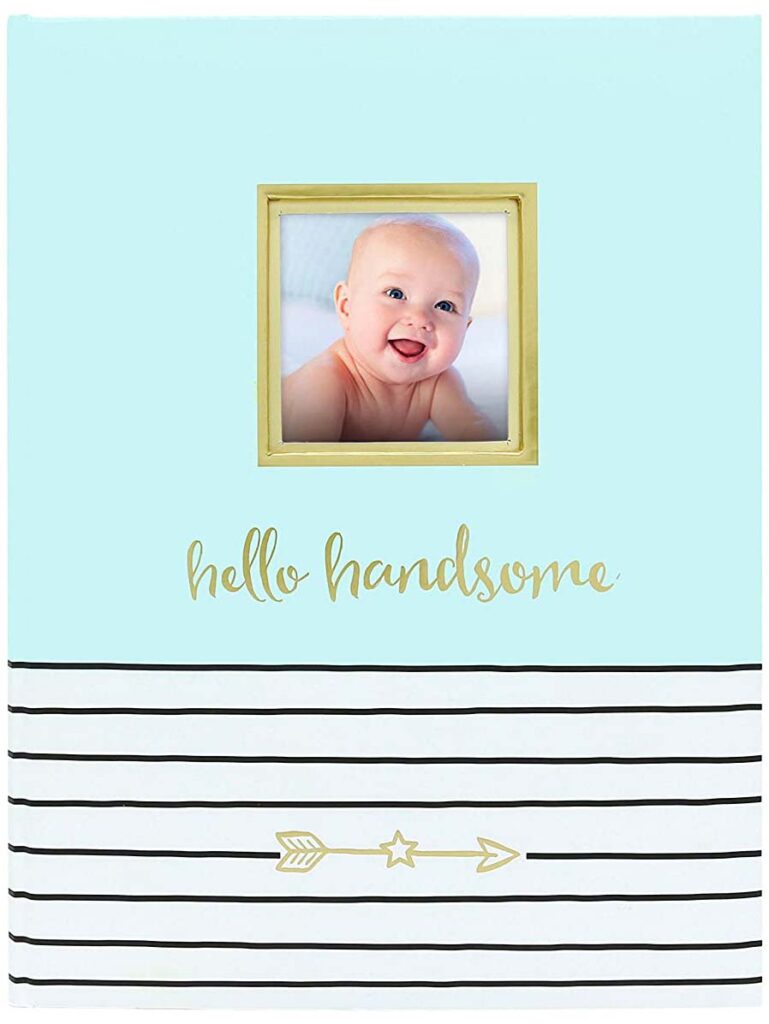 Hello Handsome 5 Years Memory Book
Memories are very important and everyone should cherish them, this book will help the parents keeping their favorite memories of the baby boys' first 5 years.
---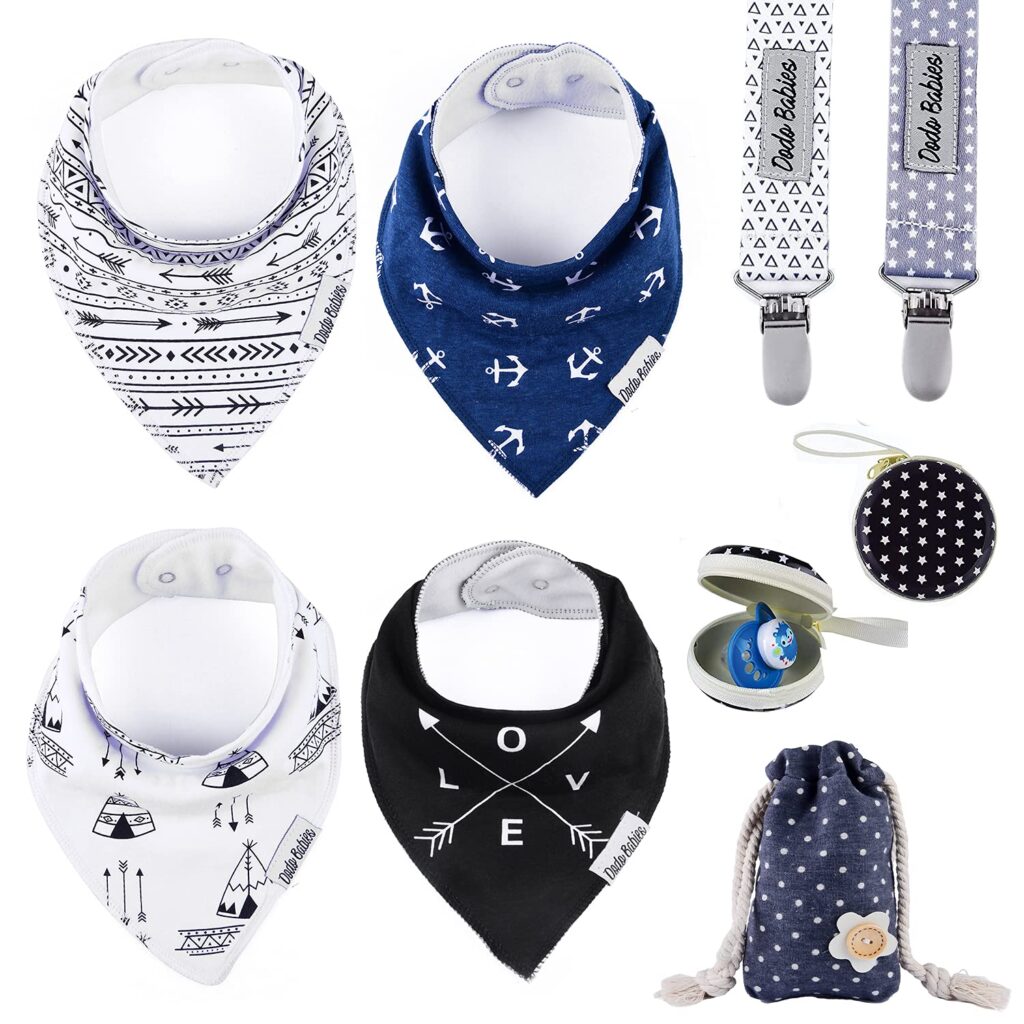 Dodo Baby Set
Although some of the things included in this super cute set aren't for newborn, they will start using them in no time. Babies look very cute in bandanas and with 4 different designs it won't be hard to match the rest of the outfit, looking stylish.
---
Newborn Gift Ideas for Parents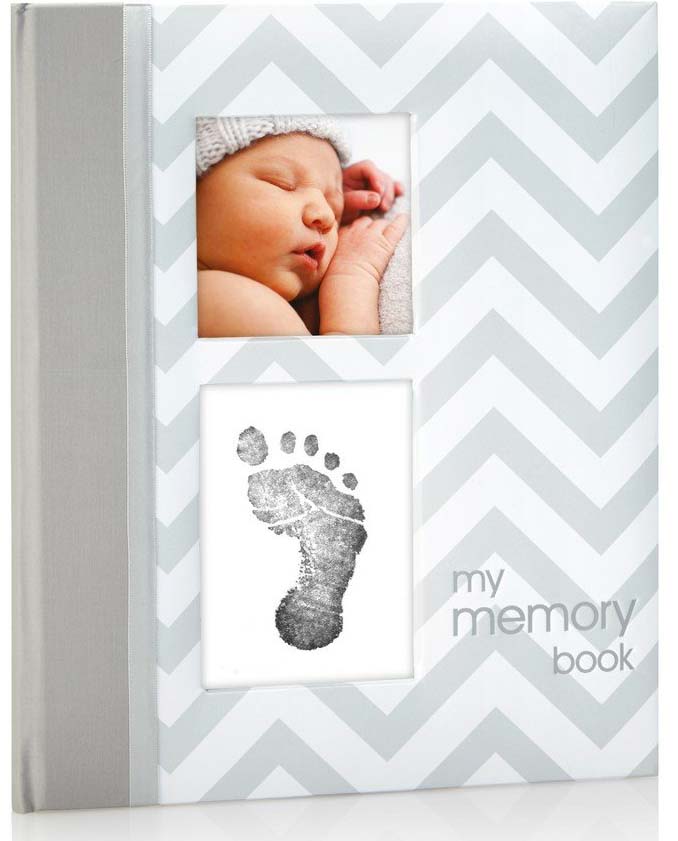 First 5 Years Baby Memory Book
This is something that most parents regret not doing, this is the perfect keepsake to cherish every moment with their adorable baby since day one. This book will include the whole baby's journey to include pictures from hospital, foot print, all the firsts, such as, first crawl, first laugh, first words etc… The whole family will love this for many years.
---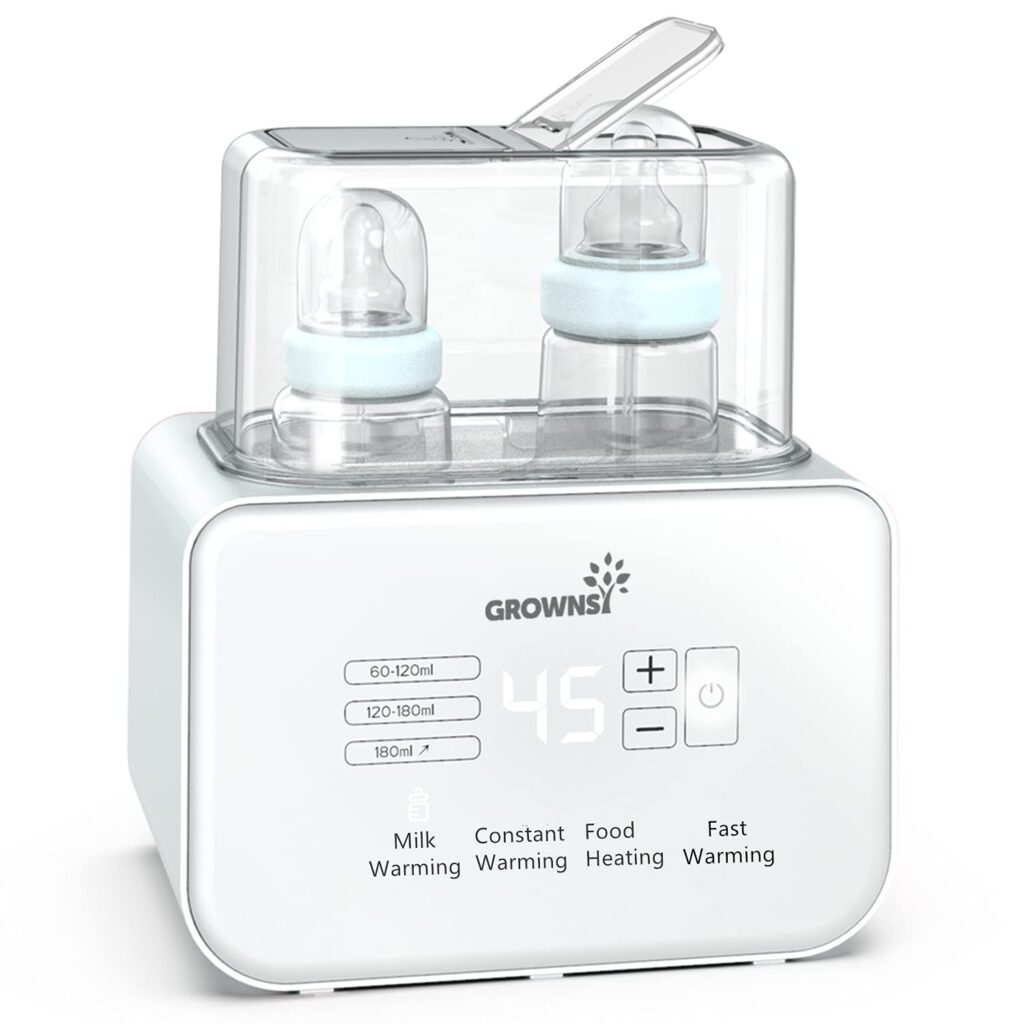 6-in-1 Baby Bottle Warmer
Time is precious for everyone, especially for parents with a newborn. This 6-in-1 fast baby food heater will help them save time and space with functions such as fast warming, food heating, normal warming, fast thawing, constant thawing and steaming for sterilizing bottles, pacifiers etc…
---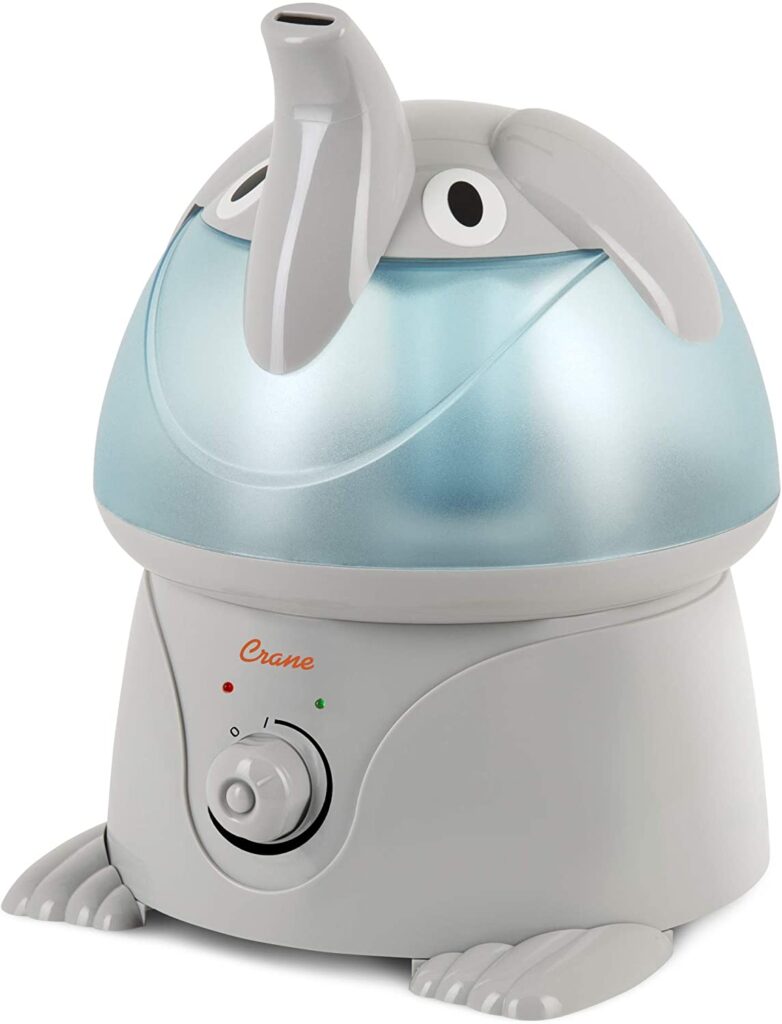 Ultrasonic Cool Mist Humidifier
This gift is essential if the parent live in an area with dry air, it will help the keep their newborn comfortable, especially if he or she has a cough or a cold. And on top of that, it looks cute, but if you are looking for something more high tech, this Levoit bedroom humidifier ($79.99) has it all, including smart control from mobile. It's even a good idea to get one for yourself, and if you want to know it's complete health benefits, read this article here.
---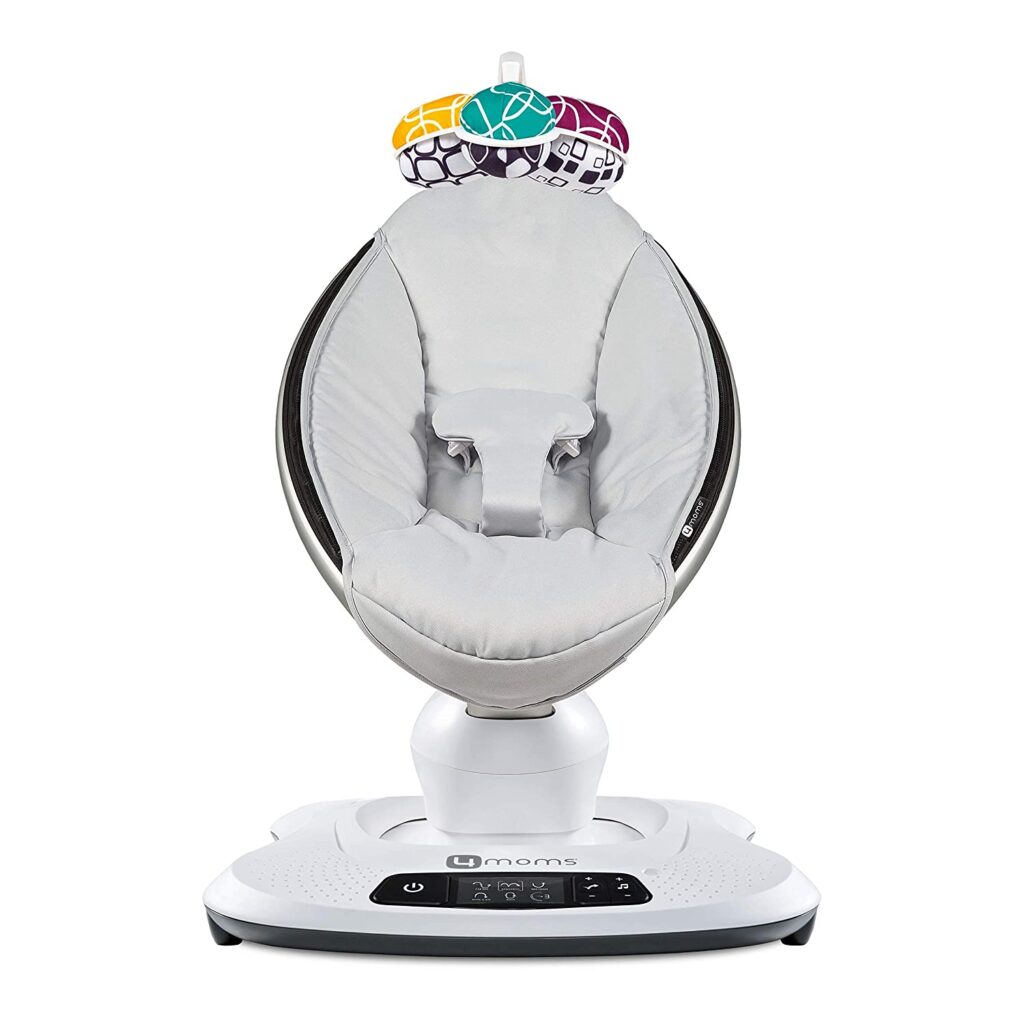 4 Multi-Motion Baby Rocker
The parents will love you for this gift, it will surely free up some time on a daily basis, the seat bounces up and down and sways from side to side, just like parents do when comforting their baby. It has five unique motions, like car ride and tree swing, and five different speeds, four built-in sounds or connect it to any MP3 player and also reclines to multiple positions to allow baby to lie back and relax or sit up and play, all this can be controlled via their mobile so they can just sit and relax or do whatever they need to do while the baby sits in this entertaining seat.
---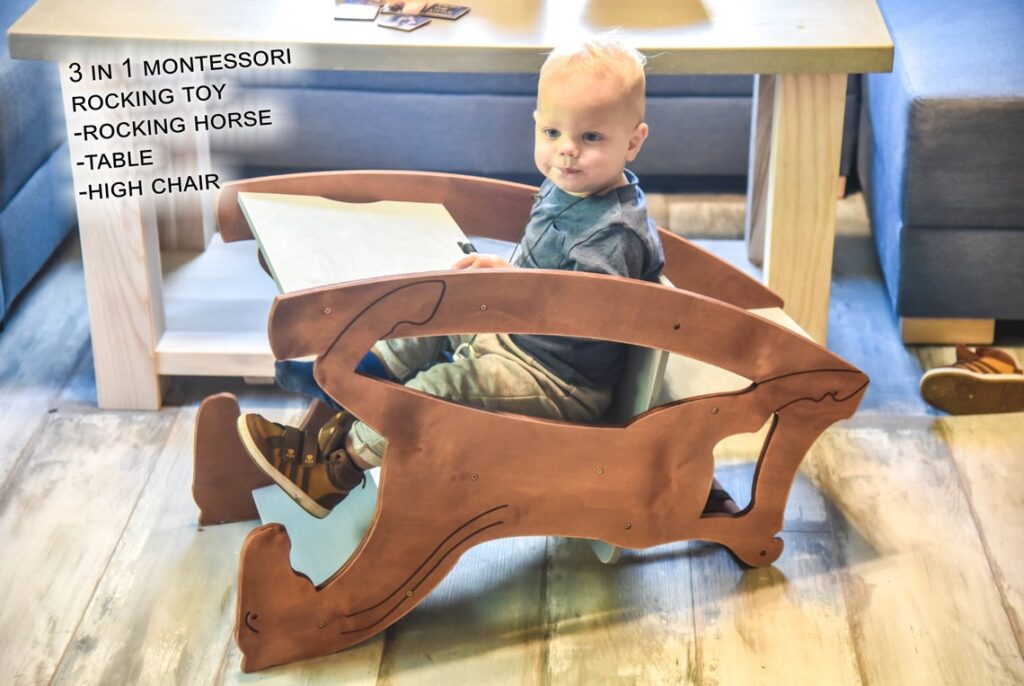 Montessori 3-in1 Rocking Horse
This 3-in-1 rocking horse, high chair for babies and toddler chair with desk is a unique gift that will last years as the newborn grows into a toddler, it saves space for the parent since it has multiple use and if they are into retro style, that would be another plus!
---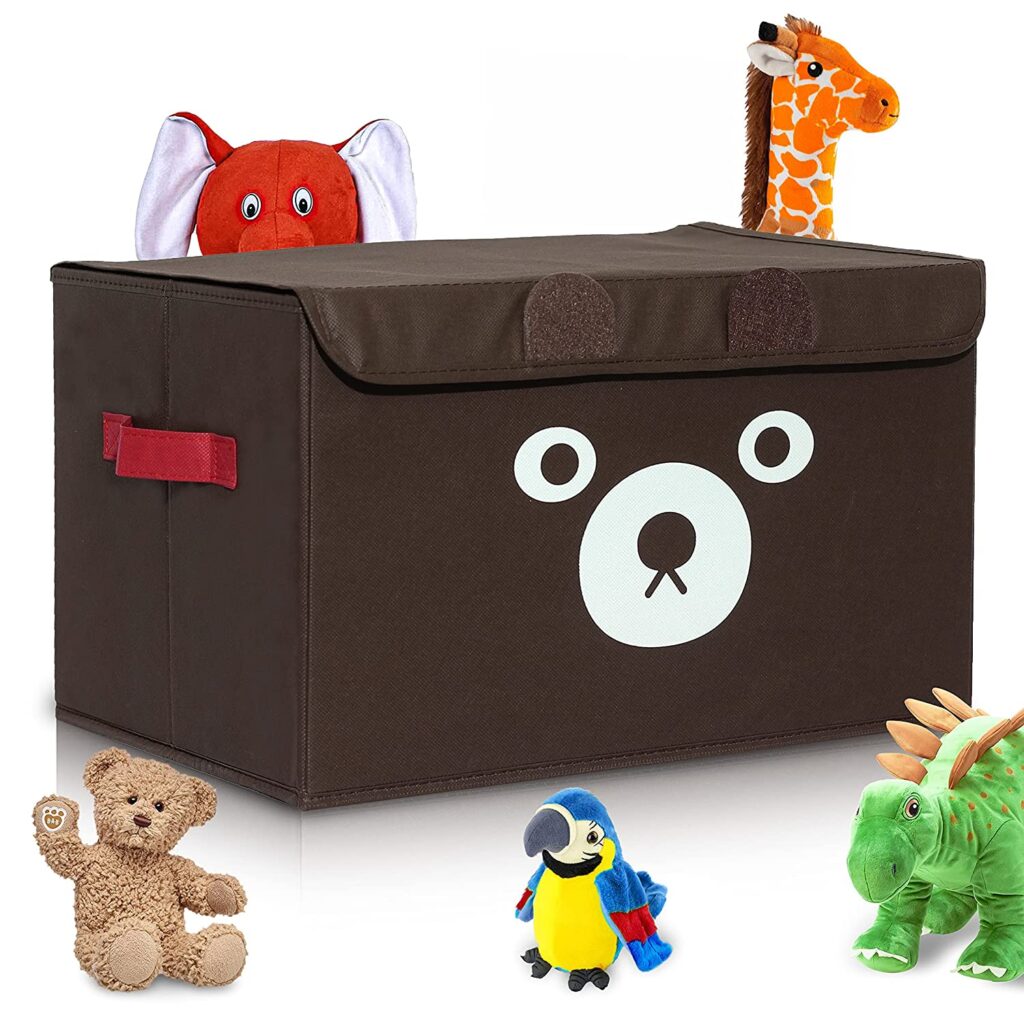 Toys Organizer for Baby Toys
Babies will have lots of toys, this newborn gift idea is to help the parents keep it tidy, it's collapsible so that it can be easily tucked away when not needed, plus it can be useful for storing other things in the future if need and you have a selection of 5 different colors to choose from, including pink & blue.
---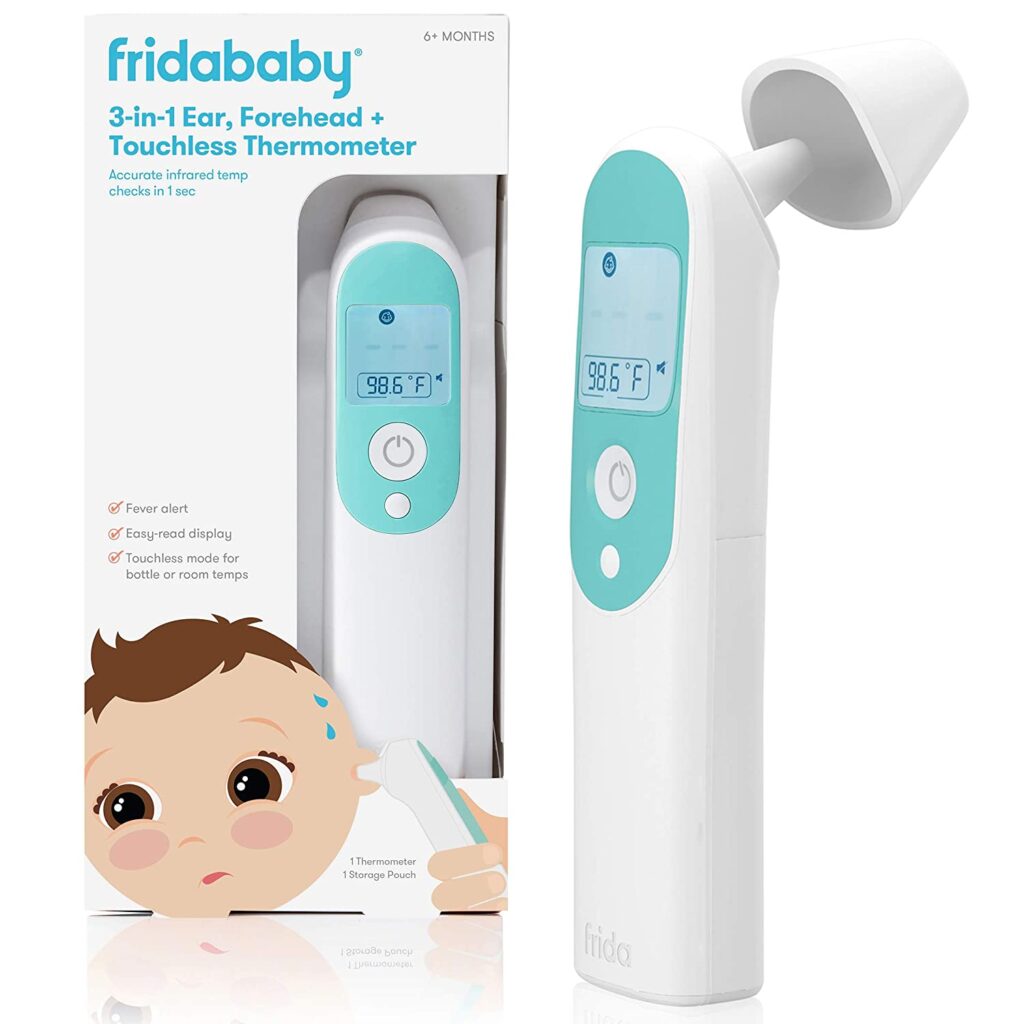 3-in-1 Touchless Thermometer
Better safe than sorry, parents should always be prepared for when a newborn might not be feeling well, this gift is to help them out with a great thermometer that is perfect for babies, it's accurate for ear, forehead and touchless with high temp alerts, stores up to 40 previous temperature readings and comes in a pouch.
---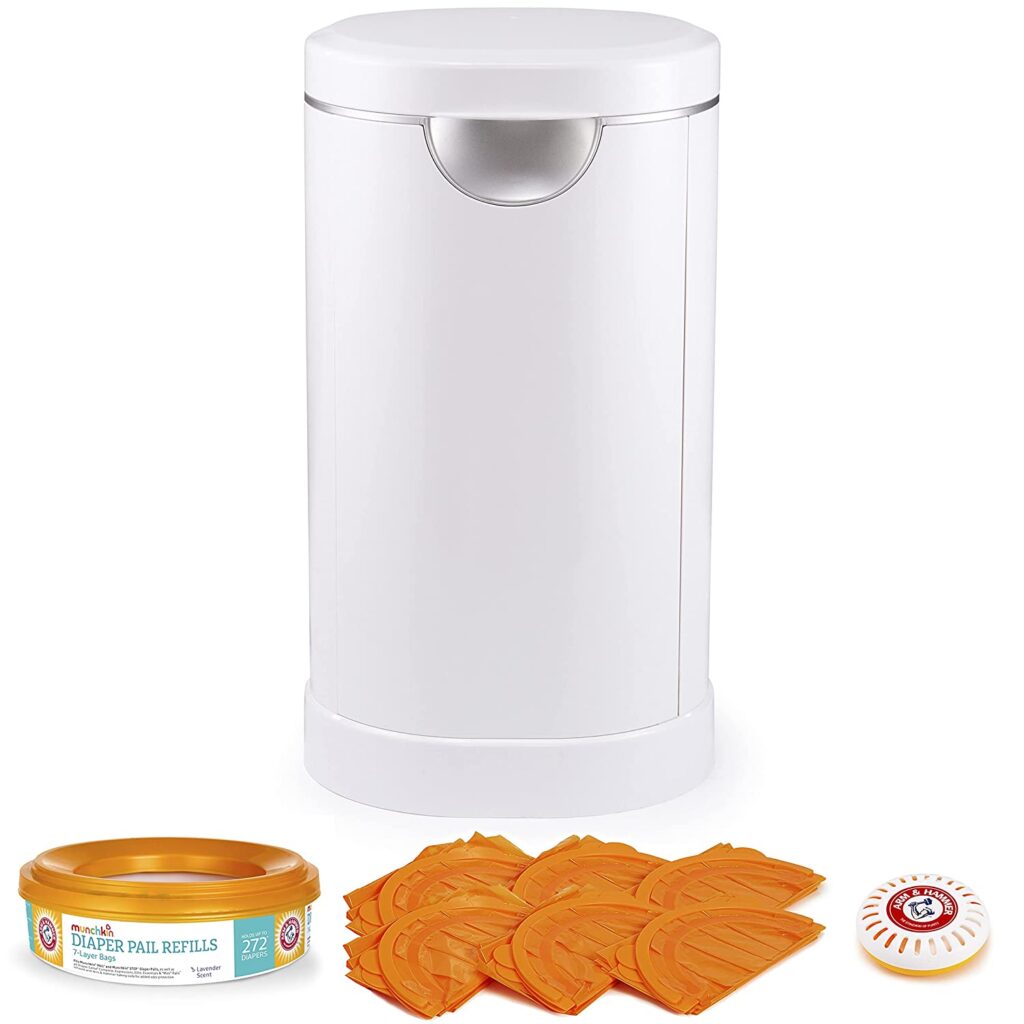 Diaper Disposal Pail
No one wants to smell bad odors, especially those of diapers. With this newborn parent's gift the stink ends here. The included starter pack provides 1 month supply of diaper disposal to get them started.
---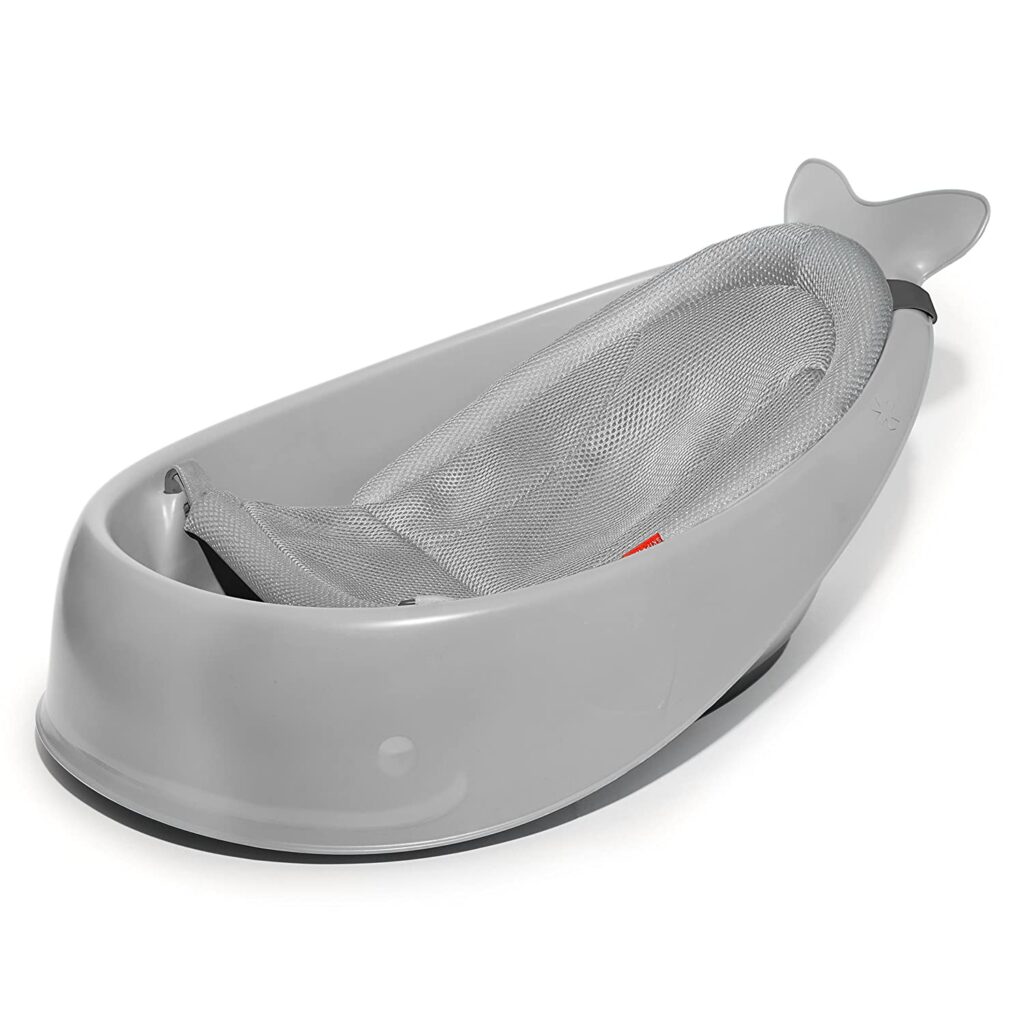 Moby Baby Bath Tub
A dual layered mesh and comfort-edge construction securely cradles baby from head-to-toe, this newborn gift will serve till a 6 plus months and up to 25 pounds.
---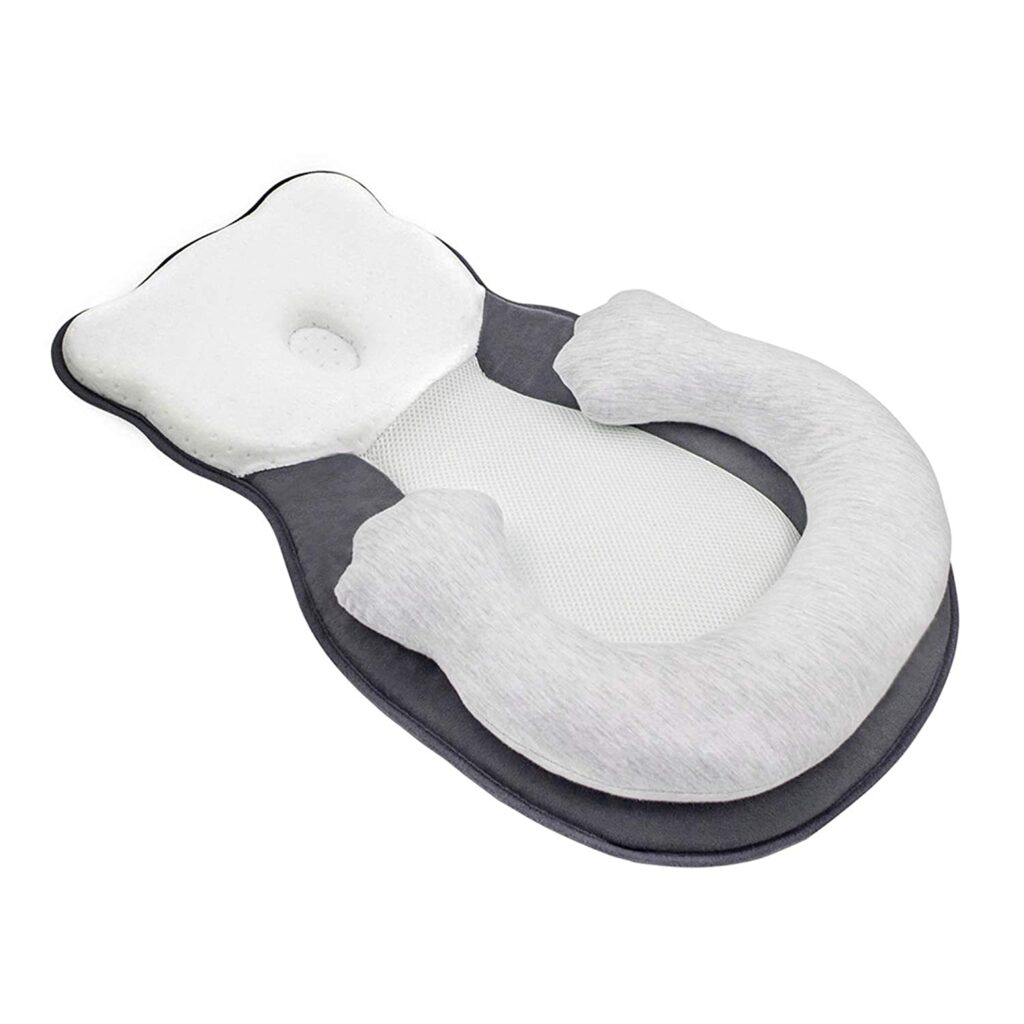 Newborn Lounger Pillow
Newborns are a little fragile and better safe than sorry. This newborn gift will prevent flat head syndrome, excellent comfort and support for the child's head and neck. Fitted head support distributes the pressure on skull evenly, ideal for keeping baby's head nice and round and prevent from plagiocephaly.
---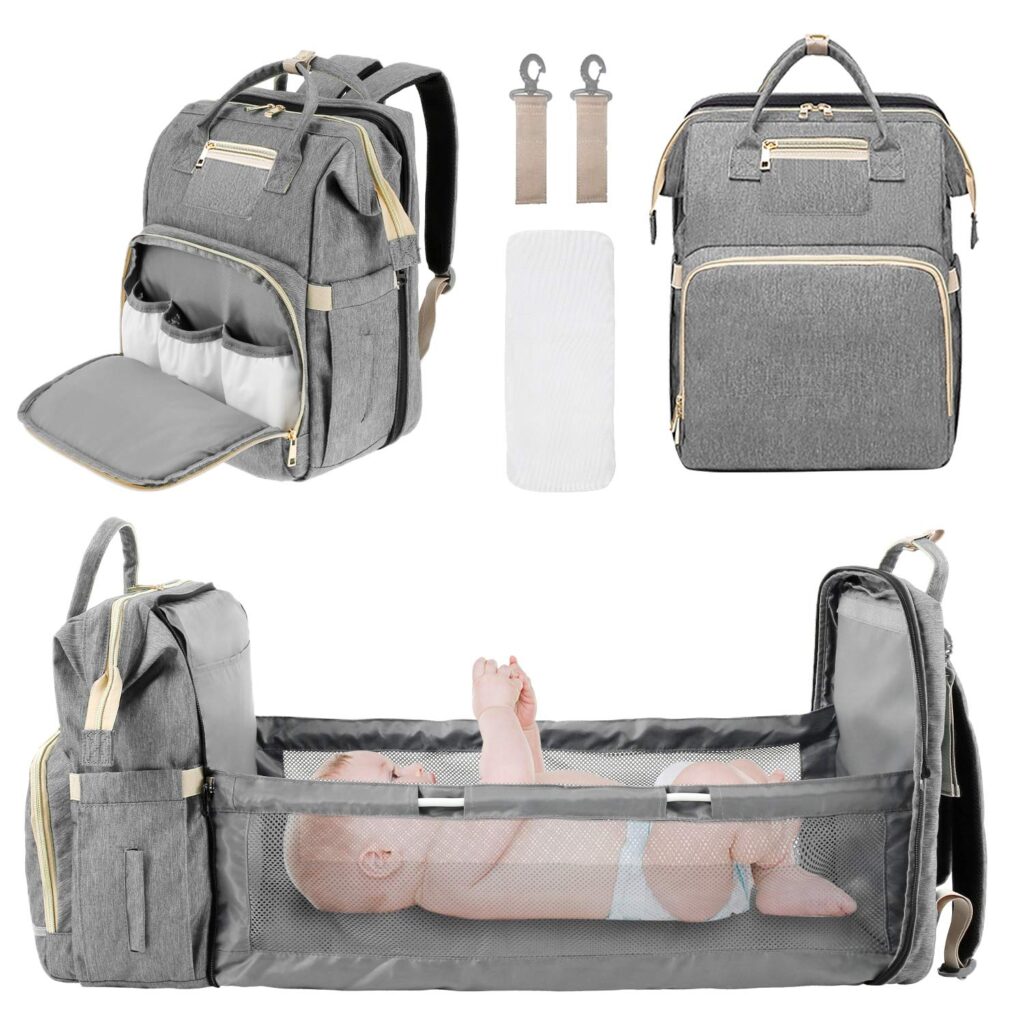 3 in 1 Diaper Backpack
The parents will be amazed by this gift, this stylish, handy and practical is an amazing idea and they will surely love it.
---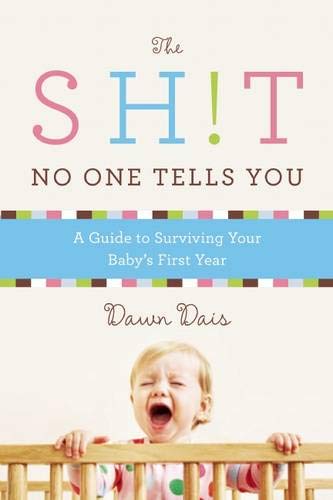 The Sh!t No One Tells You Book
This book is perfect for a baby shower gift to help the mother, well the parents to prepare themselves to the dos and don'ts. But if you are looking for a newborn gift for parents, this book is still not too late, especially for first-time parents.
---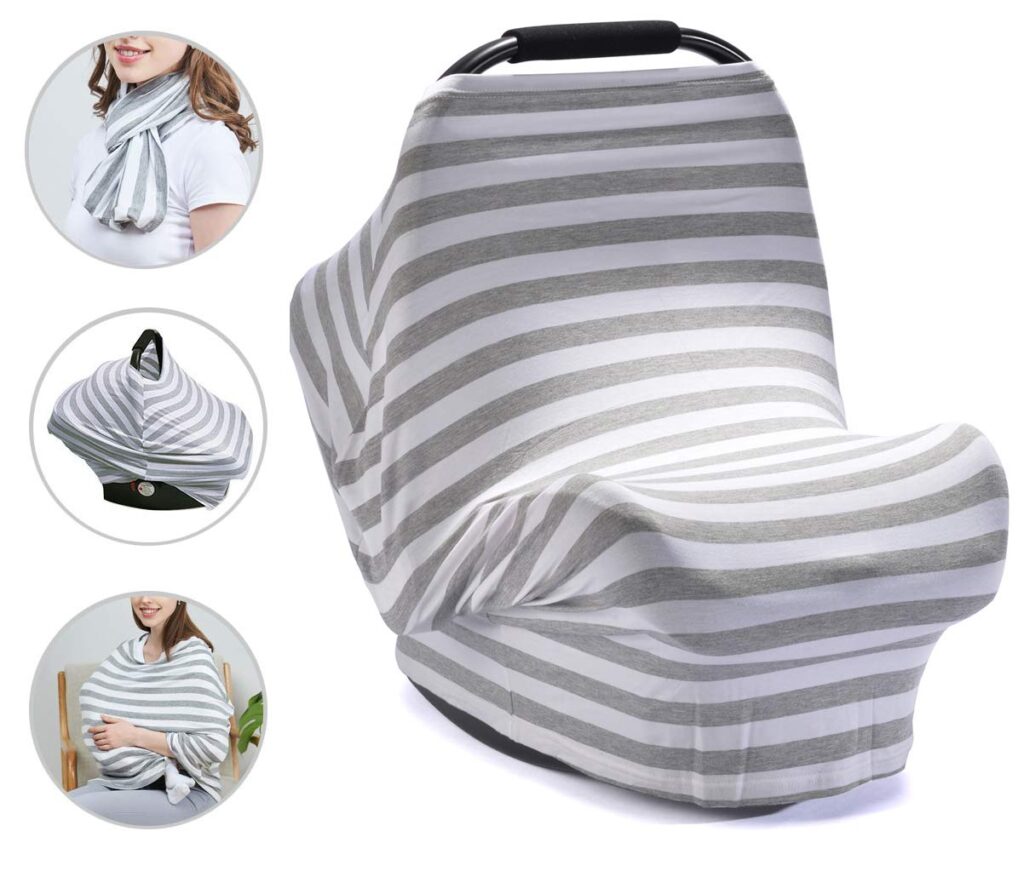 Multiuse Nursing Cover for Newborn
A multiuse gift is always a smart gift, this cotton cover can be used for covering the card seat to help the baby sleep and protecting them from wind or sunlight, can be used for the mom the cover her self while breastfeeding the baby and can be carried as a scarf. Let's say, a 3-in-1 gift! Available in mutiple designs.
---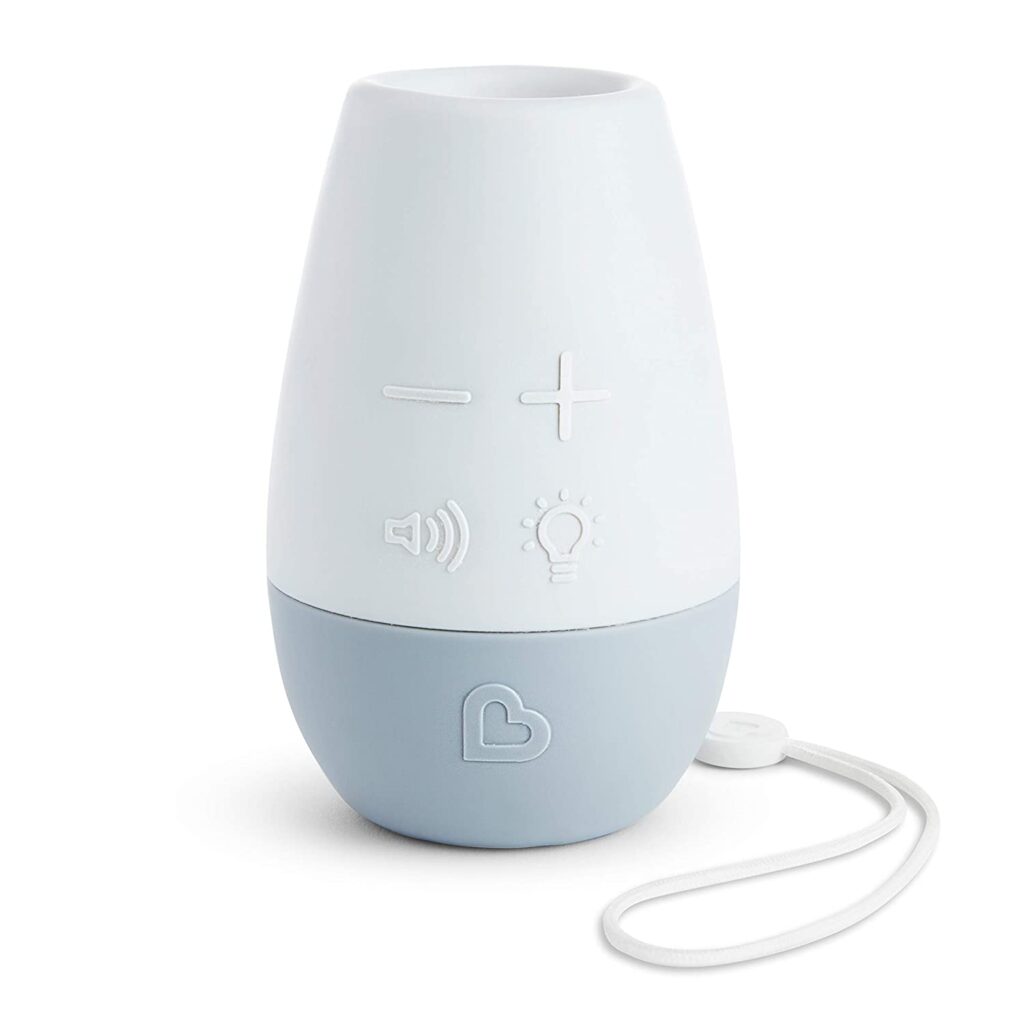 Baby Sleep Soother
With around 2000 Five star reviews, you can't go wrong with this newborn gift. It has some useful features such as auto shut-off, night light, 3 different sound (shushing, heartbeat and white noise) and made of soft rubber to prevent baby from hurting it self.
---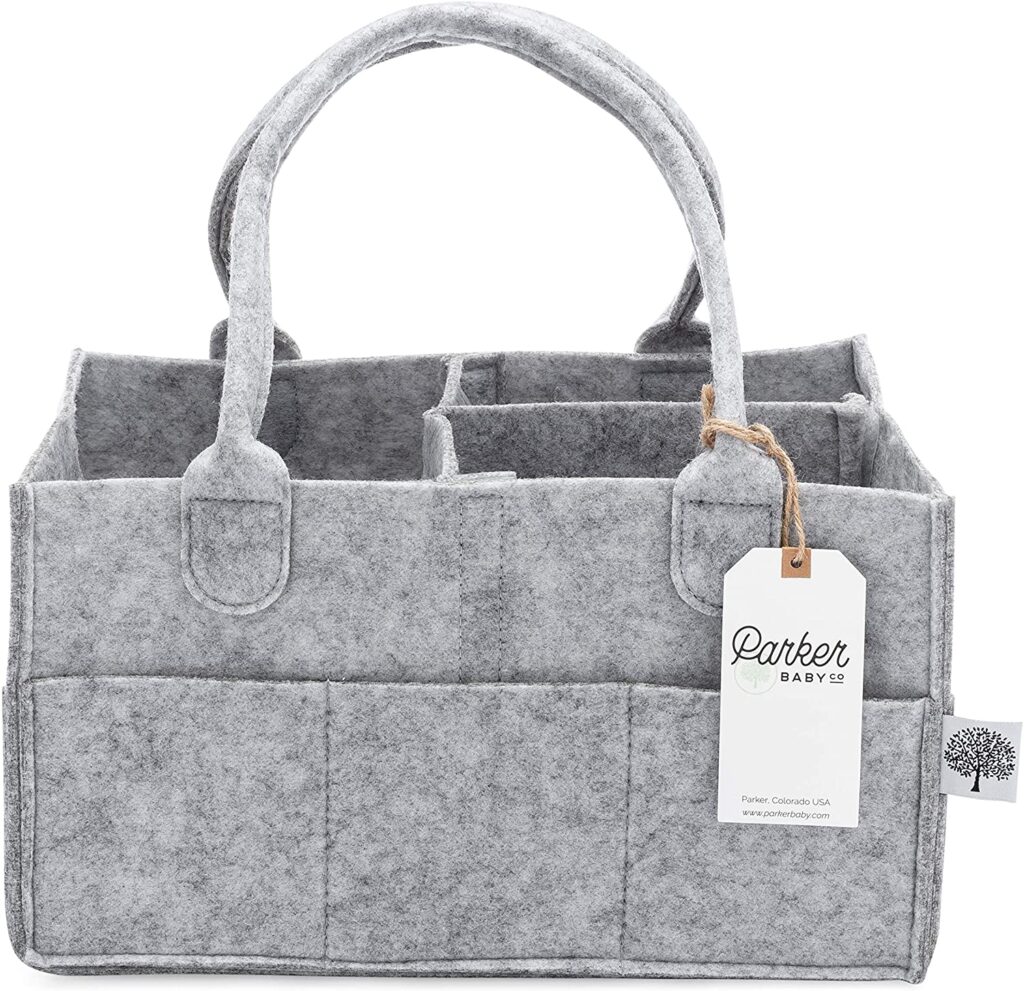 Baby Diaper Caddy
This soft but strong baby organizer will surely come in handy for the parents, it can store dozens of diapers, baby clothes, wipes, toys, medicine etc.. and can be usefully at home, for the car and to carry around wherever the parents need to be.
---
Baby Monitors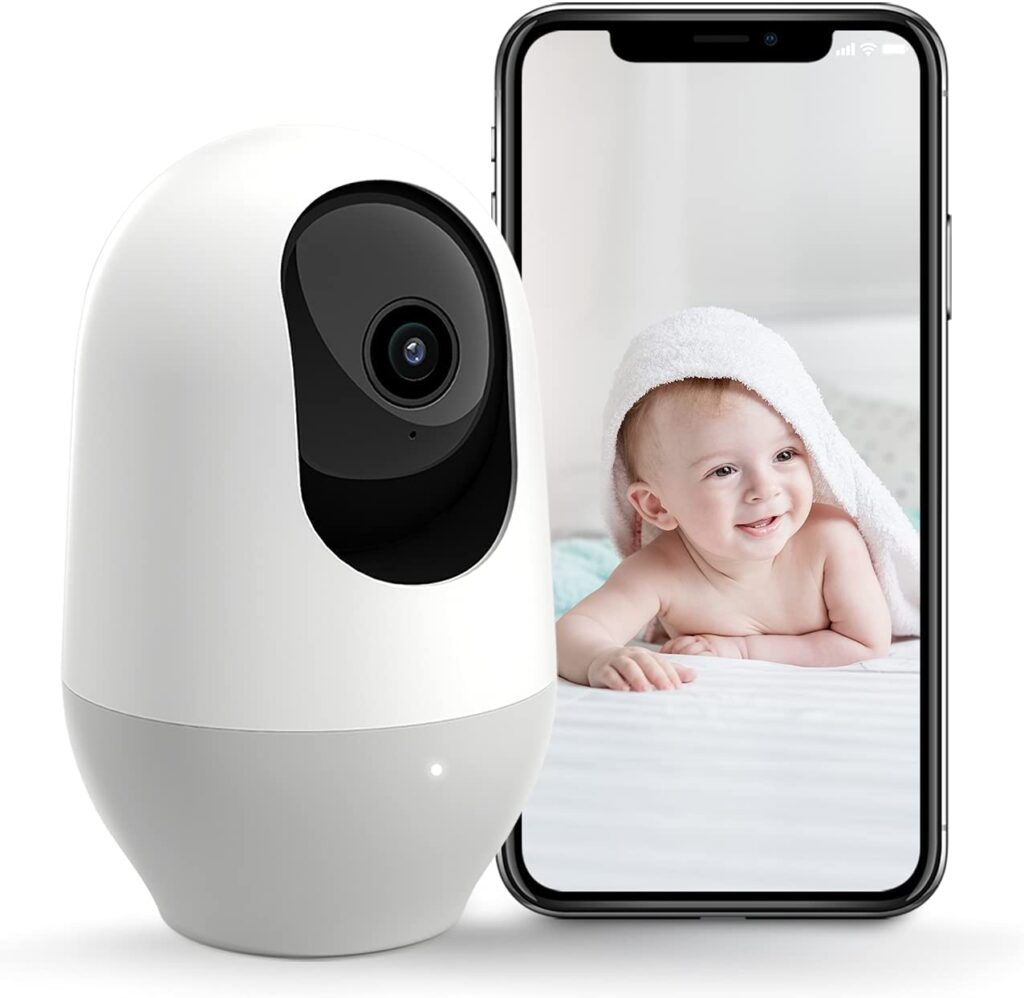 WiFi Baby Camera
A high quality baby monitor that will serve the parents well, this camera has a high quality image, motion and sound tracking, meaning the parents will get a notification on their mobile when detecting sound or movement and it has night vision. Another plus is, when they don't need it for the baby anymore it can serve as a security camera or even to monitor a new family member, the cute puppy.
---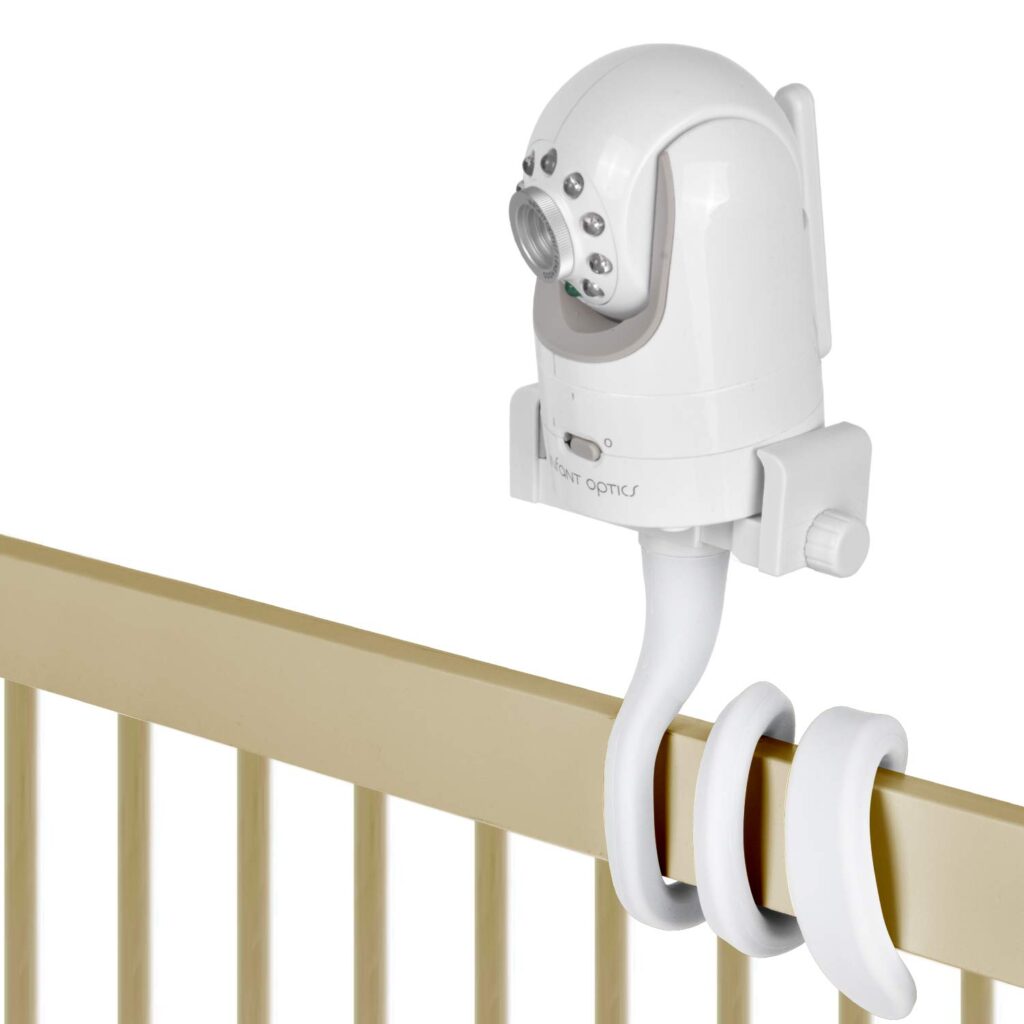 Baby Monitor Camera Mount
The baby camera mount allows the parents to place their baby monitor in the perfect position and helps them control the optimal camera viewing angle. They'll only need to bend and rotate the flexible goose neck that wrap around crib, cot, bed, shelf, window sill or other Furniture, as a result, they will always have a perfect view of their sleeping child. Please note that this is just a mount, camera not included.
---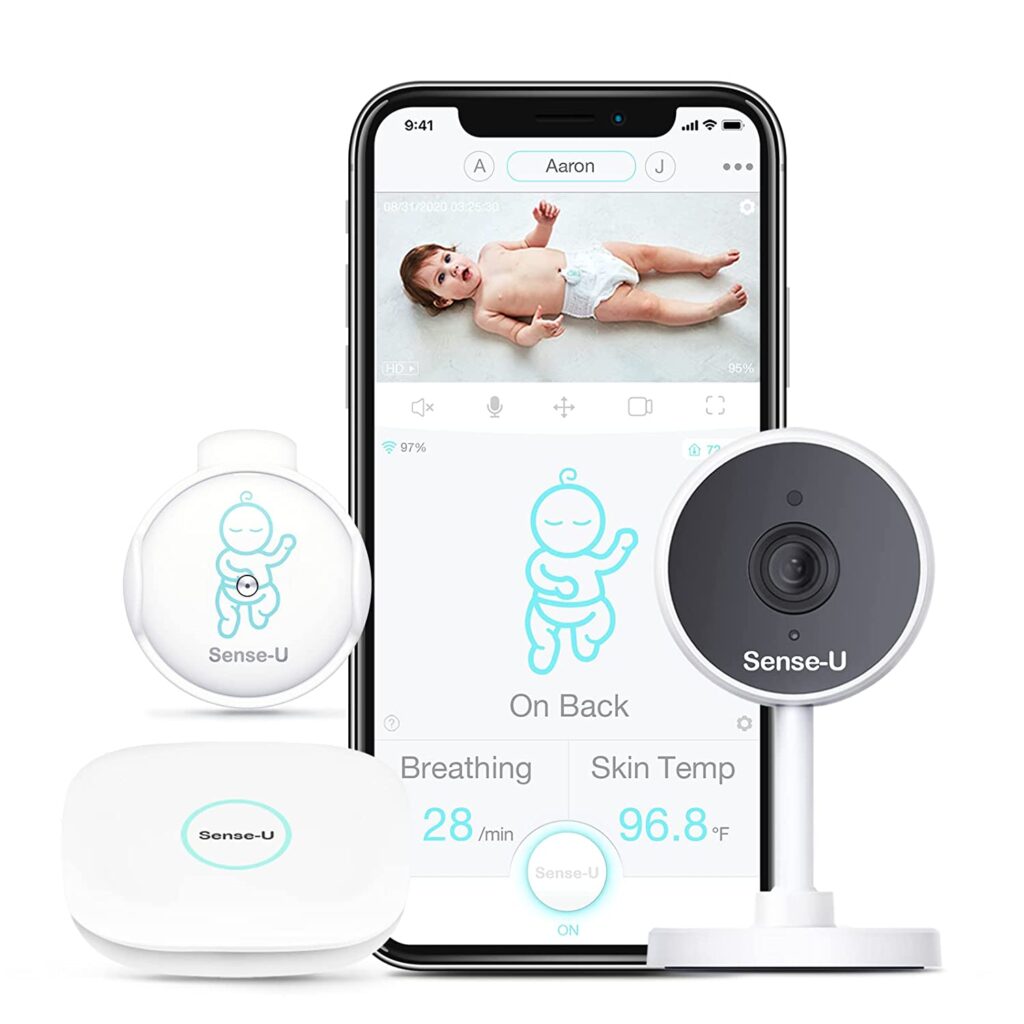 The Ultimate Video Baby Monitor
Sense-U baby monitor allows the parents to know their baby's breathing (abdominal movement), skin temperature, and sleep position while streaming HD video, anytime, anywhere. It provides them with peace of mind and better sleep. When something happens to their baby, the Sense-U Base Station will instantly notify them with lights and sounds, and they will get audible notifications on their smartphone too. This is the latest version which supports twins and multiples.
---
Newborn Gift Set Ideas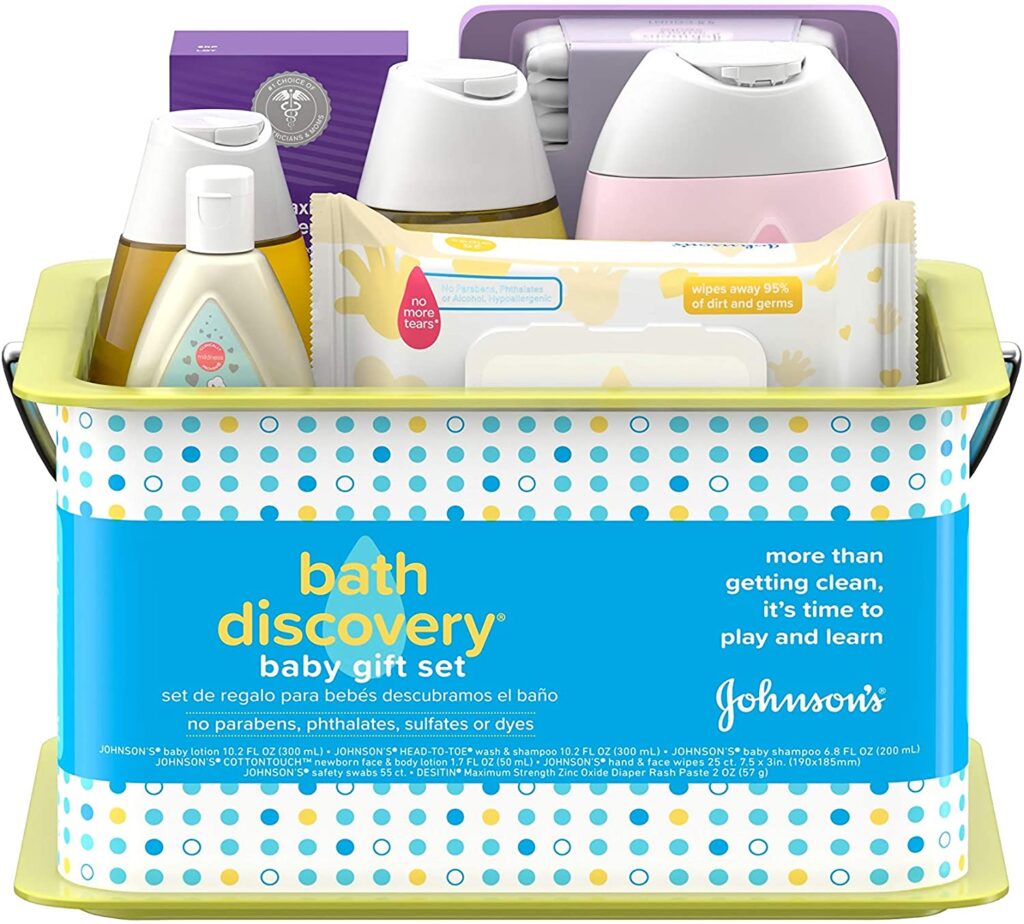 Johnson's Baby Bath Discovery Gift Set
This set of seven bath time kit includes all the essentials, baby lotion, tear-free body wash & shampoo, hand & face wipes, cotton safety swabs and diaper rash cream and this gift set comes in a reusable bath caddy to make carrying everything easier, remember, new moms need all the help they can get, so the easier the better.
---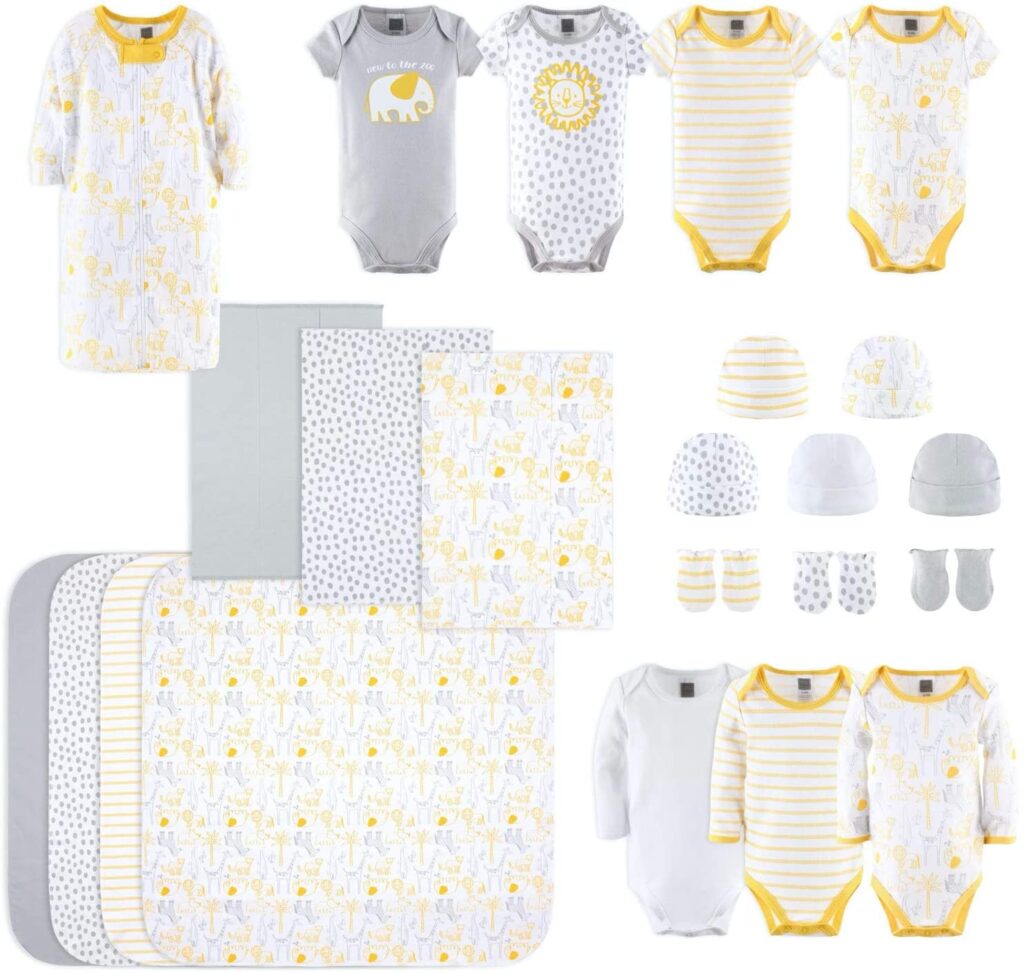 Layette Newborn Gift Set
An adorable 23 piece must have gift set that has all the clothes and linens they need for a new baby. It includes 4 short sleeve and 3 long sleeve bodysuits, 1 safari print zipper sleep sack, 5 beanies, 3 pairs of scratch prevention mittens, 3 burp cloths, and 4 receiving blankets measuring 30″ x 30" that are perfect to help wrap the child into a swaddle.
---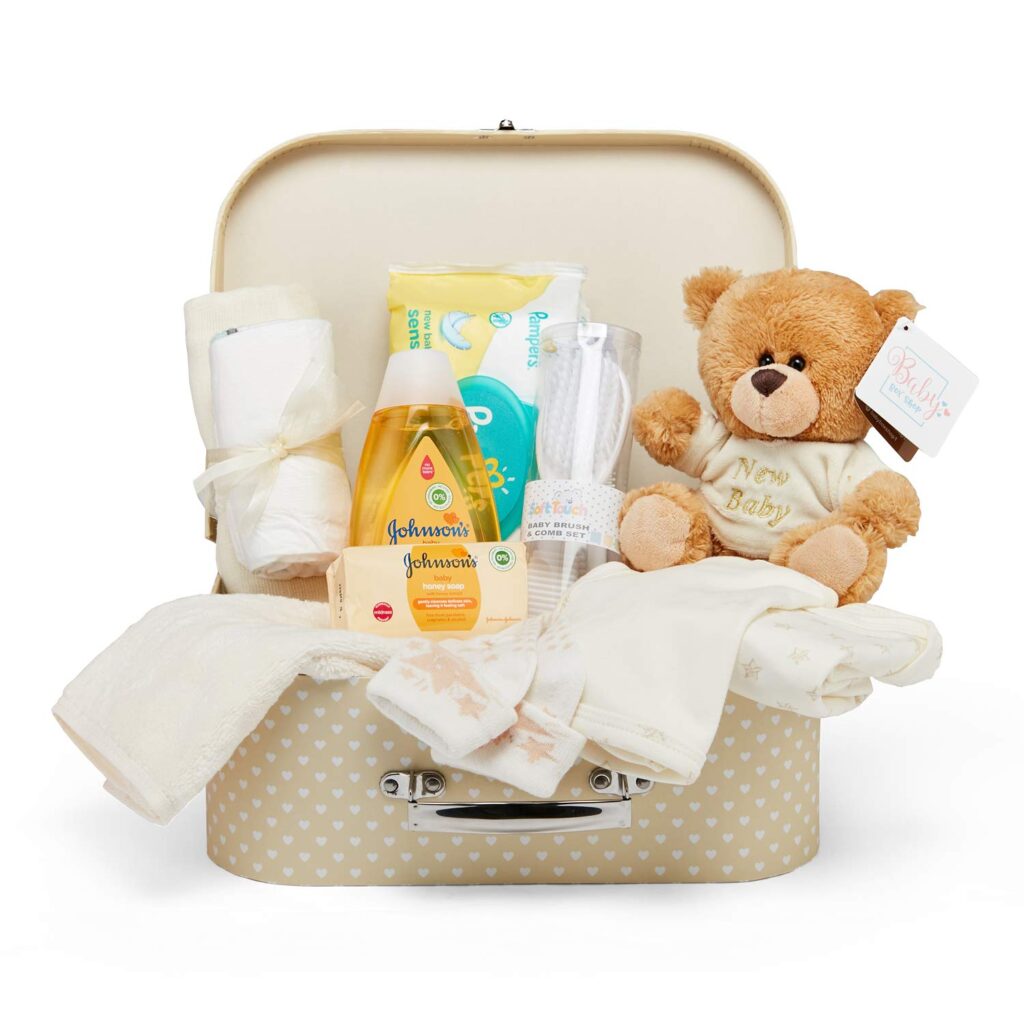 Newborn Essentials Hamper
Neutral keepsake box, un-like baskets, once all the gifts have been taken out it becomes a great keepsake box, adding value because it can be used to save all those sweet memories like cards, clothes, records, toys etc. to be taken out and enjoyed in the future making your gift included. The box and teddy bear are also available in pick and blue.
---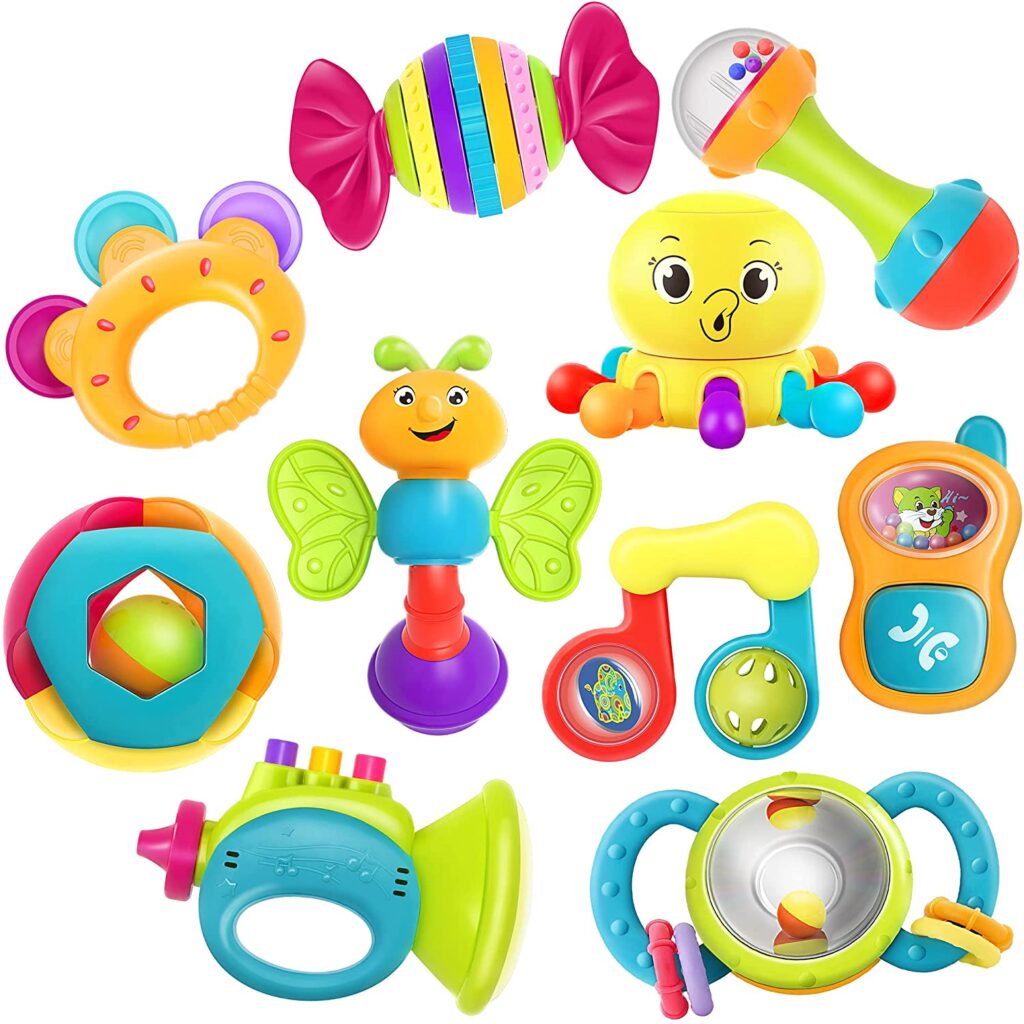 iLearn 10 Pieces Newborn Toy Set
10 Bright Primary colored Rattles/Teethers for different stages of baby's development, the variety of textures will assist in tactile development of touch, taste and smell, the numerous sounds will expand babies' sensory experiences, colors and patterns to help eye tracking skills.
---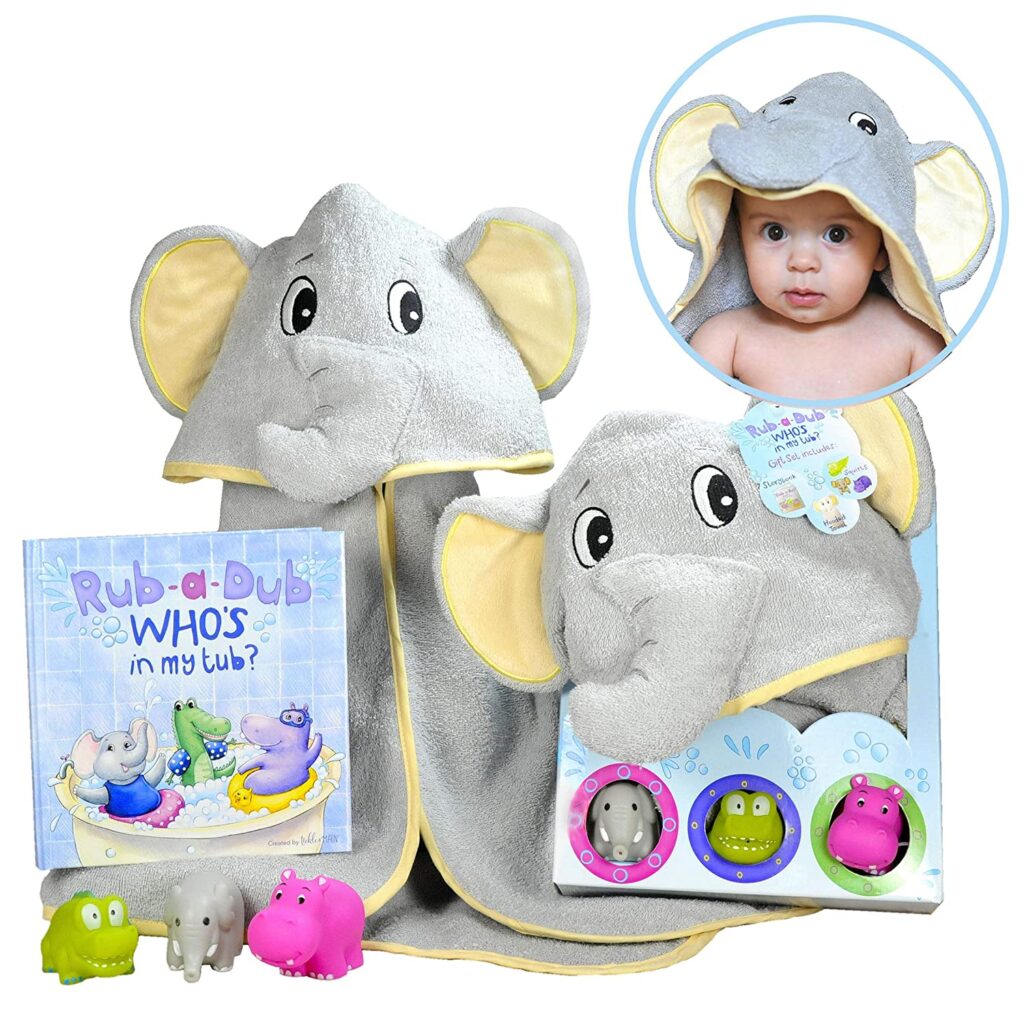 Rub A Dub, Who's in My Tub Newborn Gift Set
A 5 piece gift set that makes a unique and creative baby gift that can be used for a newborn baby into the toddler years for special bath time fun. The gifts set includes a story book about jungle animals visiting a child in the tub, an elephant hooded towel, and 3 safari squirt toys.
---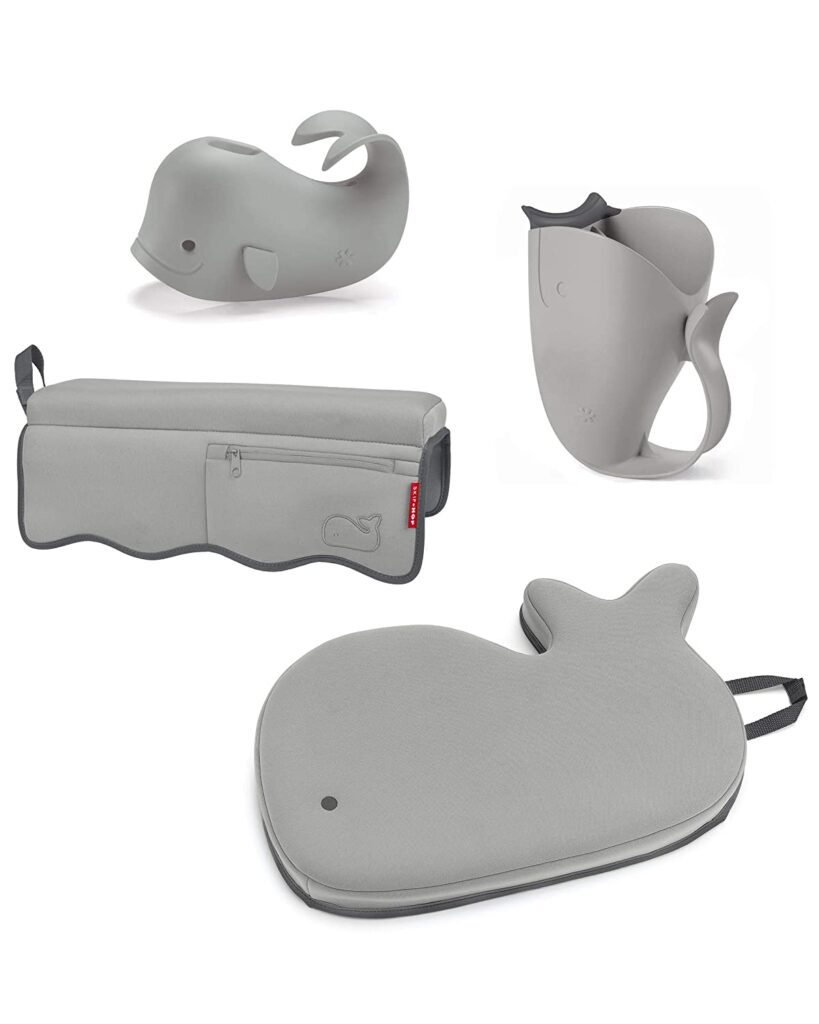 Baby Bath Essentials Set
The parents will love this bath time set of rinser, soft spout cover, padded elbow rest and kneeler. Why should bathing the baby be unpleasant? This set will make it funny and comfy, and this is a gift that they will use on a daily basis.
---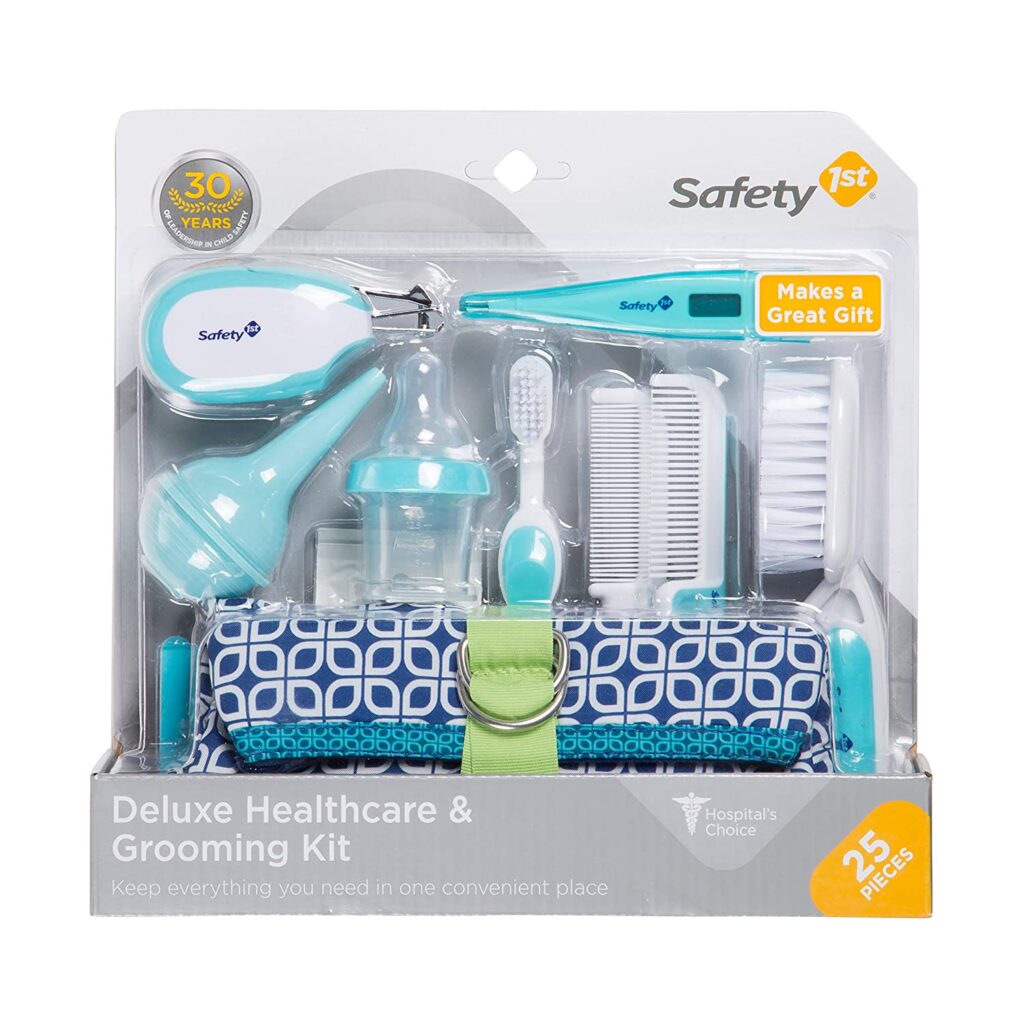 25-Piece Baby Healthcare and Grooming Kit
A gift set which includes 25 pieces will surely come in handy for the parents, it also includes and zippered case to case the kit.
---
Personalized Newborn Gift Ideas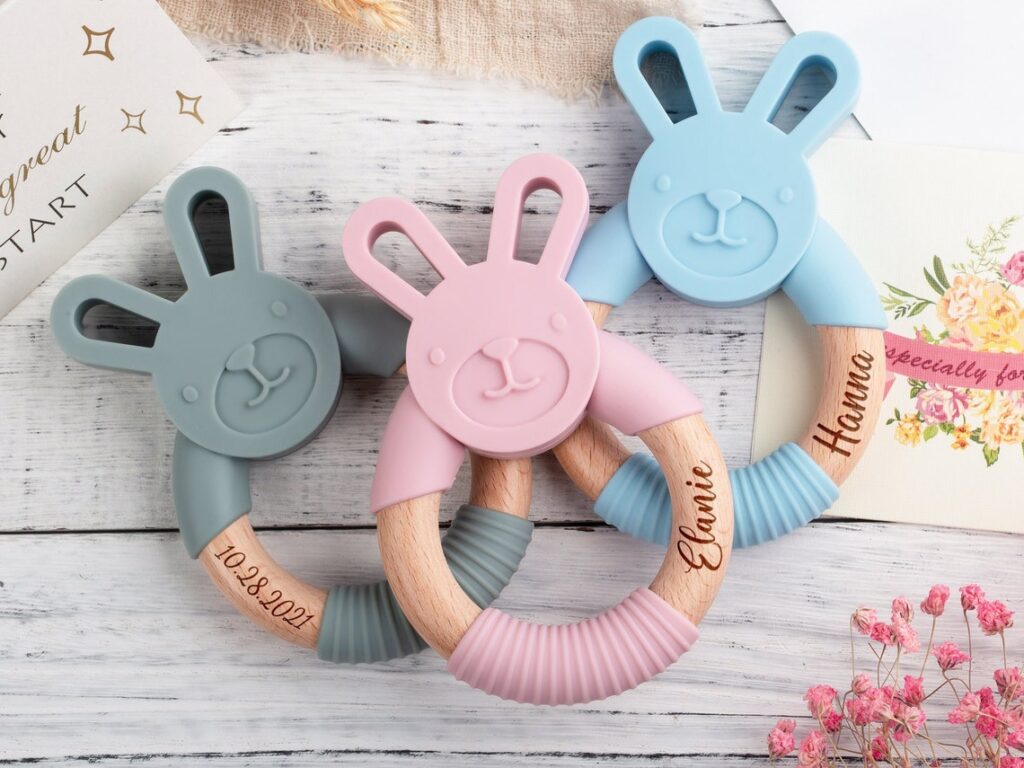 Personalized Newborn Teething Bunny
A cute, unique, personalized organic ring bunny teether, normal teethers are probably disposed once it's not used anymore, but this one might just be kept forever due to it's unique personalization, which makes it a perfect gift for both, the baby and the parents.
---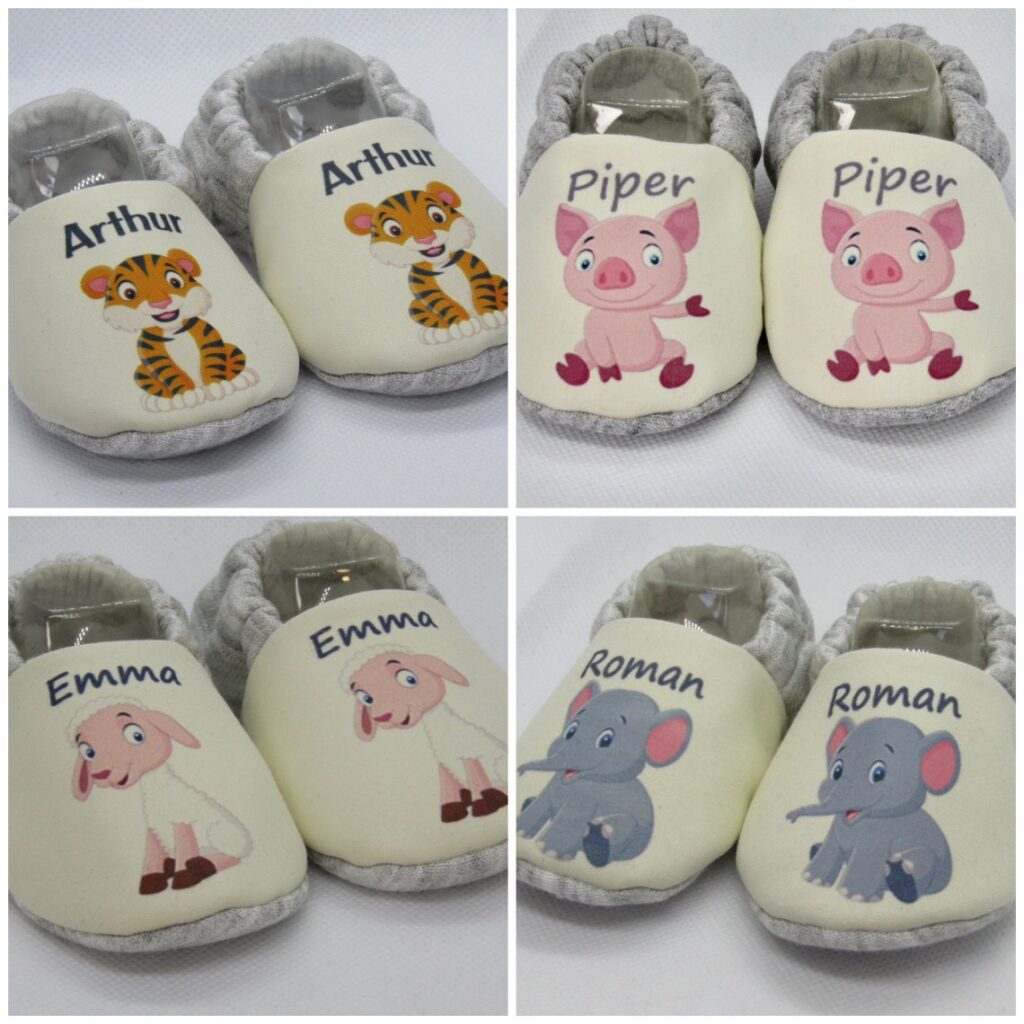 Personalised Newborn Booties
How about these cute little personalized booties, available from 0-24 months, so if you are a few months late this baby gift is perfect. It doesn't have to be their name, if you have a nickname for them or the parents already have a cute one, it can be that. And if they already have a favorite animal, these are available in over 15 different animal designs.
---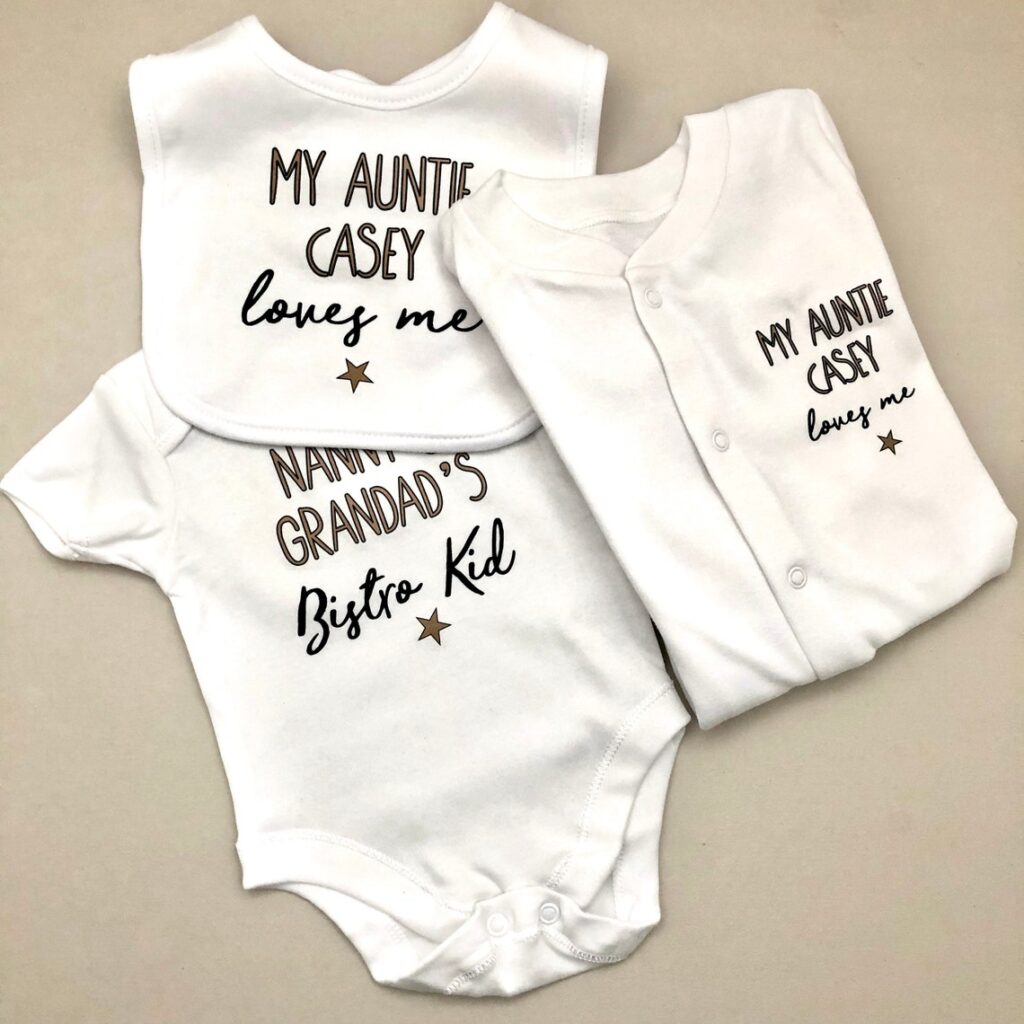 Personalized Newborn Clothes
Mark your gift on these cute baby clothes, you can have any writing you want on a selection of sleepsuit, romper, vest, bib. Some of our favorite messages: "of course I'm cute look at my auntie/uncle", "When god made me, he said TA-DA!", "I didn't fart my butt blew you a kiss".
---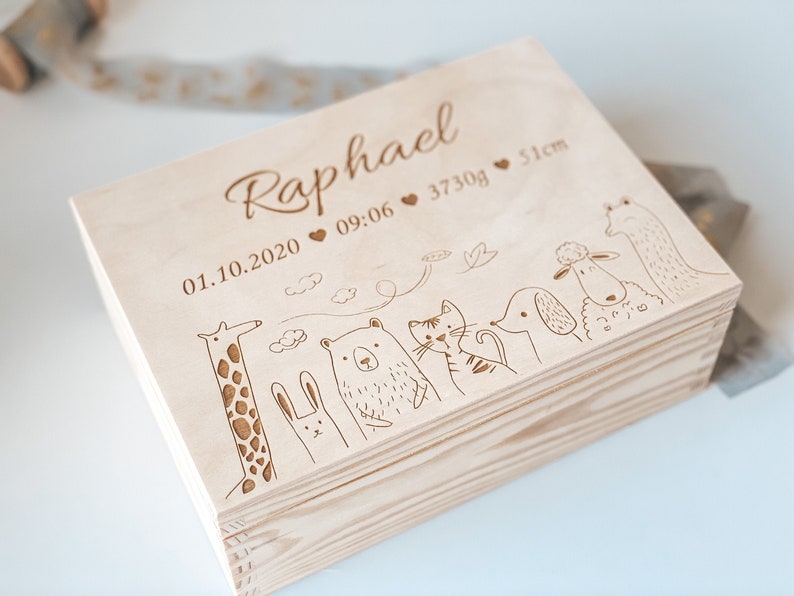 Personalized Memory Box
Imagine opening this box at your age to find inside all your firsts, tooth, dummy, drawing and more, would be cool, right? So why not give this gift to this newborn, he or she will thank you one day in the future, that is, if the parents do keep these things for the baby so you might need to persued them, the weight, time of birth etc.. they are already engraved on the box, that should help them get started.
---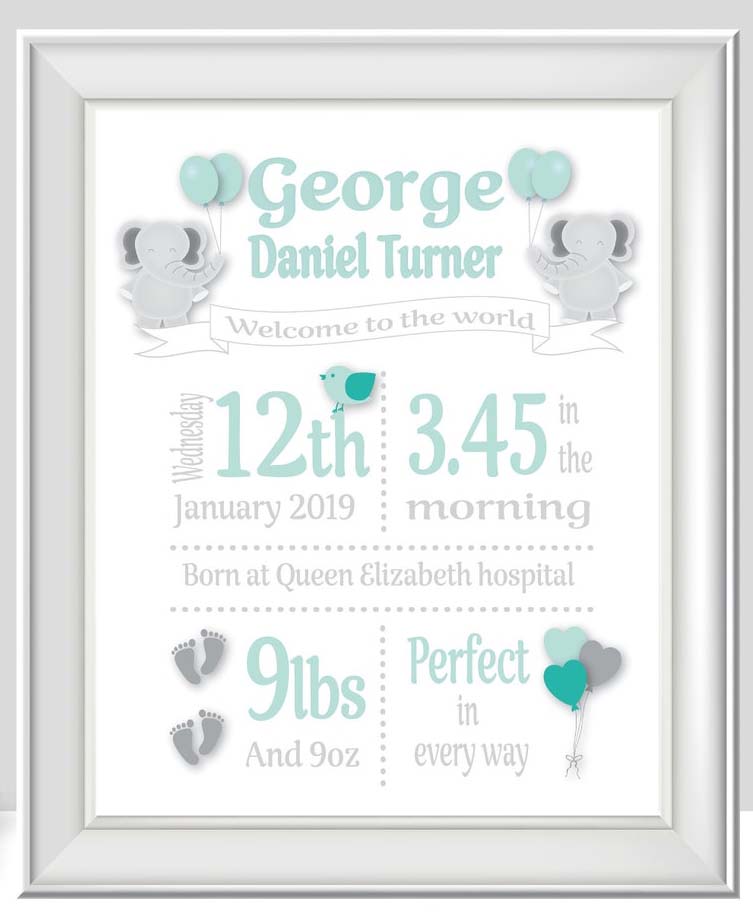 Newborn Birth Announcement Print
This beautiful birth announcement print can be personalized to feature the name and birth stats of a new born baby and would add the finishing touches to their little ones nursery to make the perfect gift for new parents. After ordering, all you need to do is find the perfect frame.
---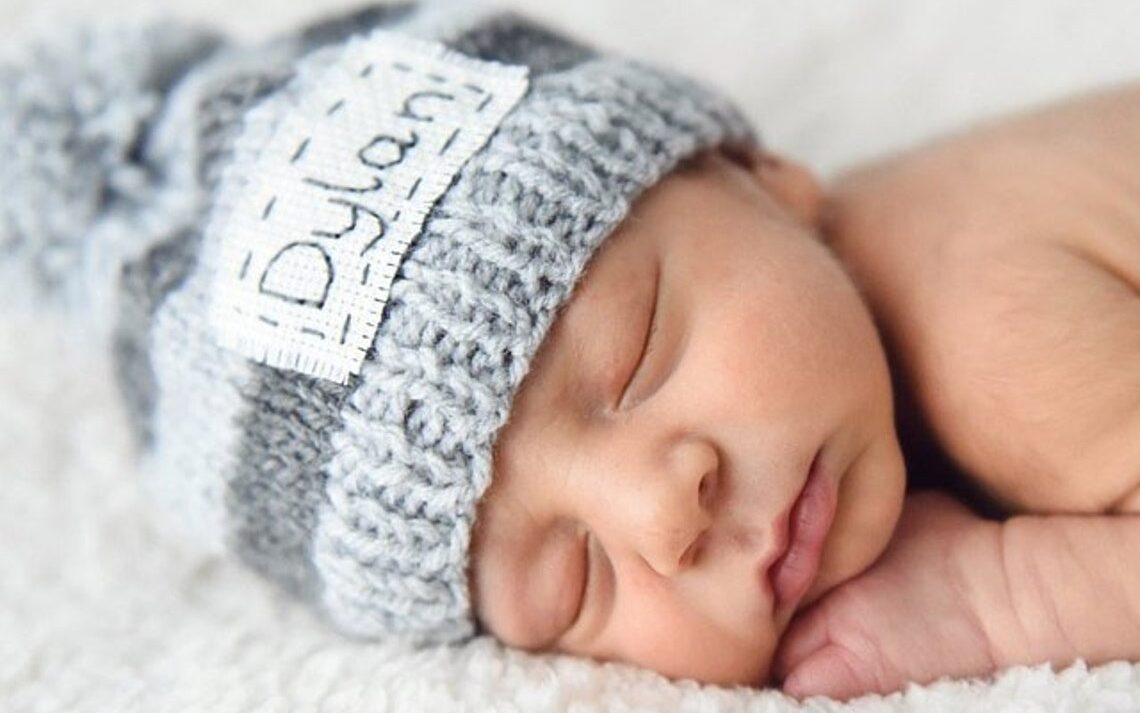 Personalized Newborn Hat
A lovely newborn personalized beanie for a lovely baby, available in multiple designs and since they are handmade, colors on request, another option is a Harry Potter design for the little fan. With over 3000 reviews, the baby will surely look super duper cute in this cool newborn gift.
---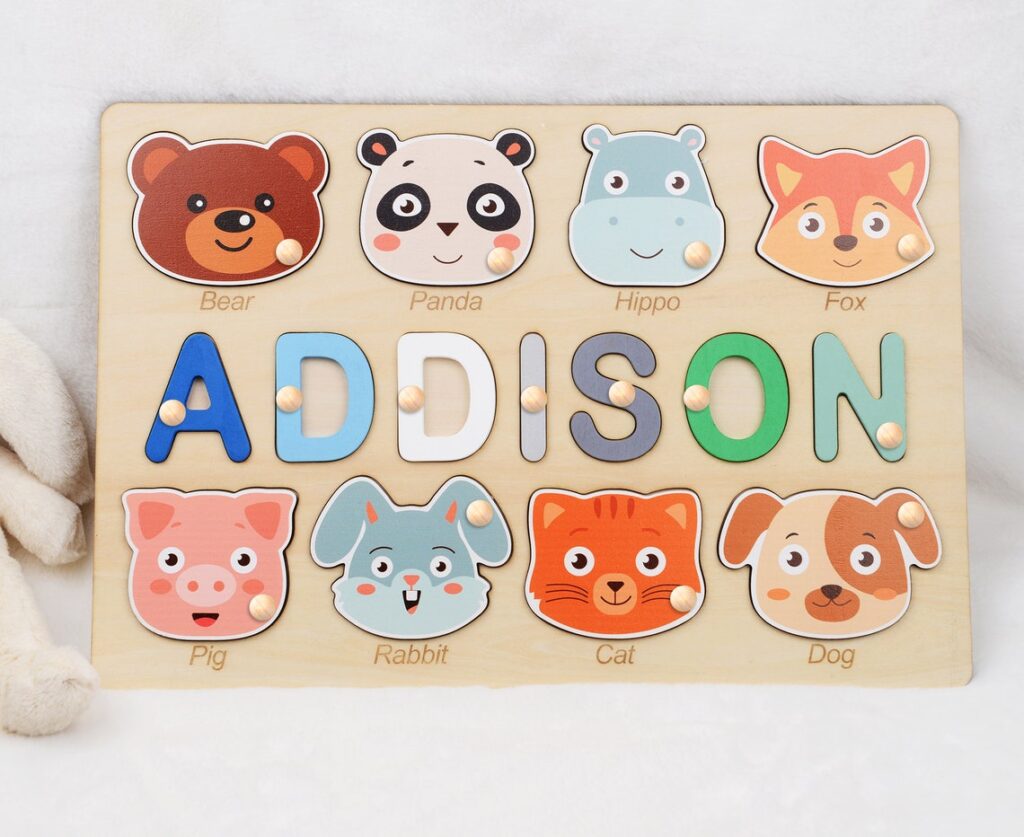 Personalized Name Puzzle Toy
A well designed name puzzle toy suitable for 1 to 4 years old. The unique gift will be a great early learning toy which can also be used as a beautiful personalized name sign in the baby's nursery.
---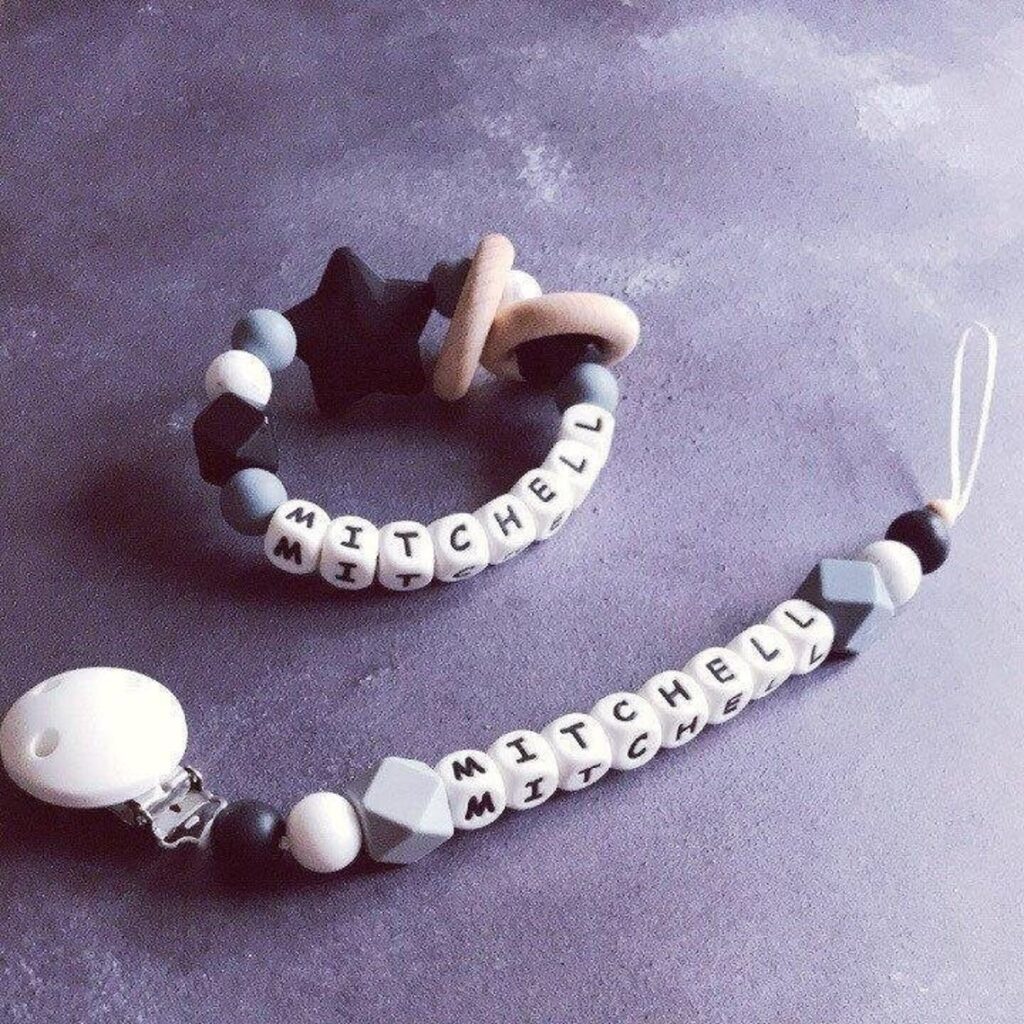 Personalized Dummy Clip
With up to 8 characters most names or nicknames will fit on these FDA approved safe beads. We suggest the dummy clip, but you can also get the sensory ring for the same price.
---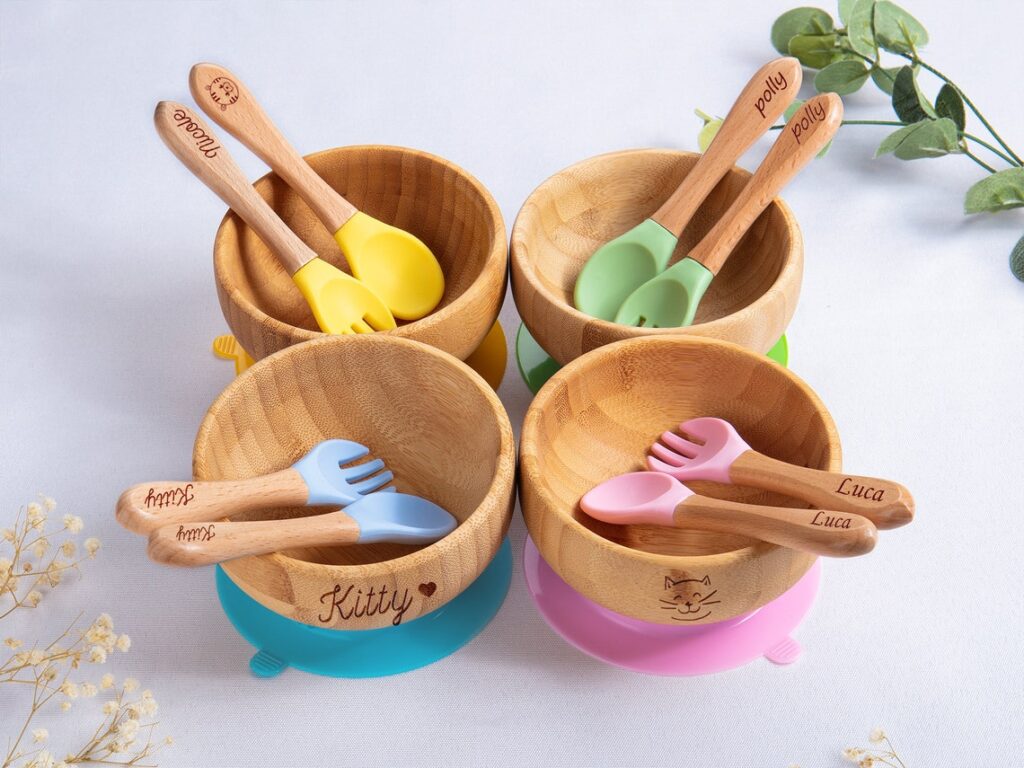 Personalized Kids Bowl & Utensils
This colorful kids bowl and utensils set will surely stand out as a baby gift, it's made of bamboo with a detachable suction base, ideal for training independent eating. Available in blue, pink, yellow and mint. If this is above your budget, you can gift a personalized spoon or fork for $9 each.
---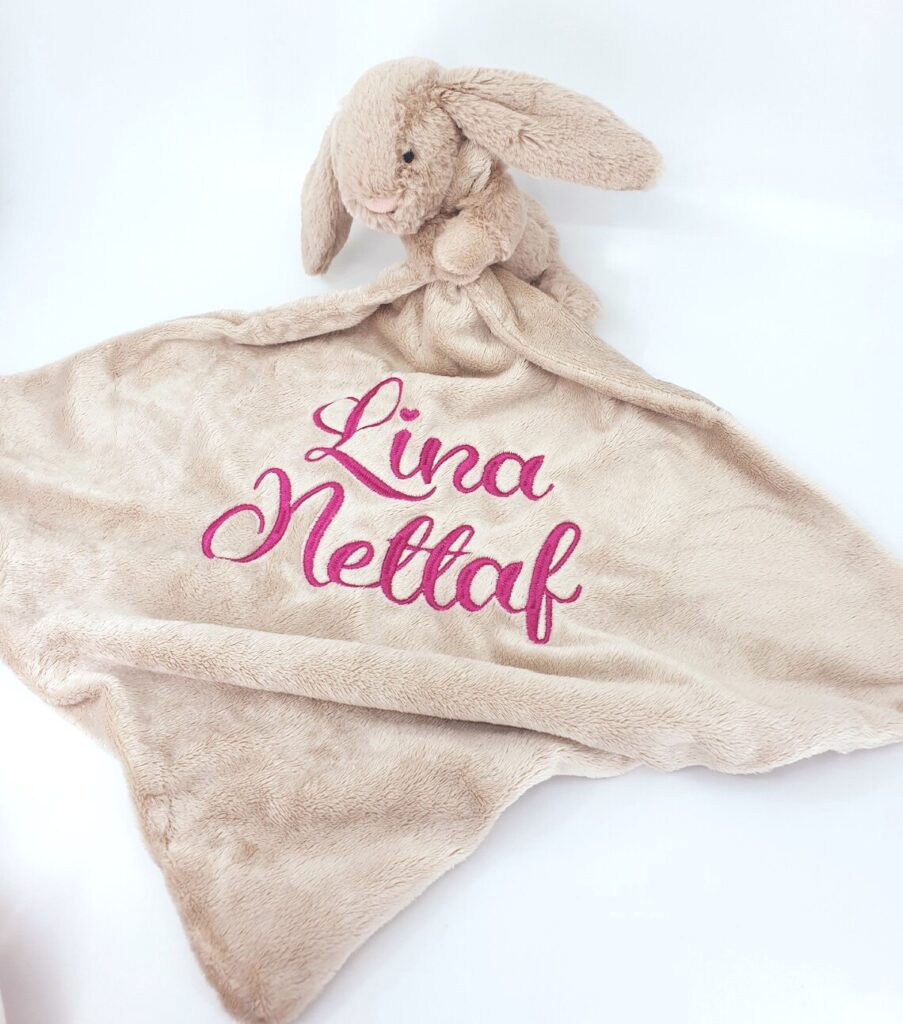 Personalized Baby Soft Toy Blanket
This will surely be the baby's favorite blankie, there are 19 super cute designs to choose from to which my favorite is the monkey. A newborn gift that will outshine.
---
Newborn Gift Ideas Under $10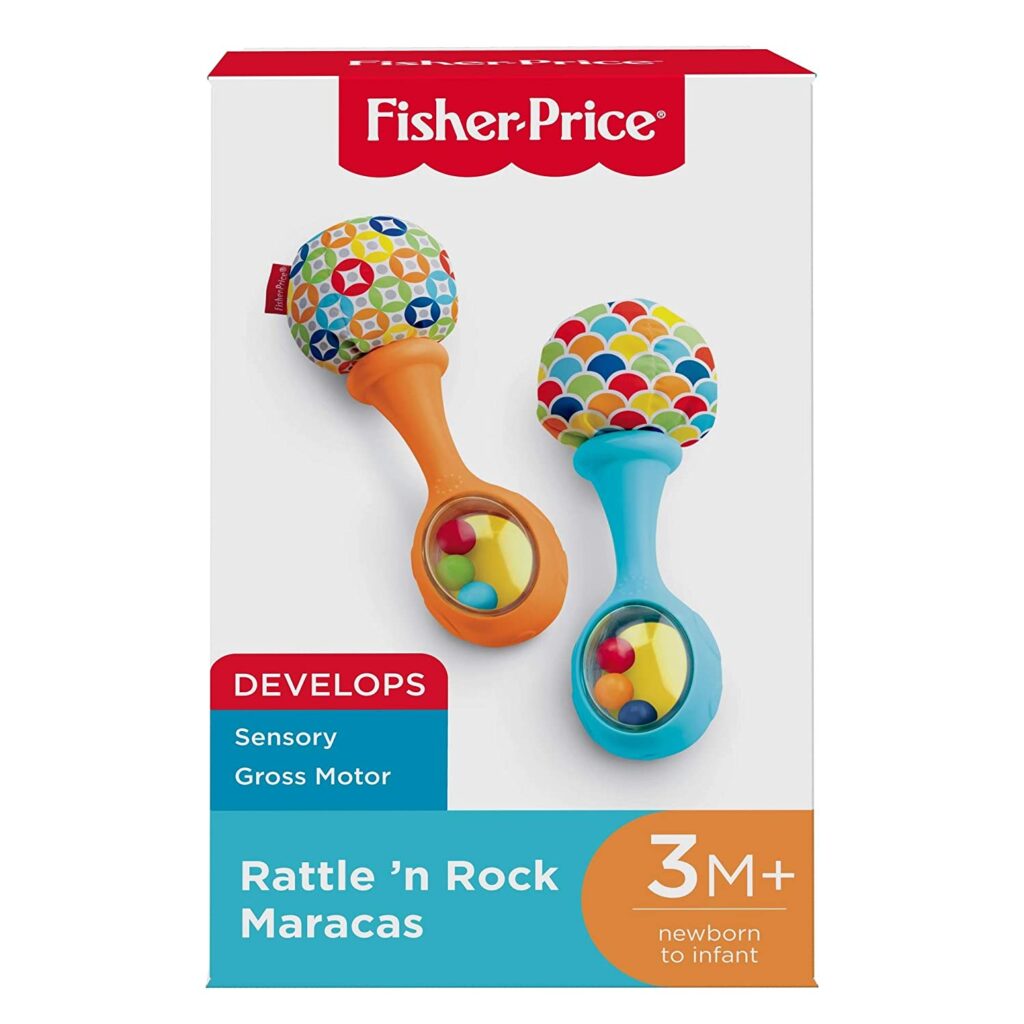 Set of Two Rattles
Every baby love these so you can't go wrong here. These Maracas are also available in other colors, such as pink plus purple and green plus yellow.
---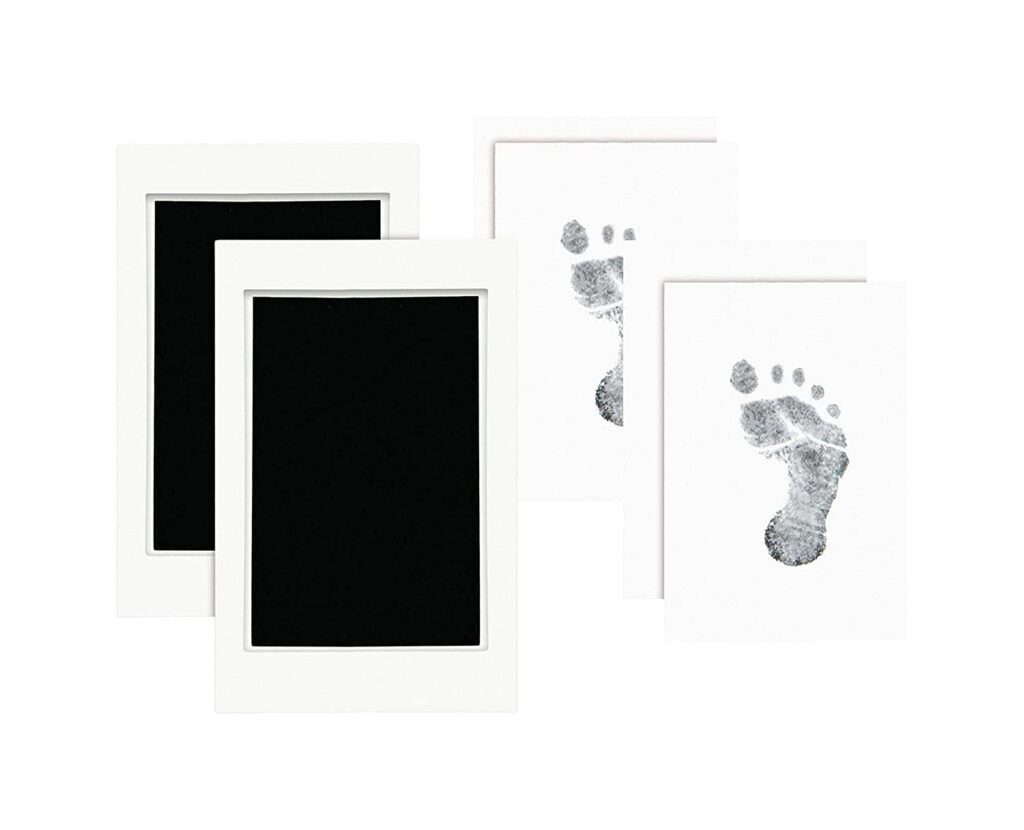 Newborn Baby Handprint or Footprint
Something cool to have for everyone, the parents and the baby, they can even mix it up and have 1 foot and 1 hand print. Also available in pink and blue.
---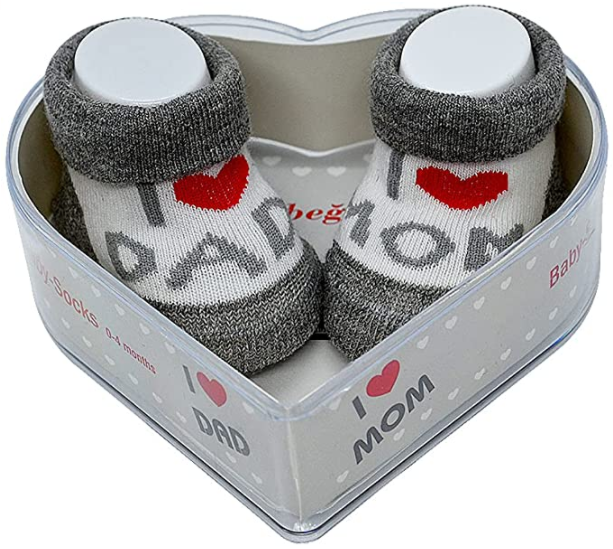 Cute Baby Socks
The parents will love these tiny cute socks, especially being fair, saying I love both of them. If you are looking for a gift for a single parent, they are also available just for mom or dad.
---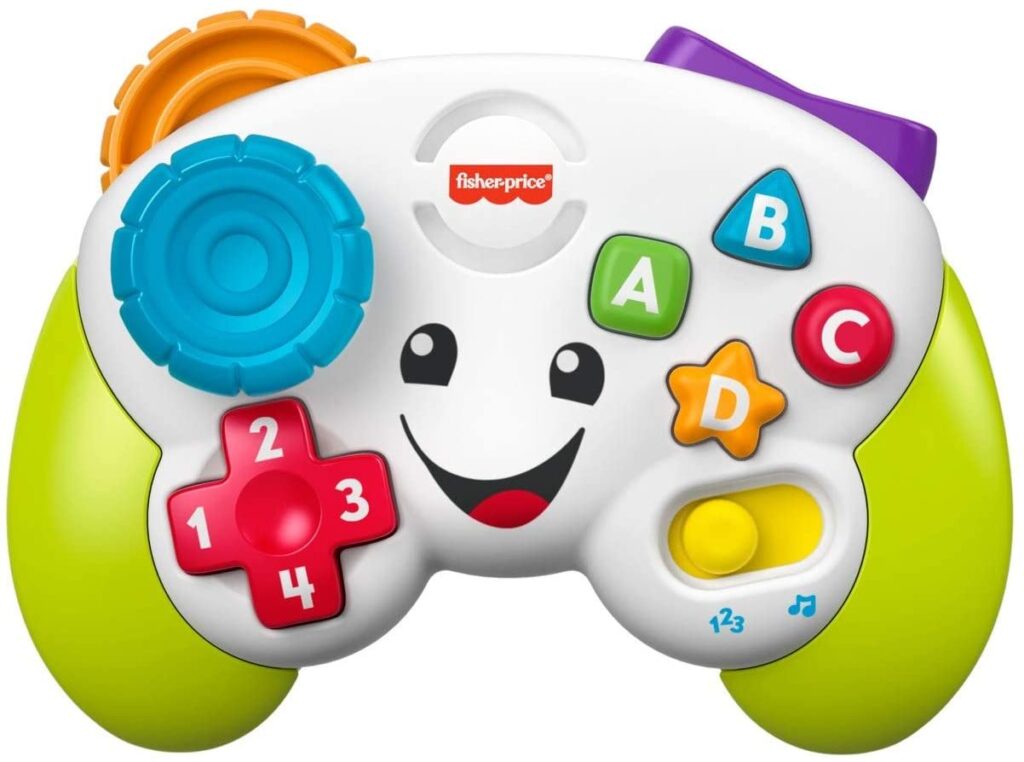 Laugh & Learn Controller Game
A cute little controller to keep them away from the real one while they learn shapes, colors, numbers and more, it also includes exciting songs, sounds, lights and phrases.
---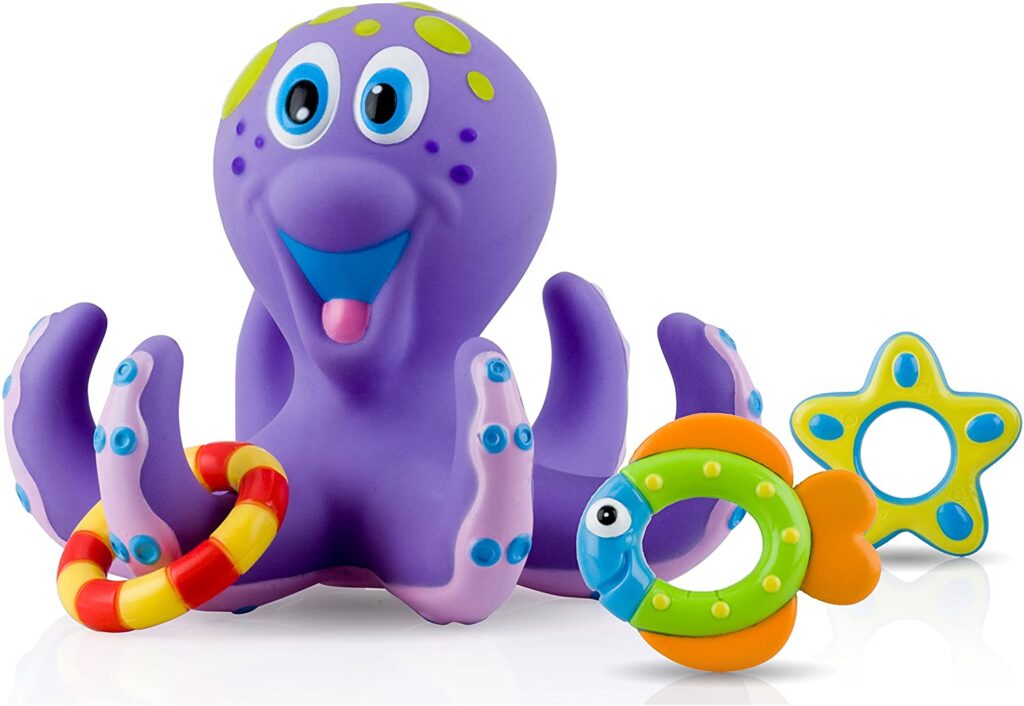 Interactive Bath Toy
This great newborn gift will keep the baby occupied during bath time, the child will be wrapped up in fun for hours, or at least until bath time is over.
---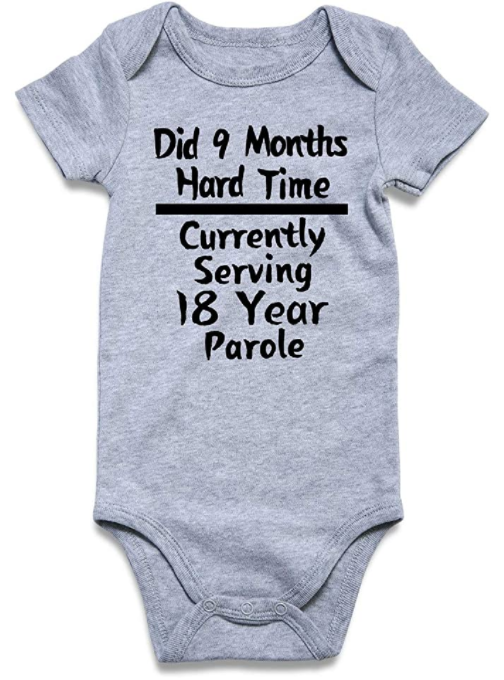 Funny Onesie Bodysuit
There are over 20 to choose from, so click the link and choose which one suits your gift best.
---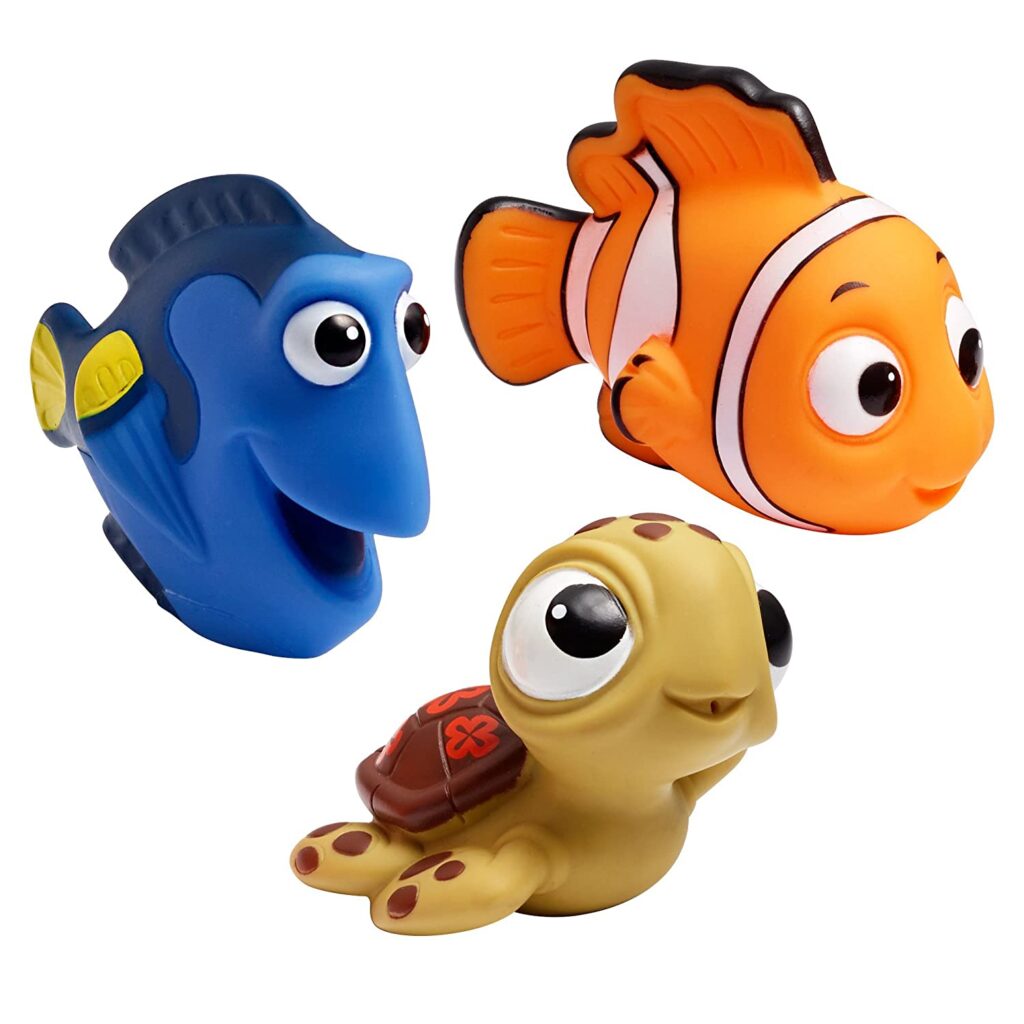 Disney Baby Bath Toys
Finding Nemo is my personal favorite, but you can choose from, Mickey Mouse, Minnie Mouse, Puppy Dog Pals, The Little Mermaid and Toy Story. These toys will surely make bath time more fun for the newborn.
---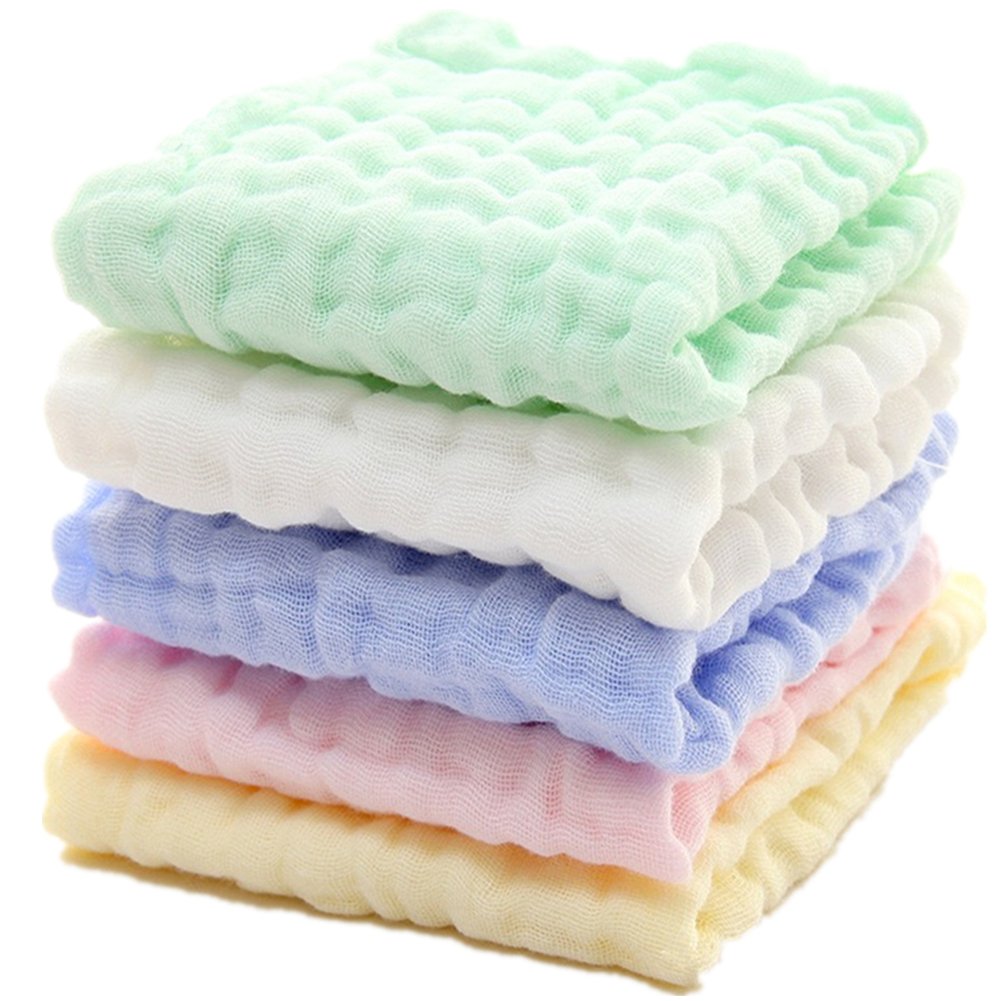 Newborn Baby Face Towel and Muslin Washcloth
Babies are messy and needs cleaning very often, having extras is a must and these set of 5 multi-purpose washcloths will surely come in handy.
---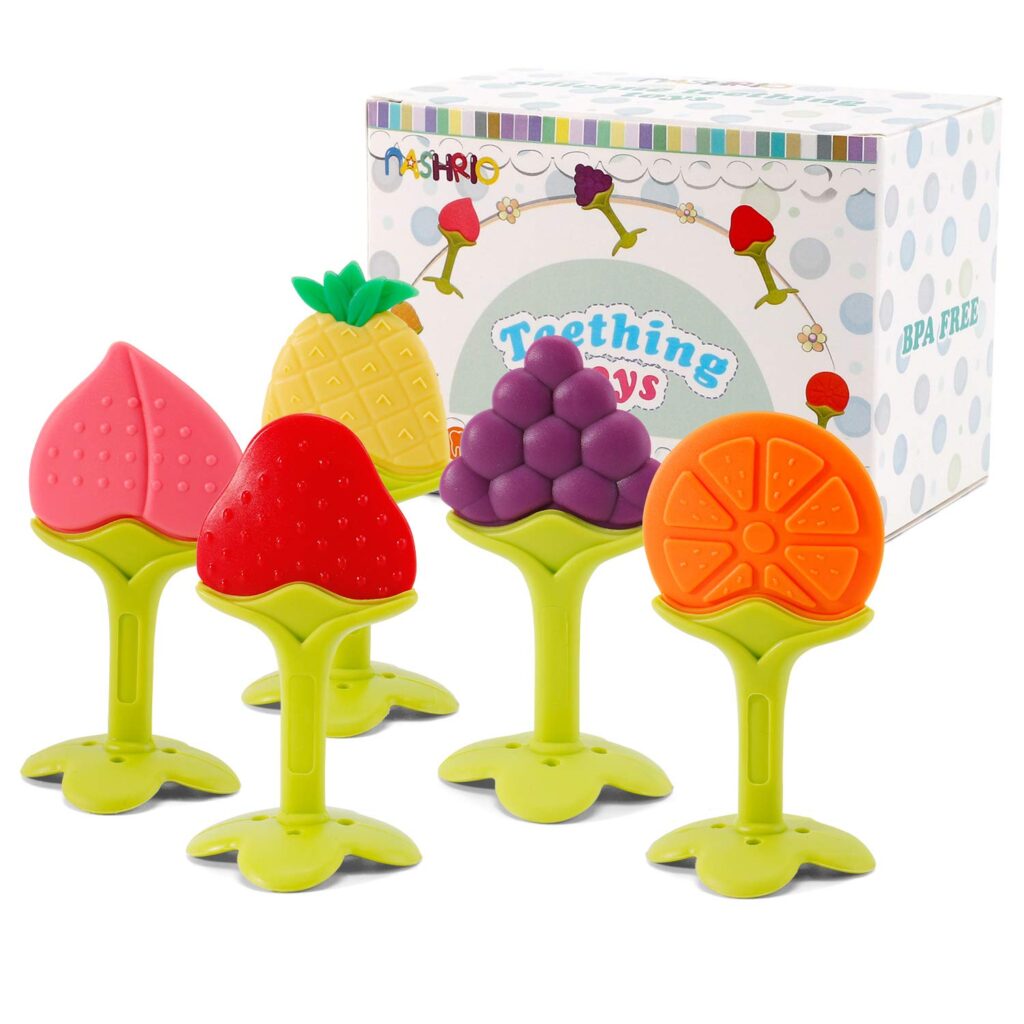 Baby Teething Toys
A set of five baby teething toys, made of silicone BPA free natural organic freezer safe. These are important to help the newborn get through that rough period of teething easier and with less pain and is essential for all babies.
---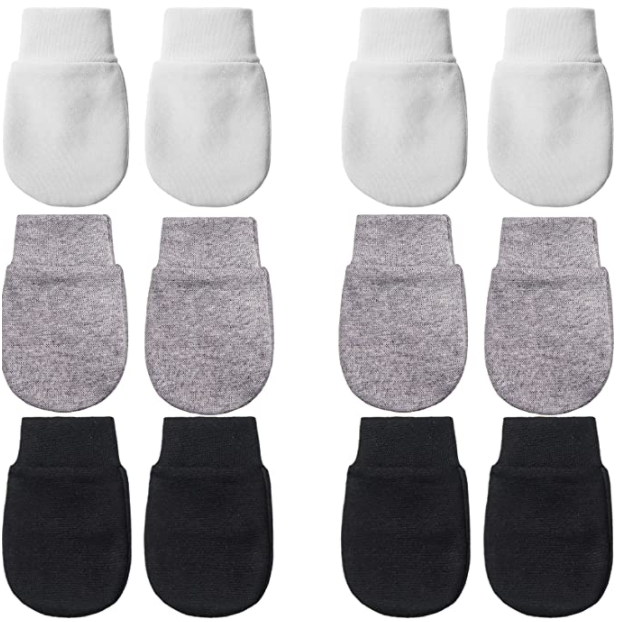 6 Pairs Newborn Baby Mittens
Having spares is always essential for babies, these no scratch mittens are comfortable, soft and friendly to baby's skin, lightweight and breathable, washable and reusable and comes in 3 different colors for matching outfit.
---
Kate & Milo Board Books
A selection of 13 different books, these "bedtime blessings" board books by Kate & Milo are fun and educational, might be too early for a newborn but when the time is right, it's never too early to start learning.
---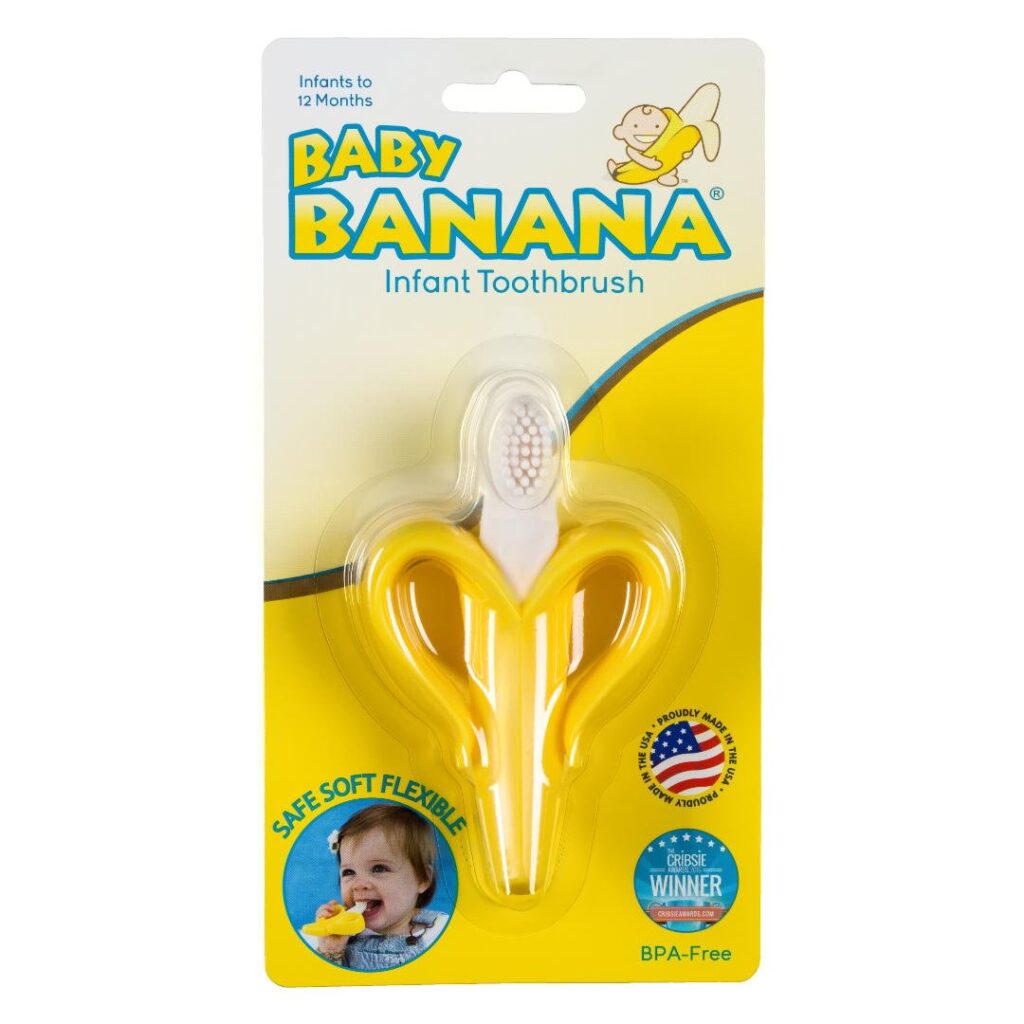 Teether Infant Toothbrush
A baby's first toothbrush, the soft, flexible brush helps protect newborn mouths that are still learning the habits of oral care. Available in 10 different designs.
---