51 Unique Gifts For Mom: Meaningful and Sentimental
Whatever the occasion is, her birthday, Mother's day or Christmas it's never too early to search for the perfect gift for mom and we know that sometimes it's hard to find that perfect gift. So below we have thoughtfully prepared a list that meets all budgets, for as little as $8 to over $200, to which you can also team up with a sibling for a more expensive gift and also showing her your bond.
Even if she claims that has everything, here you will find something that will make your mom's life a little better. And remember moms love personalized gifts, especially if she never received one!
---
Long Distance Friendship Lamp
Do you live far apart from your mom? Brighten up your mother's day from anywhere in the world. These lamps will sync together and when you touch your lamp it emits the same ambient glow, no matter where it is! show your mom you are thinking of her. You can even synch more than 2 lamps, so if your brother or sister want to get in on it the gift, each lamp can have an assigned color so your mom will even know who is thinking of her at that moment. Also available as a Friendship frame or in a rounded shape here.
---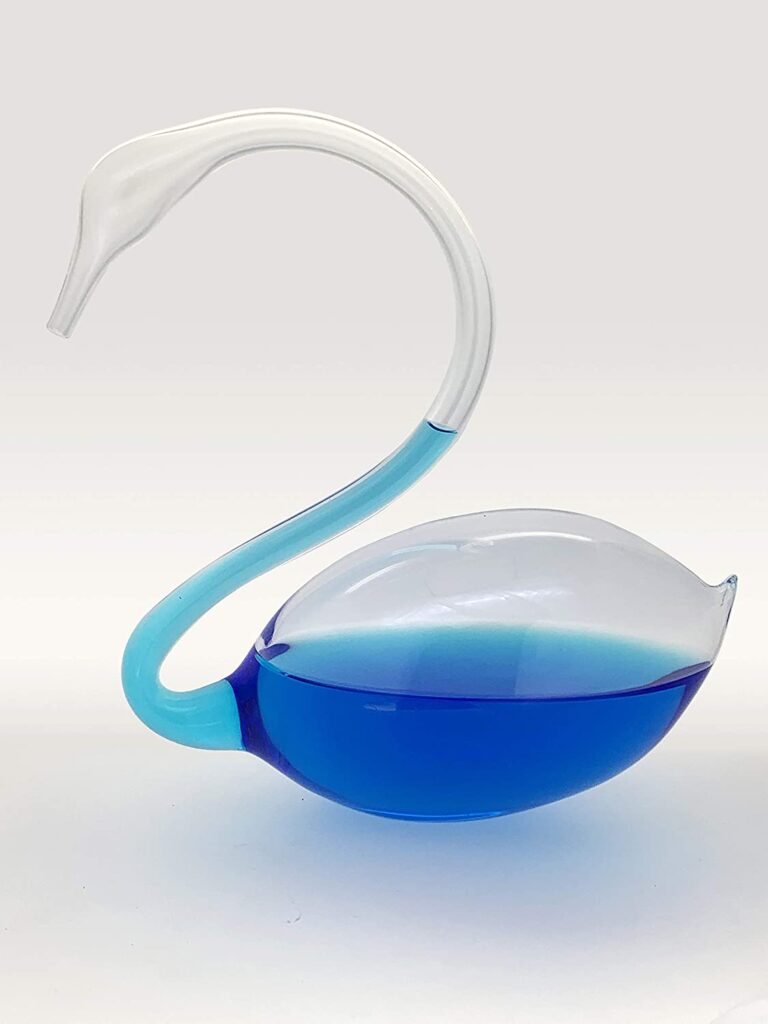 Weather Predicting Black Swan
No this is not made for wine! This is science and artistry together in an elegant, hand-blown glass barometer in the shape of a swan. The way it works is when atmospheric pressure is high, indicating fair weather ahead, the black liquid inside sinks low in the neck. When atmospheric pressure is low and the liquid rises towards the swan's head, a storm is on the way. This system was used by sailors for over 400 years, but not as elegant as this one.
---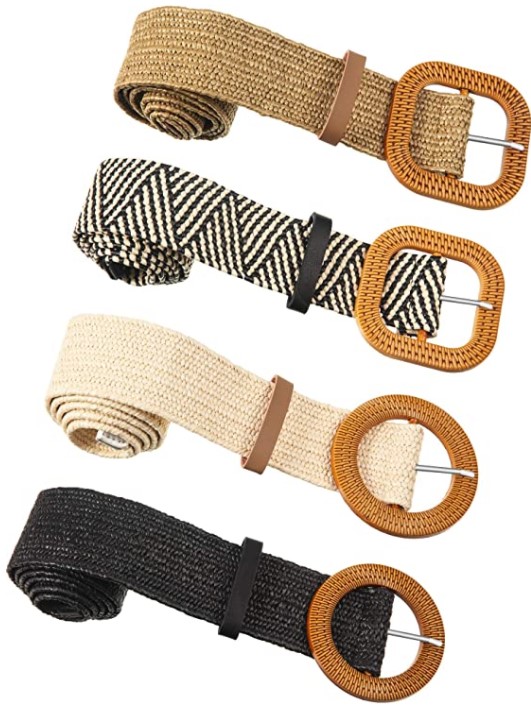 A Gift for a Stylish Mom: 4 Elastic Waist Belts
Four gifts are better than one! Take your mom out for lunch in one of these belts which will go perfectly with dresses, long shirts, coats, casual and formal making it look more elegant. Remeber, stylish gifts don't have to be from dauther, they can also be from the son.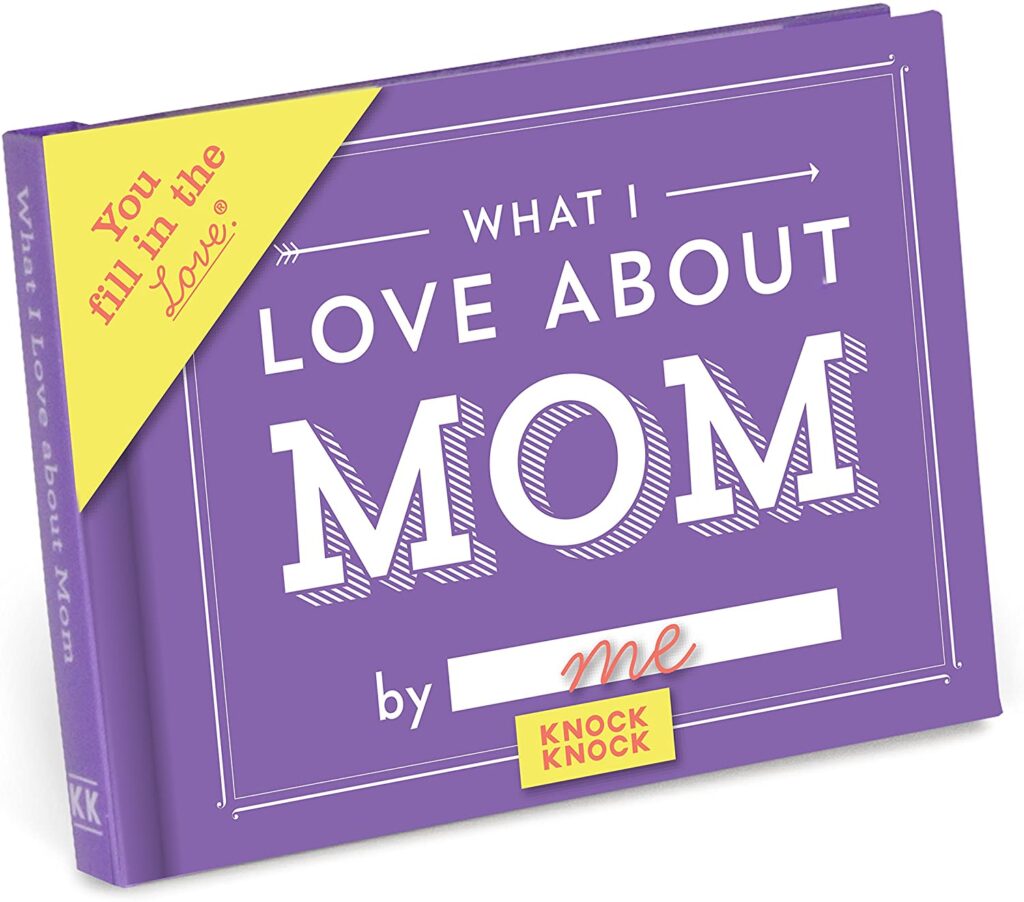 A Gift for the Best Mom: Fill-in-the-Blank Book
This fun to do fill-in-the-blank book will surely make your mom happy, show her what she means to you. She will surely read this sentimental gift more than once over time.
---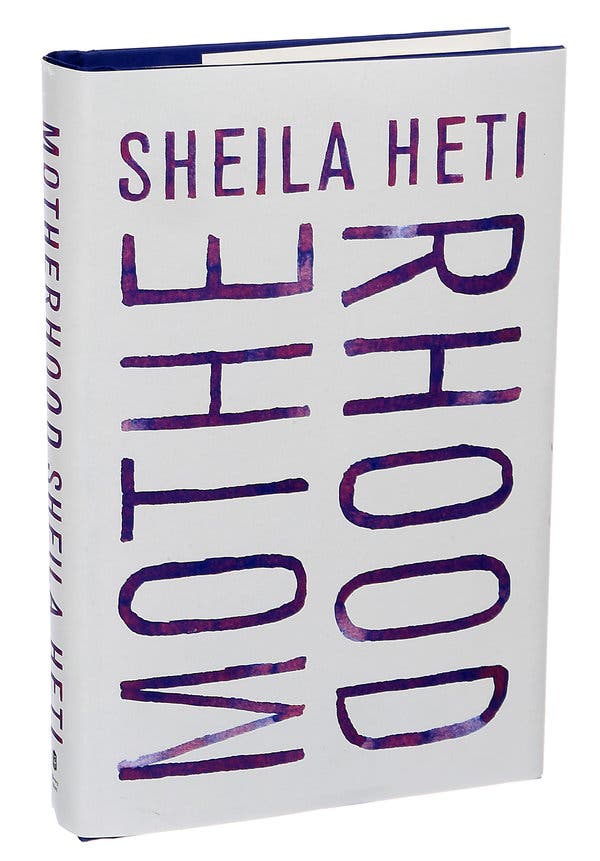 A Gift for Mom that Loves to Read: Motherhood: A Novel by Sheila Heti
If she loves reading books, this fits perfectly for your mom. For in writing about motherhood, Heti is also writing about femininity and vocation, embodiment and mortality, history and freedom.
---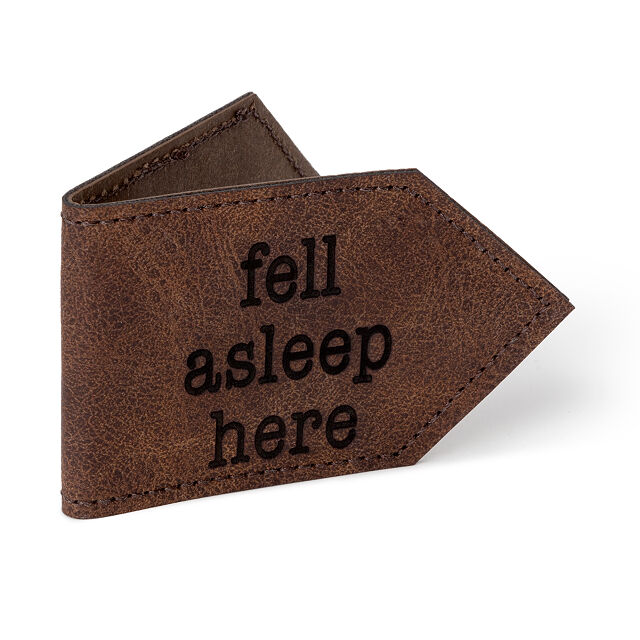 A Gift for Mom that Falls Asleep: Magnetic Bookmark
This cute and funny magnetic bookmark will go perfectly with the above book, or any other book in that matter, especially if your mom is the a sleepy reader.
---
A Gift for Mom that Loves Avocado
For the moms that love avocado. Either the multi-tool which can cut, pit and scoop easily or the silicone covers to keep the cut fruit fresh, I would go for both and why not a couple of fresh avocados and make some guacamole with the worlds best mom.
---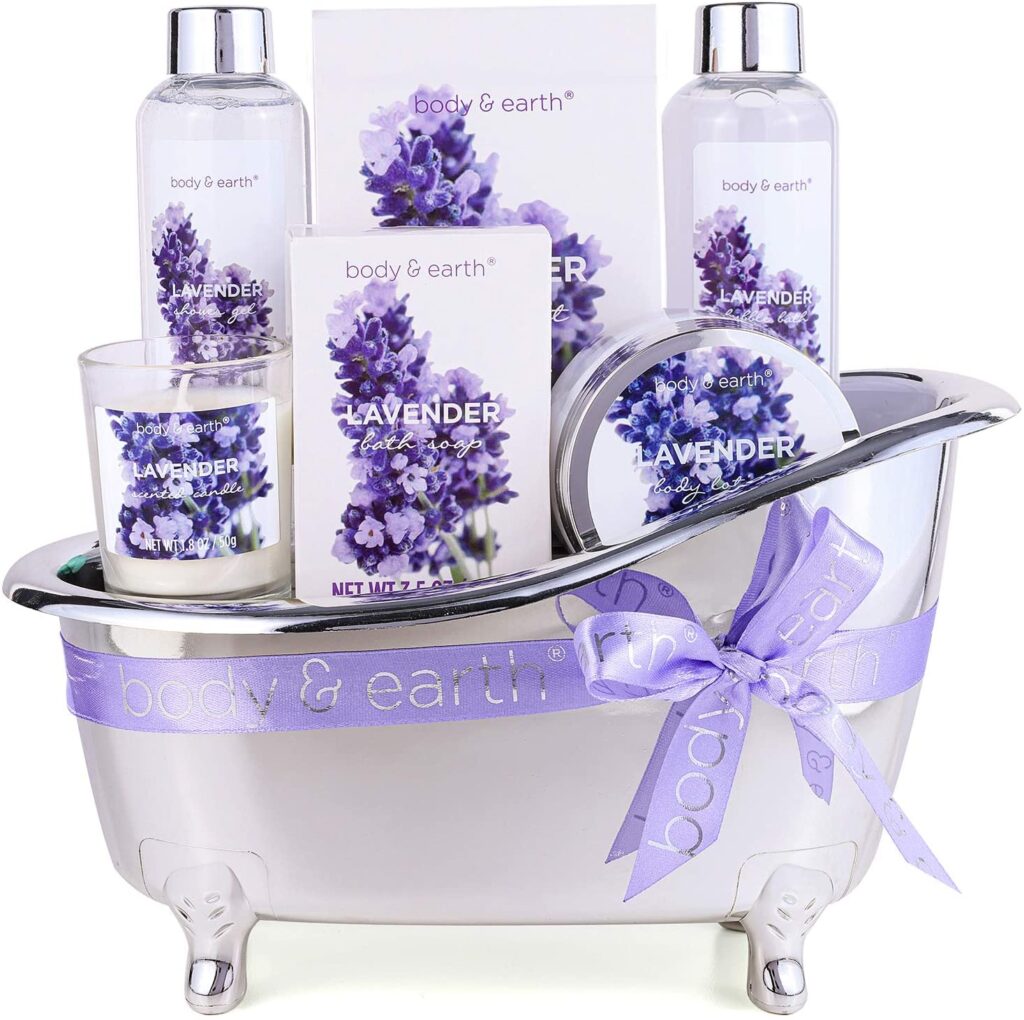 A Gift for Mom that needs a Little Pampering
A mom always deserves a little her time, treat her to a spa without her even have to leave home, perfect way to a relaxing evening.
---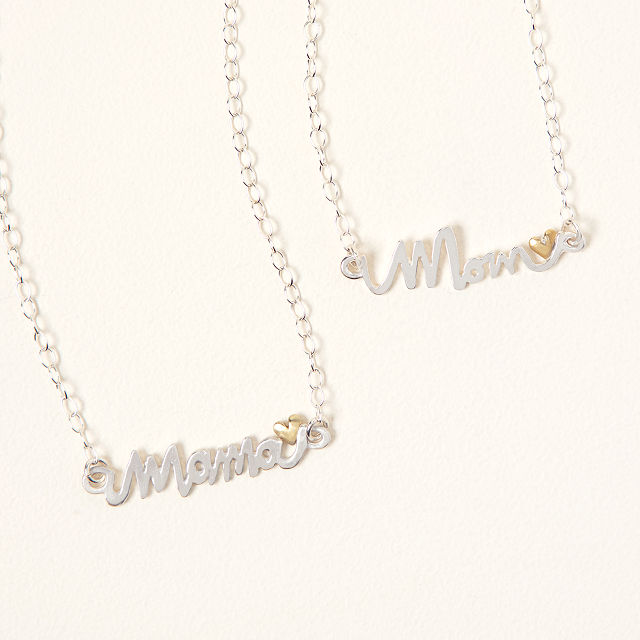 Hand-Drawn "Mom" Necklace
Gift your mom this handmade sterling silver and bronze necklace with the first word you said to her. Your gift close to her heart.
---

A Unique Gift for Mom that's Inspirational
A mom is your first friend, your best friend, your forever friend. Show her what she means to you with this bangle that she will surely love wearing, maybe even show off to her friends. Multiple engraved words to choose from.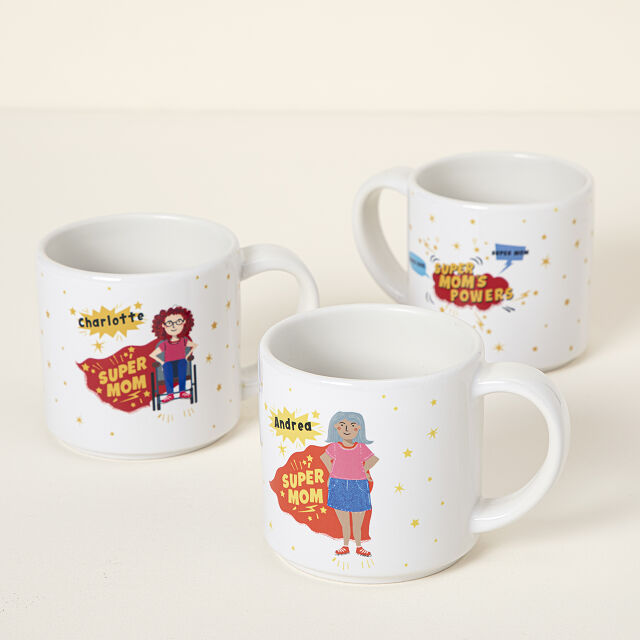 A Gift for the Super Mom
How about this unique personalized gift for mom! You have the option to customize her name and even the mom's appearance on the mug.
---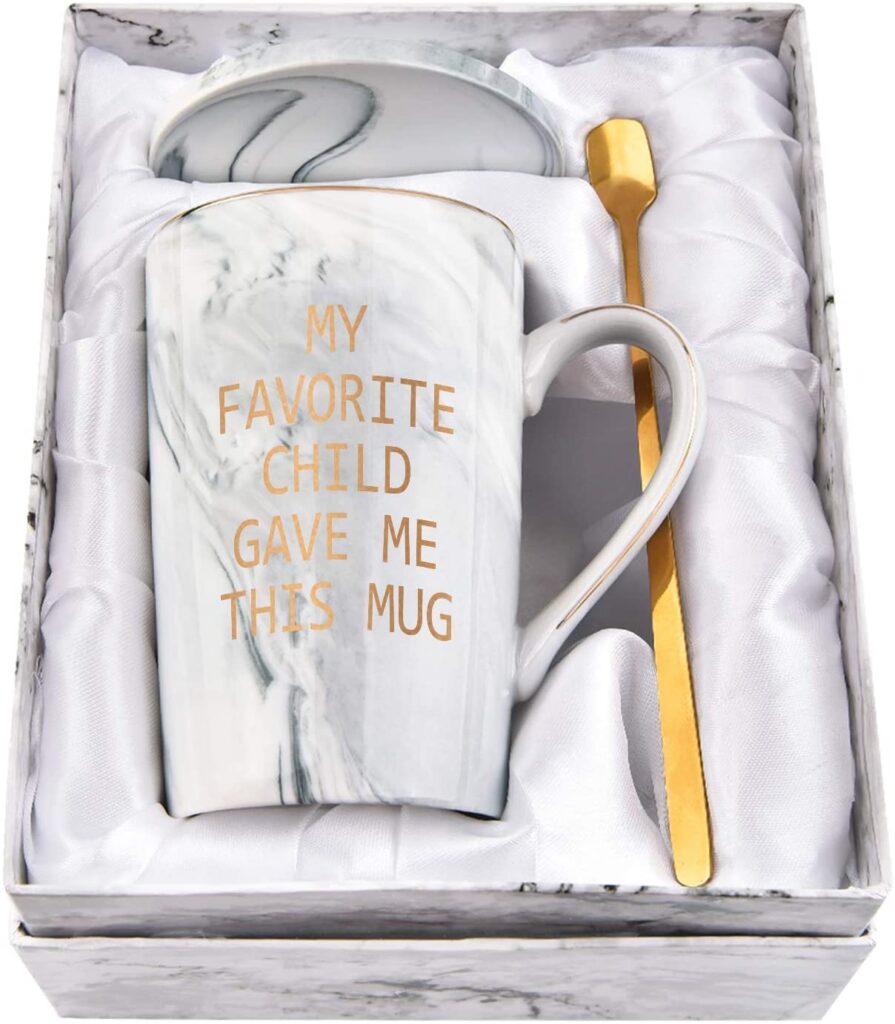 A Gift for Mom from the Favorite Child
Are you the favorite daughter or son? If so, this will help you prove it. This fancy mug will surely bring smiles to the ones with a sense of humor, just make sure no one hets too jealous! And if she has too many mugs, you can also go for a glass or cup here.
---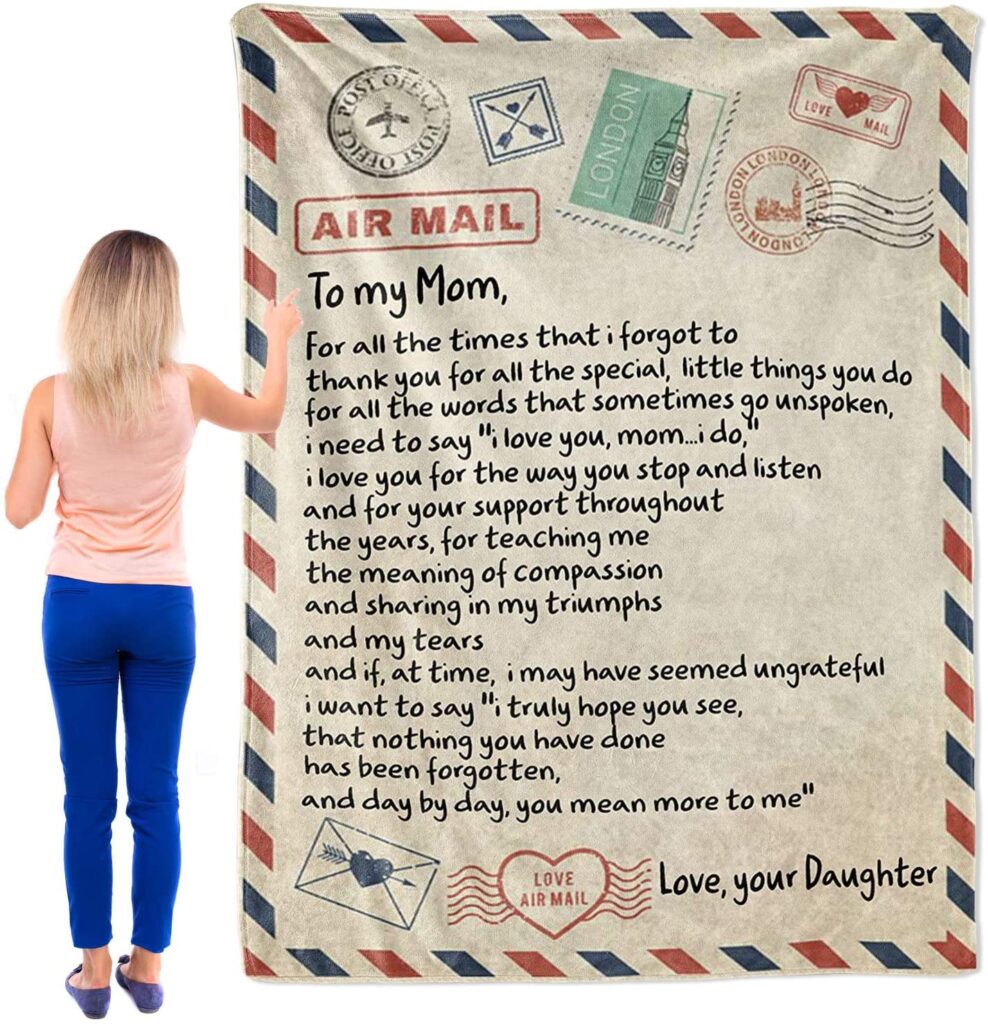 Unique Gift for Mom: Blanket Letter to Mom
This blanket letter is a unique gift, but if you want to really surprise her for a higher price than the above you can go for the fully personalized hand-writter letter blanket which doesn't have to be from dauther, can be also from son, so get started on the letter, you have 400 characters max and tell her how you feel about her, or maybe even ask your brother or sister to be part of this amazing unqiue gift and split the price.
---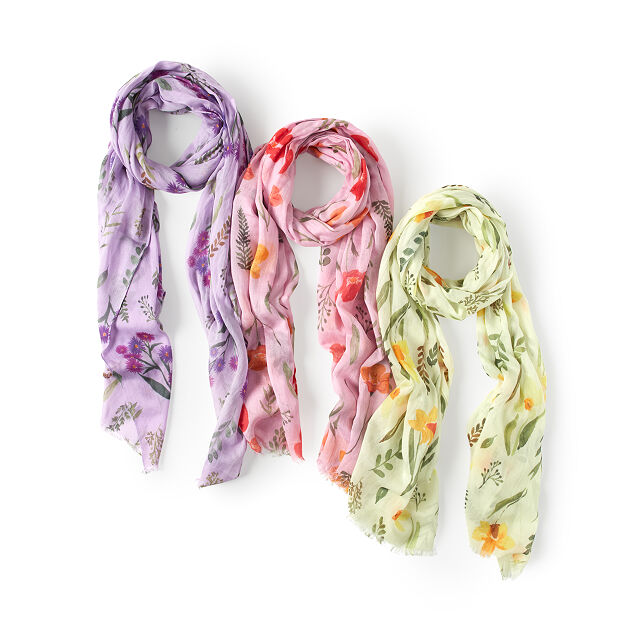 A Gift for the Birthday Mom: Birth Month Flower Scarf
Most moms love flowers and each month is associated with a flower and it's symbolization, so why not this perfect gift for mom's birthday and this light scarfs are a fit for any occasion. I got one for my mom last February which symbolizes the flower Violet – loyalty and faithfulness, she loved it!
---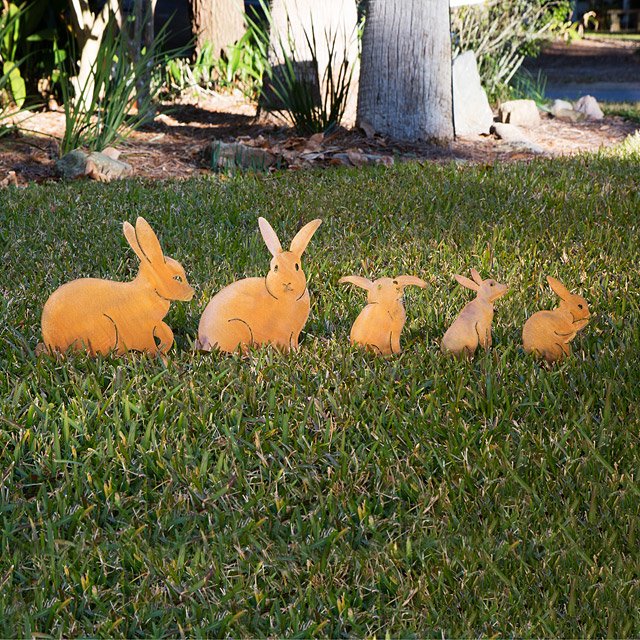 A Gift for Mom's Garden: A Set of Five Bunnies
Add some bunnies to the family, these cuties will surely brighten you mom's garden. Maybe even name them together to make it even more fun and bonding with your mom!
---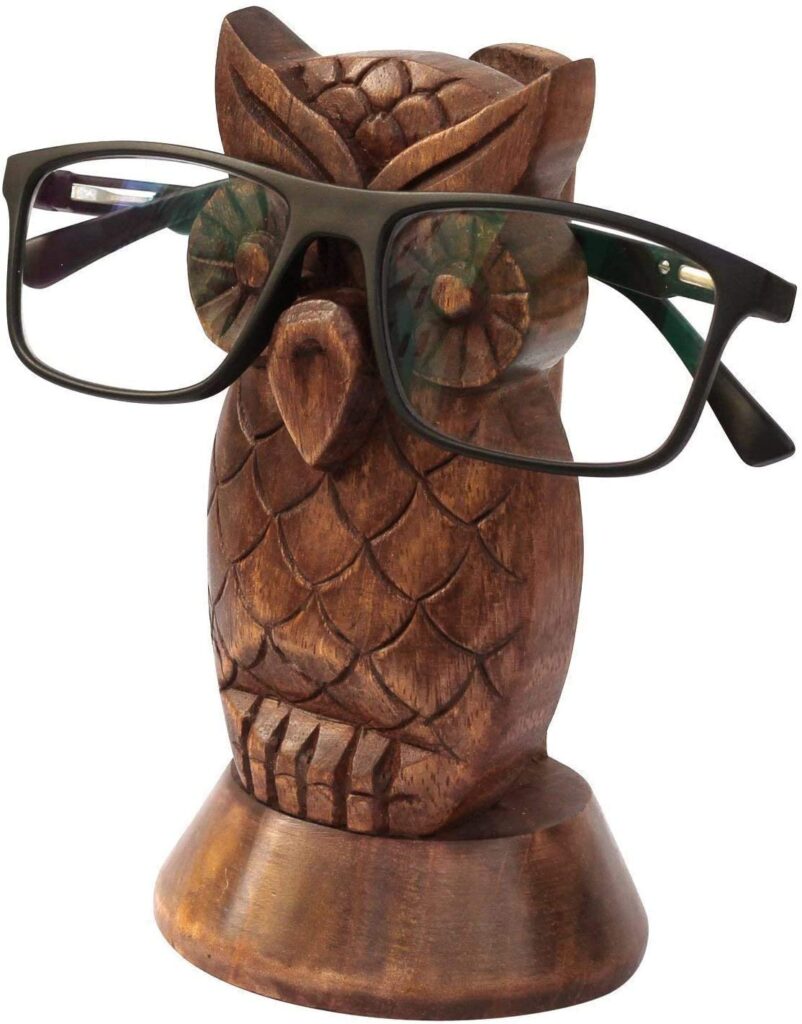 A Gift for Mom that Misplaces her Eyeglasses
With this useful gift she won't misplace her glasses anymore, this wooden sunshine is my personal favorite for a mom but there are more to choose from and they are all handcrafted in India.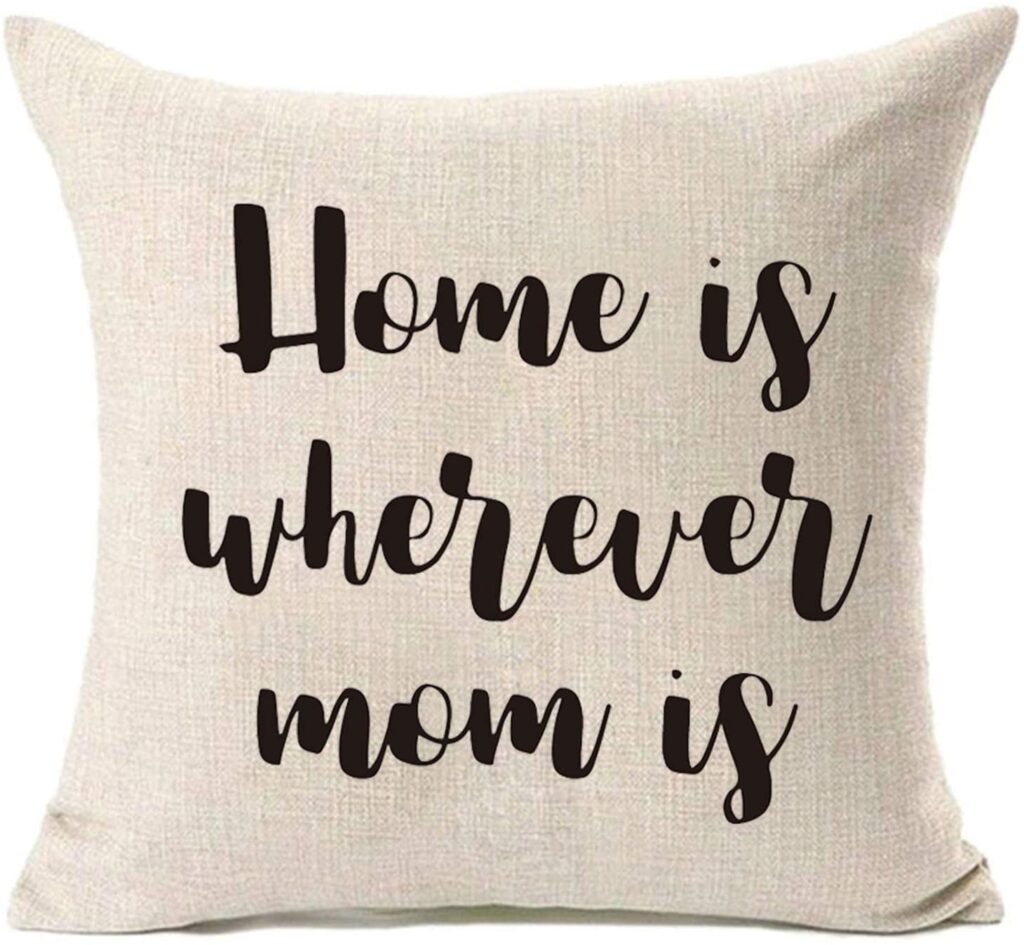 "Home is Wherever Mom is" Pillow Case
Show your mom how much she means to you with this unique gift for mom. Available in different sizes and shapes.
---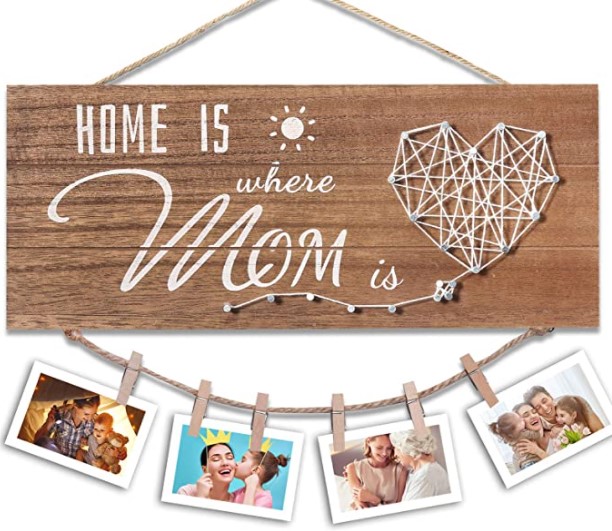 A Gift for Mom that has too Many Pillows
If you liked the message on the pillow but like most moms, she already has too many, here is something she most likely doesn't have. Print you favorite pictures, find the perfect spot to hang and there you go, something unique that she will love everyday.
---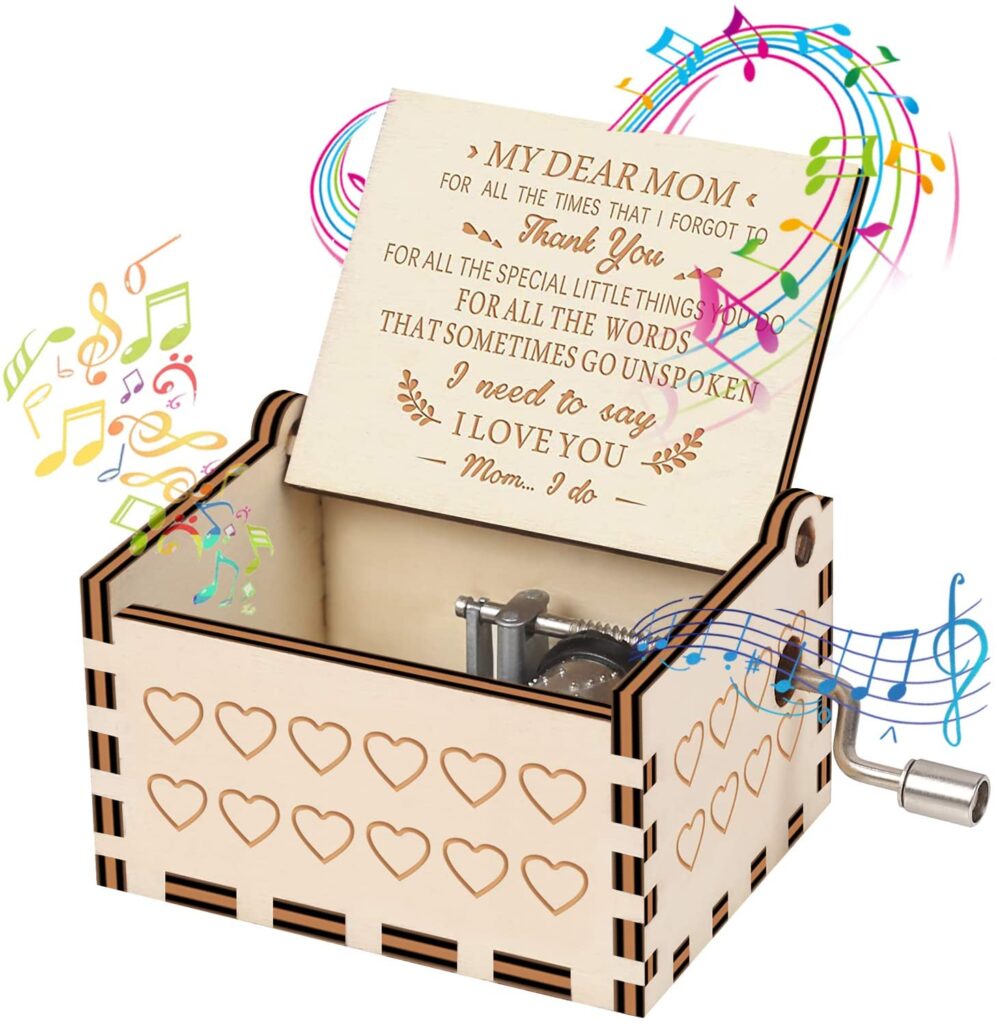 A Gift for Mom that is your Sunshine
It's tiny, it's personalized and it has a melody. First if you don't already know the song, you can have a listen on youtube here. Chances are your mom knows the song and might remind here of the good old days, but non the less, it's a nice song. The box has a lovely message to mom, and a "Remember I love you" message when the melody box is closed.
---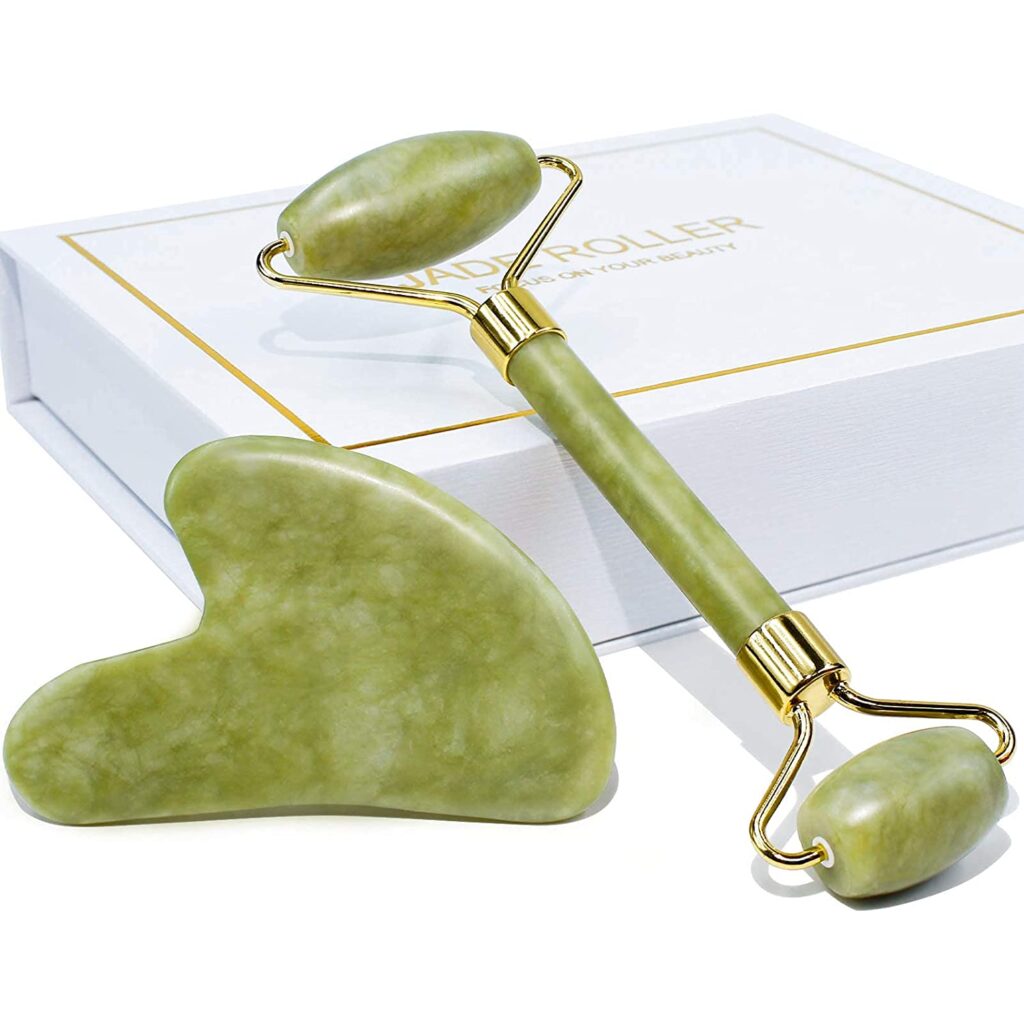 A Gift for the Beautiful Mom
This face massager will help her freshen up, it will benefit her with muscle tension relief and lymphatic drainage; reduce facial puffiness and help the skin look fresh; firm the skin and make it look dewy and lifted.
---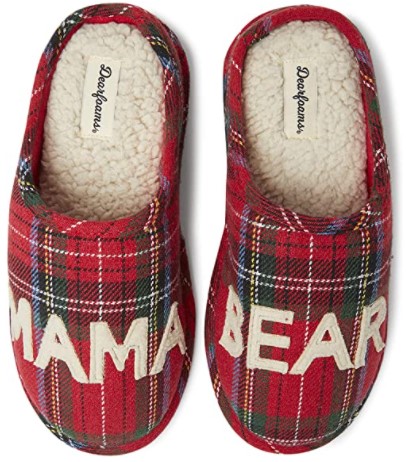 A Gift for Mom that Likes to get Cosy
These cute mama bear fluffy slipper will make her feel like she's walking on clouds, this cozy and soft gift for mom is available in multiple colors.
---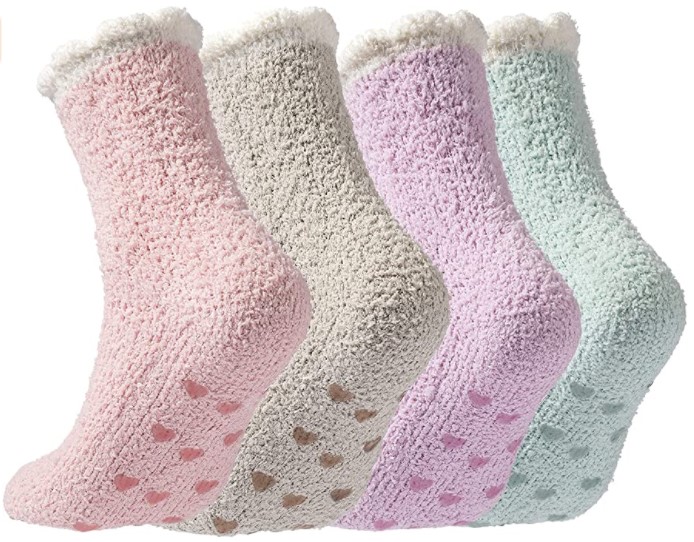 4 Pairs Fuzzy Fleece socks
And if your mom likes to be cosy, these pair of socks are suitable for indoors and when going out with boots. She will love the cute little heart at the bottom of these socks.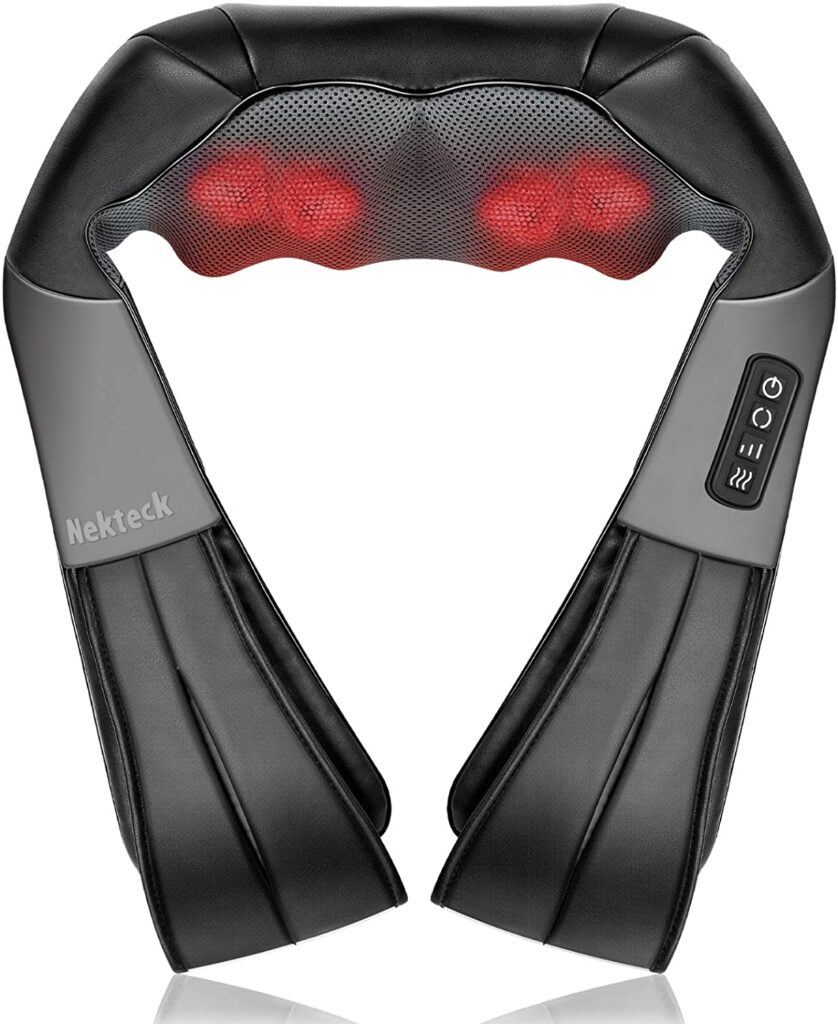 A Gift for Mom that Loves Massages: Neck and Back Massager
Is she one of does moms who doesn't want anything, she will surely change her mind with this gift and pretty sure she will love you even more for this gift. This neck massager will help your mom better with alleviate muscle soreness, ease neck stiffness, eliminate constant fatigue and it's easy and safe to use, we have tried this and it is really soothing and so does thousands of buyer, you might even want to buy one for yourself after trying it.
---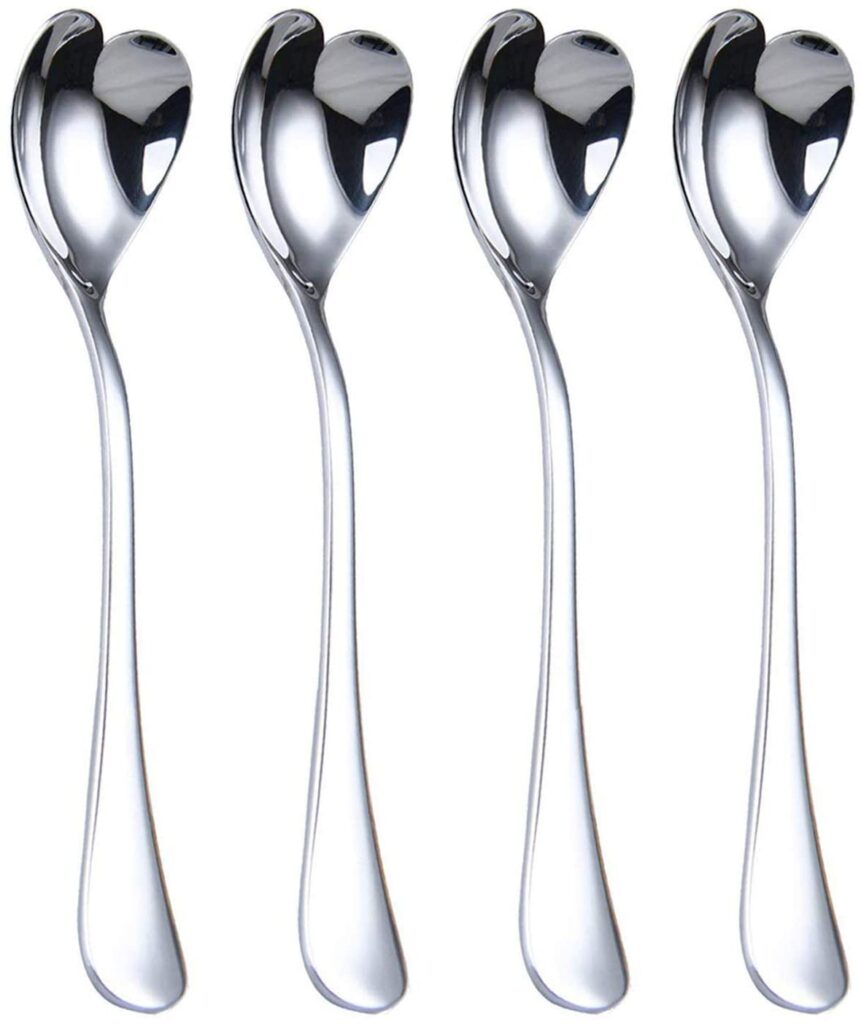 A Gift for Mom that Loves Ice-Cream
Enjoy some ice-cream with your mom with these unique heart shaped spoons. And when you are not close by, she can remember this gift from her loving dauther or son.
---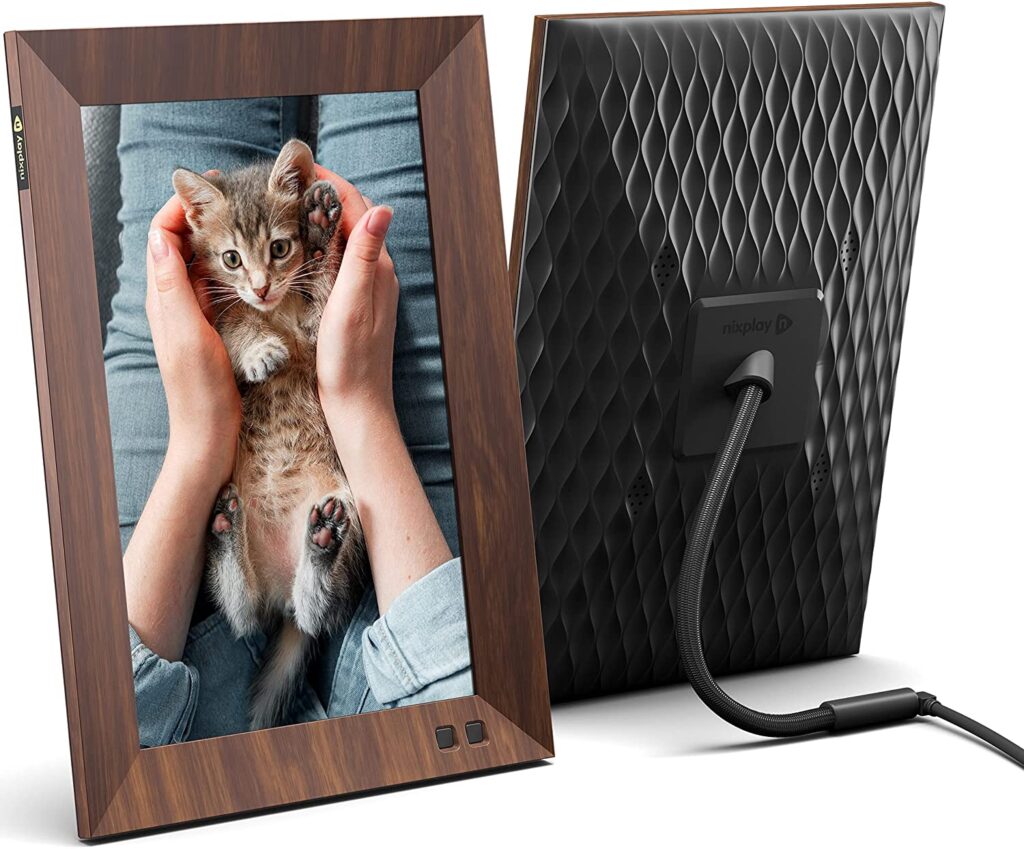 A Gift for Mom that Likes Pictures: Smart Digital Picture Frame
Gift your mom this top-selling frame and stay connected everyday. You can share your picture and videos (15 sec max) from anywhere in the world from you phone, you can invite others to share pictures to mom's frame, create a photo-sharing network for your family.
---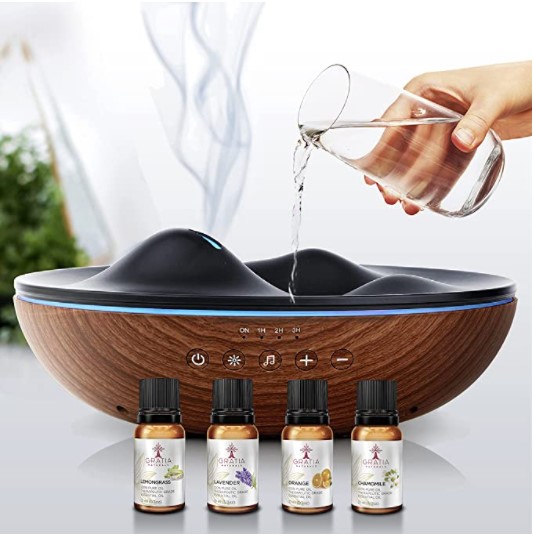 A Gift for Mom that Loves Relaxing Scents
Make your mom's home smell like a spa, the perfect gift for mom when she needs to de-stress after a long day. This will run relaxing scents like lavender and chamomile for up to 12 hours with 6 nature relaxing sounds and 7 color night lights, surely she will thank you everytime for this.
---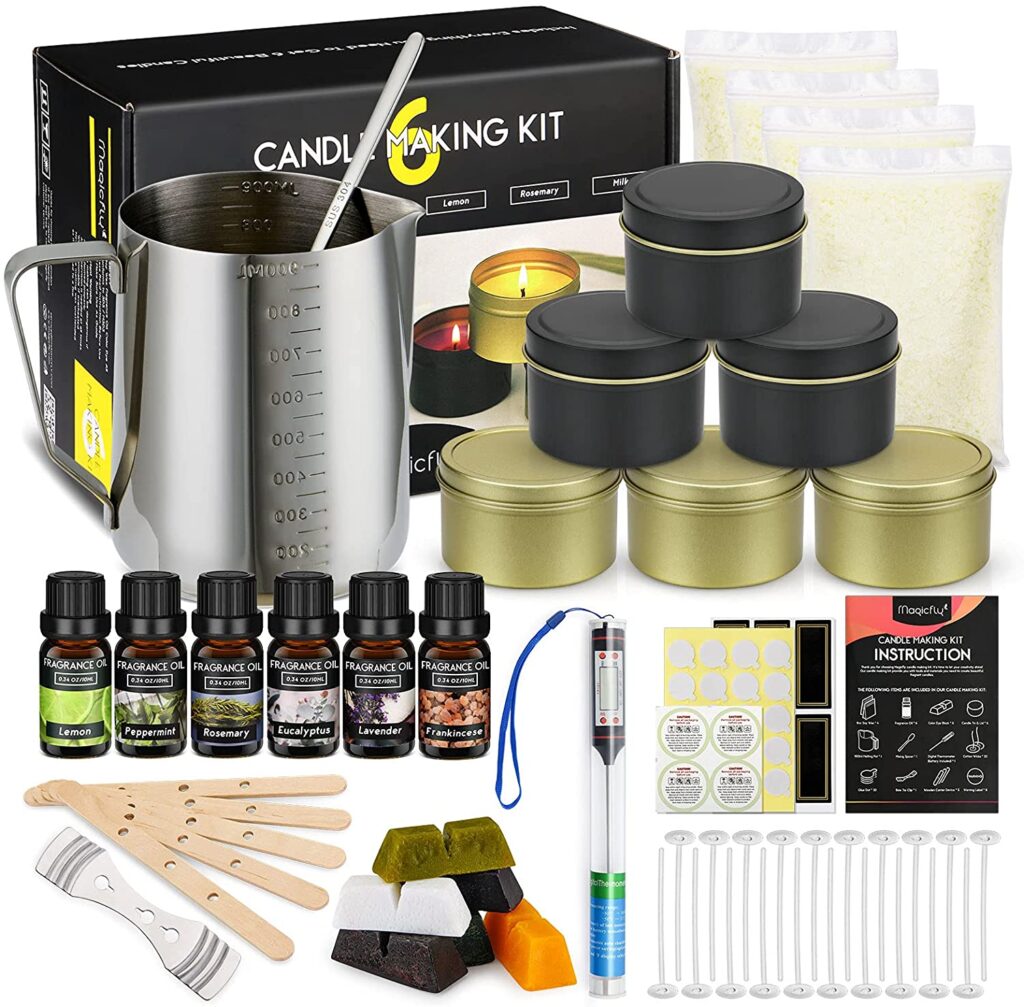 A Gift for Mom that Loves Crafts
Get your mom busy and creative, it's healthy for the mind to create things and also fun. She will love doing these easy to make scented candles for herself and for sure you will get a candle made by mom.
---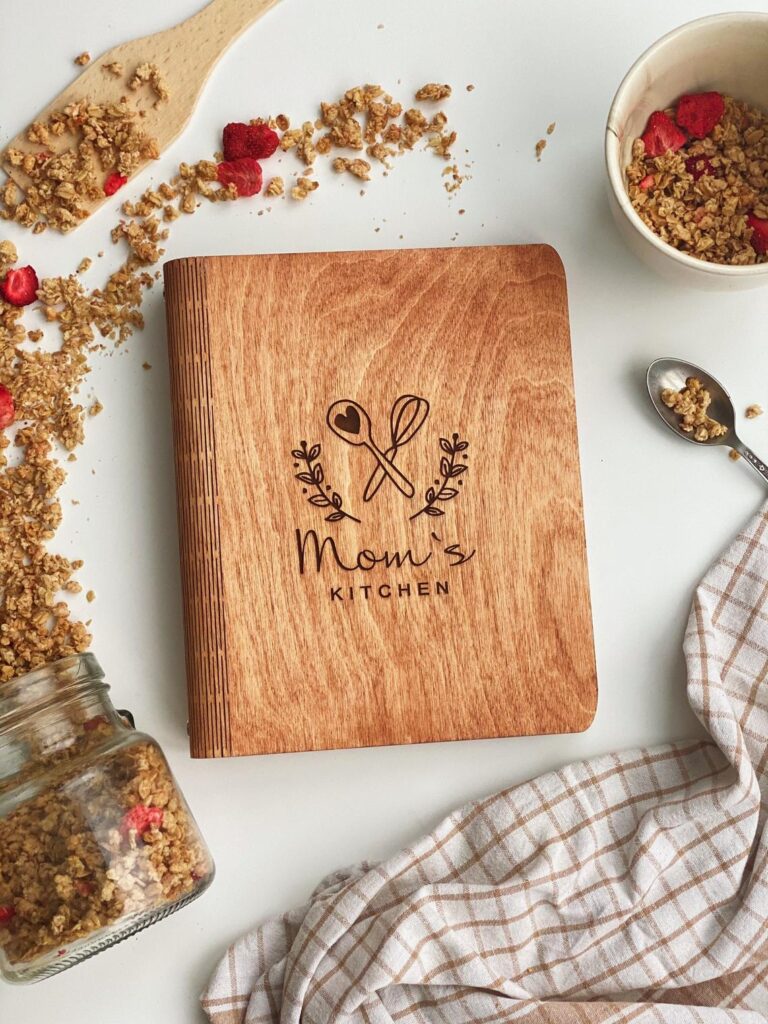 A Gift for Mom that Loves to Cook
If your mom loves the kitchen she will love this book spine, she will brag about it and will cook with even more love. Oh! and they have more designs and sizes to choose from.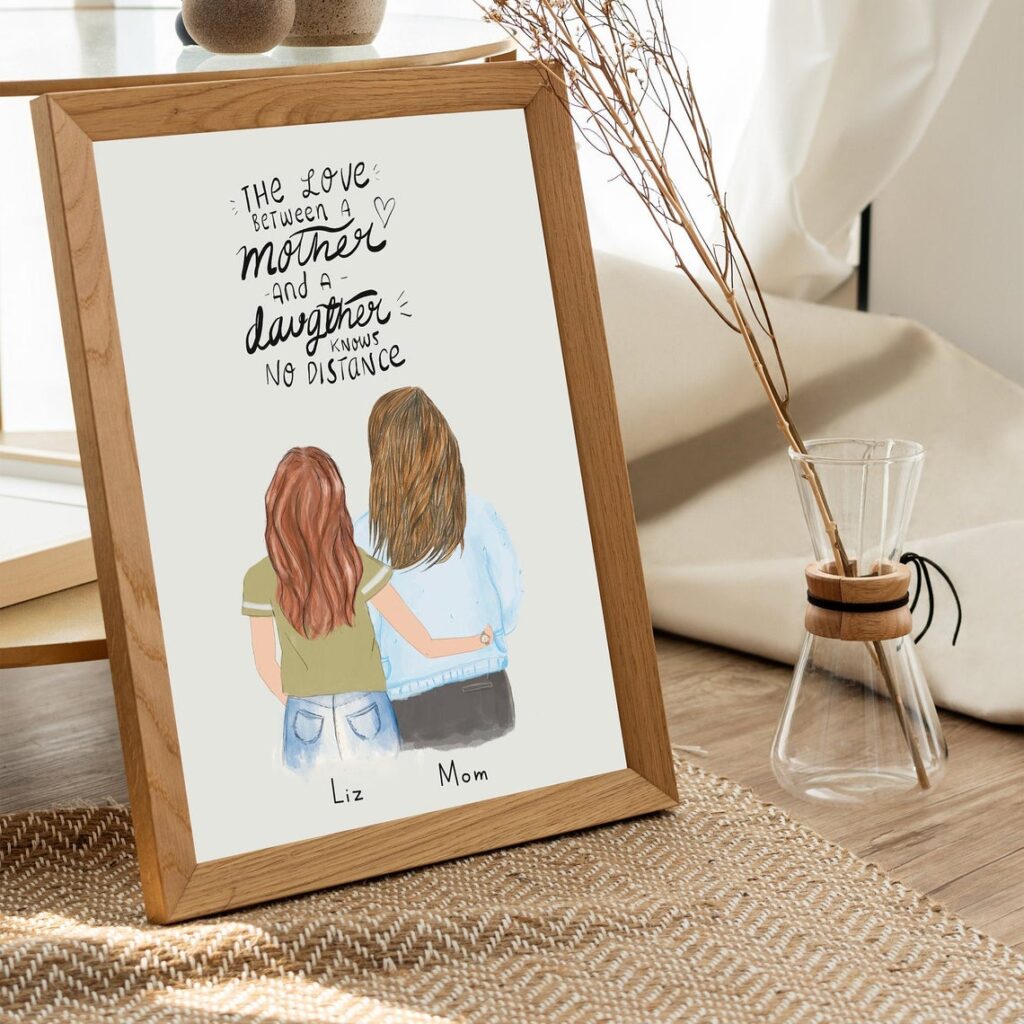 A Gift for Mom that Loves Art
This unique personalized gift for your mom is something she will cherish forever and will show her how much you appreciate her. They have different designs to choose from and the people are fully customizable and easy to do, you can choose from mother and son or daughter, mother daughter and son to mother and five daughters.
---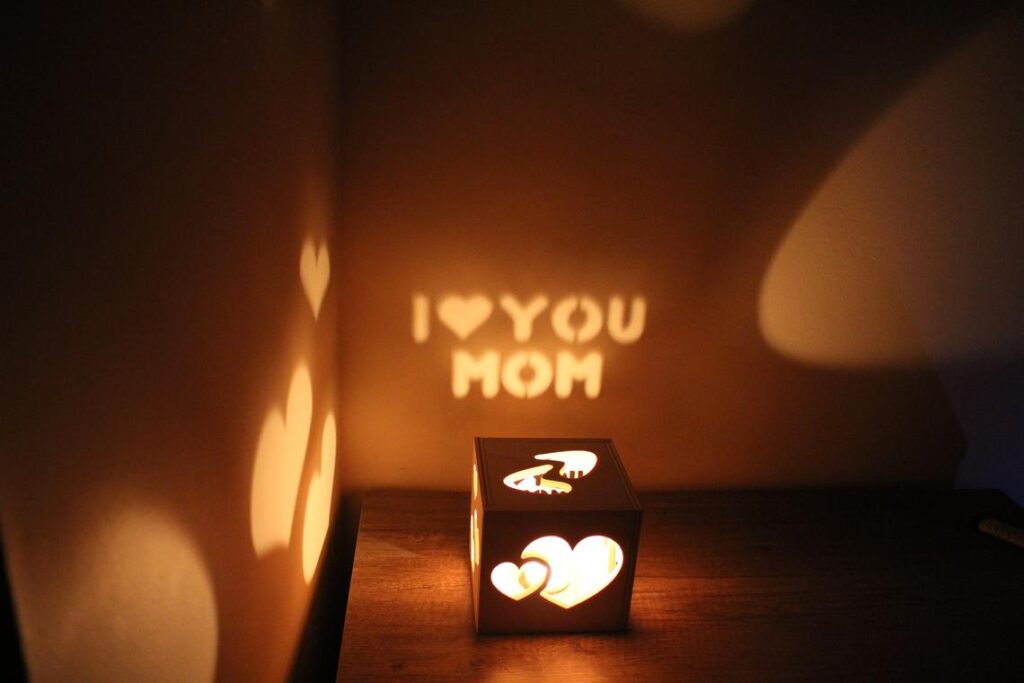 I Love Mom Light Box
This cute little projection box will light up your mom's face every time she turns it on and you can have it in any text you want.
---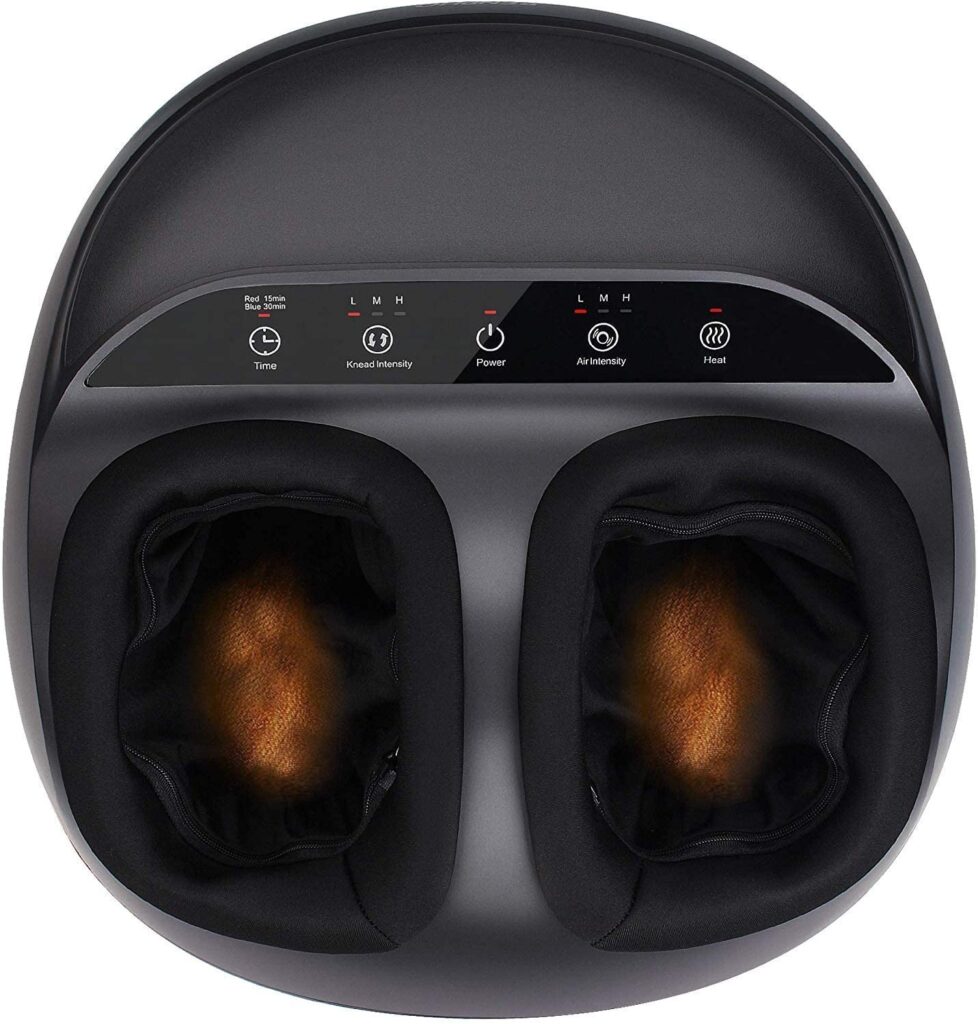 For the Mom that Loves Foot Rubs
For the mom that loves foot rubs, this will get you off the job. Simple to use foot massager, equipped with rotation ball, rolling stick, heating and air compression offers a deep kneading Shiatsu foot massage. Relieve foot pain from plantar fasciitis, improve blood flow, reduce physical exhaustion through foot nerve reflex, and promote better sleep. And if she prefers a foot spa or if you have a lower budget you can go for the Sensio Foot Spa Massager for $40.
---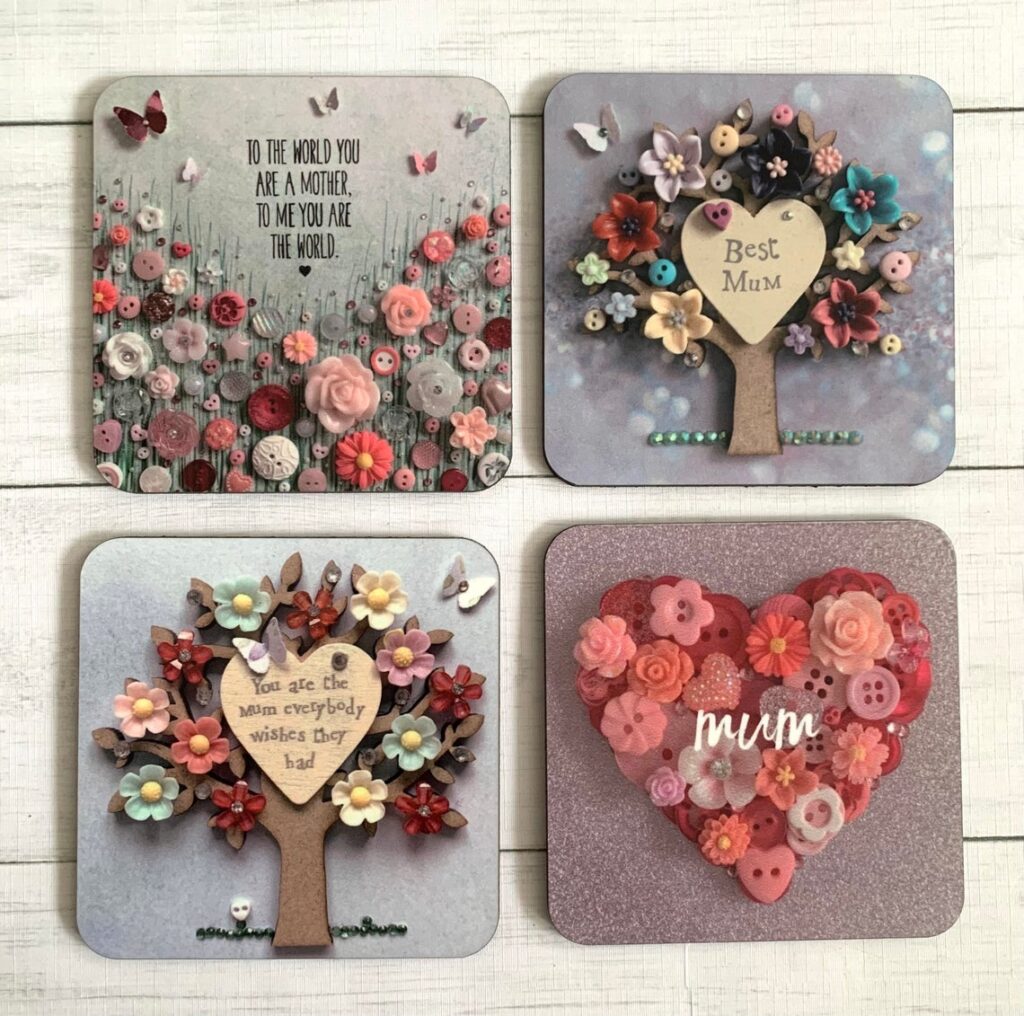 For the Mom that Hates Ring Stains
It's very common that moms hate those ring stain on the furniture, this will help her prevent those stains along with reminding her of you love for her.
---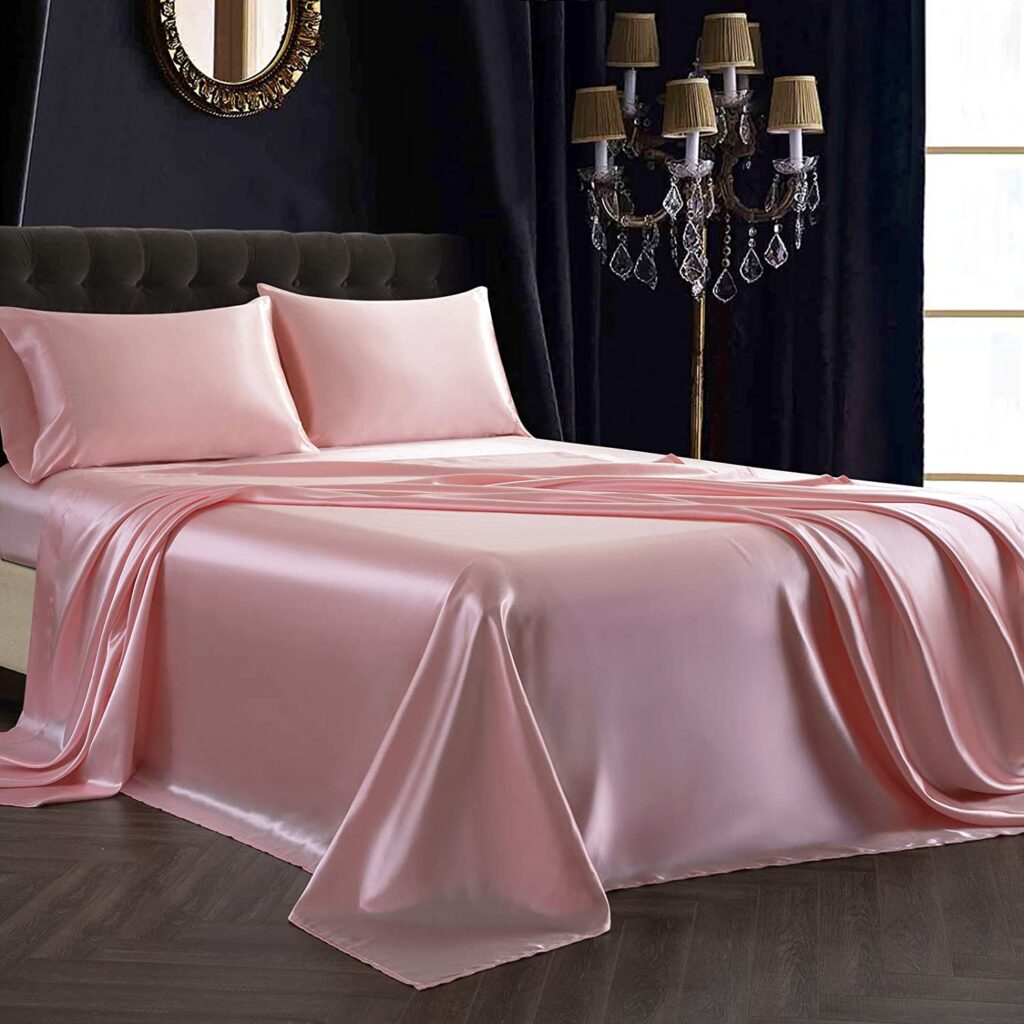 Satin Bed Sheets for Mom
These soft and silky sheets will make you want to sleep next to your mom all over again.
---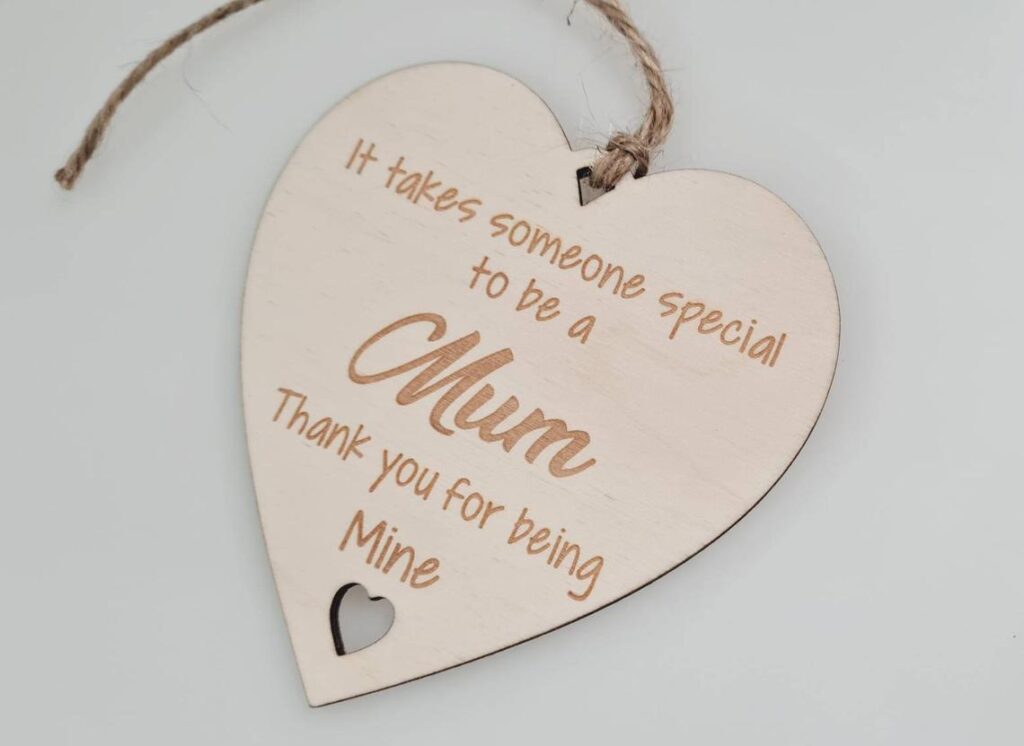 Heart Plaque For Mom
Thank her for being there with this hanging heart for that special mom. Can also be used as a gift tag, or this flower shaped plaque.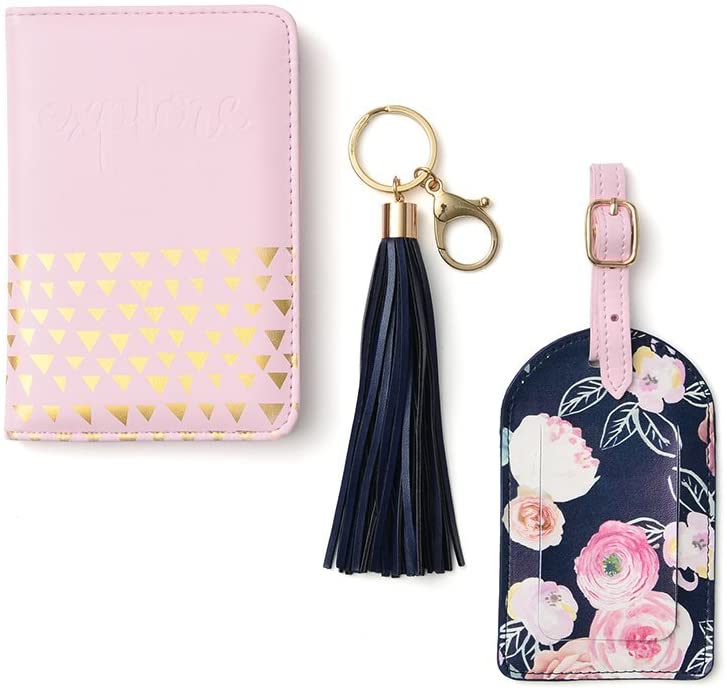 For the Mom that Loves to Travel
For the mom that loves to travel or about to, from now on she will travel in style. Maybe even team up with your sibling and book a vacations for the best mom, we are sure she will love this gesture from daughters and sons together.
---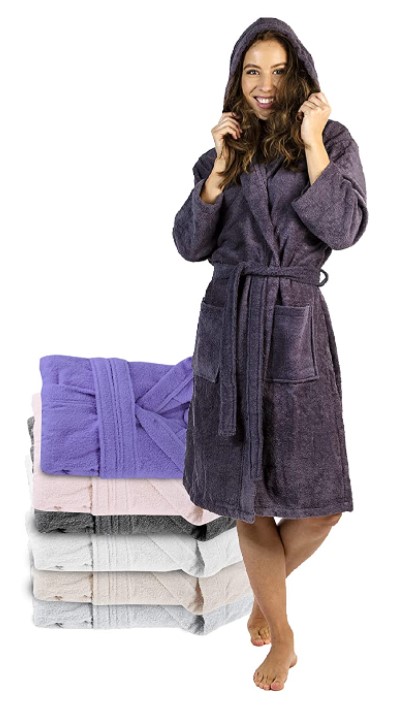 Bathrobe For Mom
Made of 100% Turkish Cotton, this will make her feel comfy and cozy, perfect after a home spa or just everyday on those cold nights.
---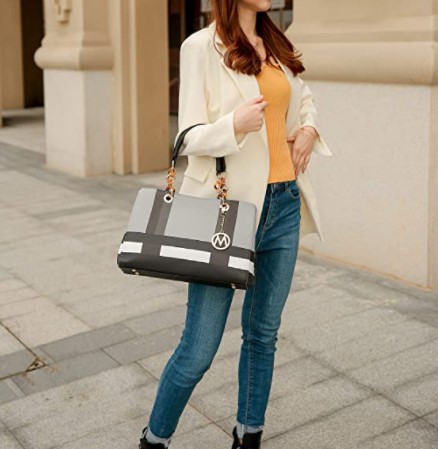 For the Mom that Loves Handbags
You won't go wrong with a casual and stylish handbag for your mom, with plenty of room to carry everything which is available in 33 different color styles. And if you are the dauther why not get one for yourself in a different color and go out for a nice mother, daughter birthday lunch in style.
---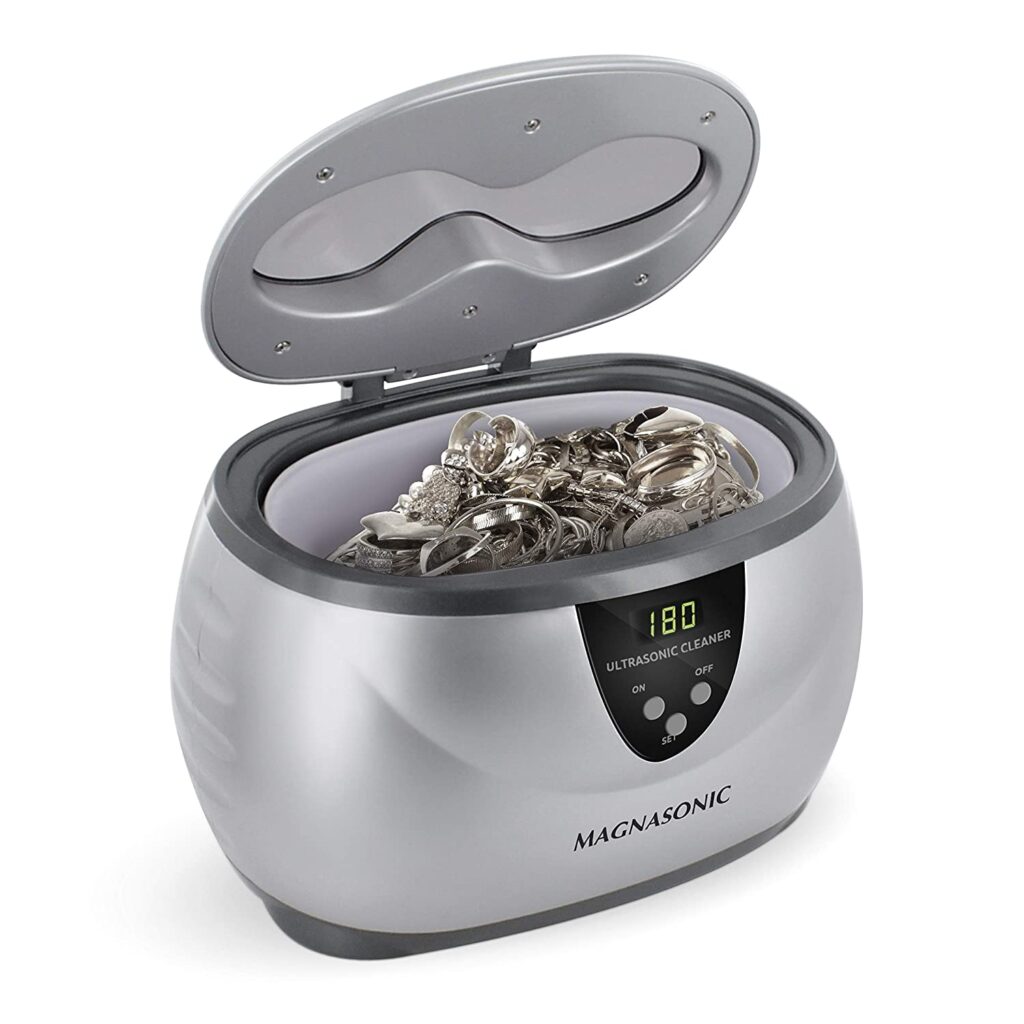 For the Mom with Lots of Jewelry
Most moms have a lot of jewelry and it's not easy to keep them clean which is important, this machine will easily clean her jewelry, eyeglasses, watches and more, so why not clean also yours on your next visit to mom's place or if you live with her even better.
---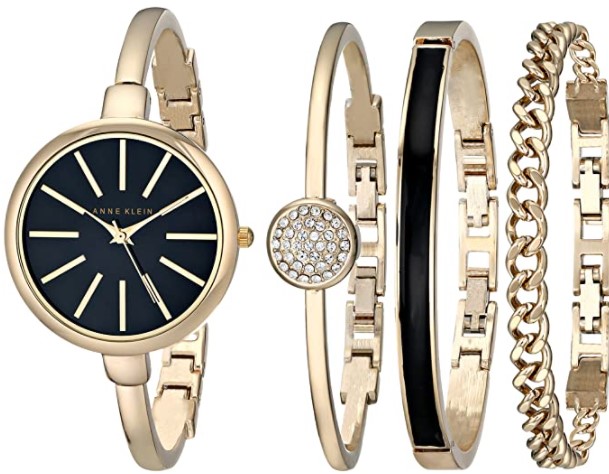 Gift for Mom that Jewelry is never too many
If your mom is one that loves jewelry and thinks that it's never enough, this amazing bangle, watch and bracelet set will surely cheer her up, and as a plus the set comes in a fancy box which makes it the perfect gift set.
---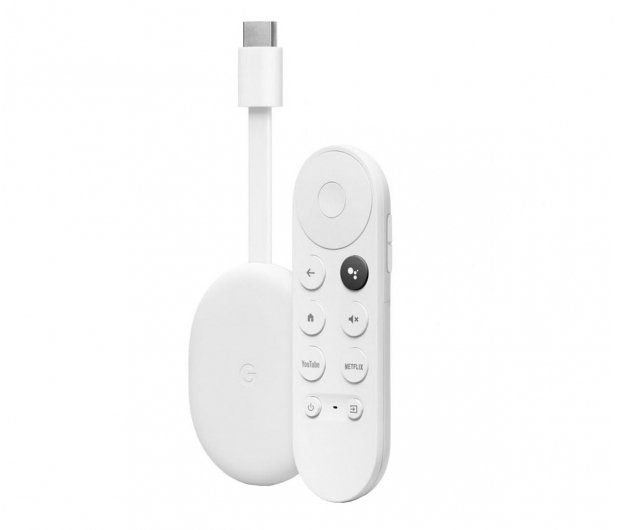 For the Mom that Loves TV: Google Chromcast
Get your mom into new technology, this device will allow her to watch to use any of the popular streaming service along with other features, but lets get her started with that for now. Latest version also includes remote control and voice control, but if you have a lower budget just go for the Google Chromecast at just $29.99.
---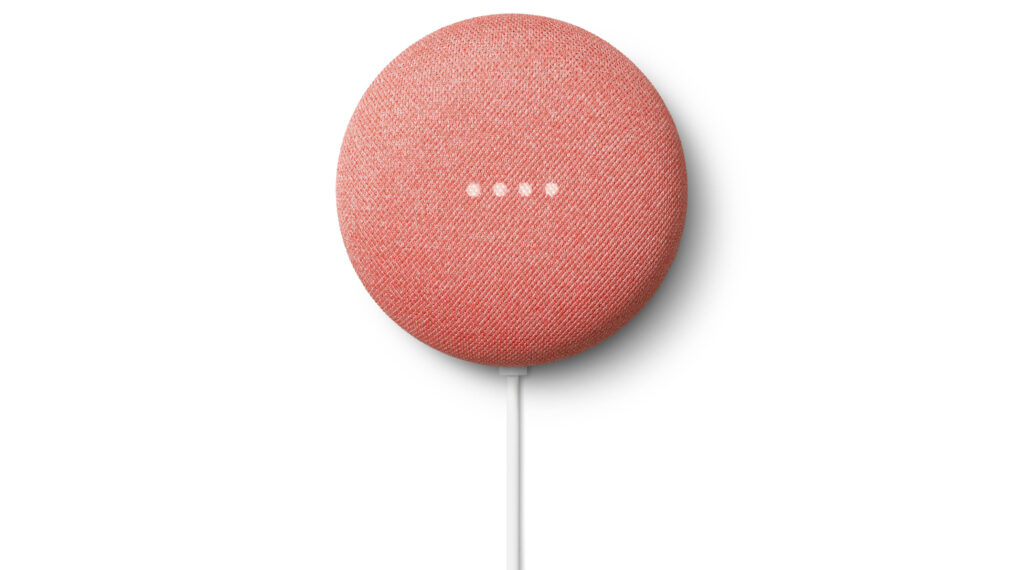 For the Mom that need Help at Home: Nest Mini
Too many things this mini speakers can do so lets just get to the imports ones, apart from the obvious plays music, this smart speaker can answer questions just by speaking to it, you can play games with it and will surely keep your mom company! If you want to know more what it can do visit Google's Nest help here.
---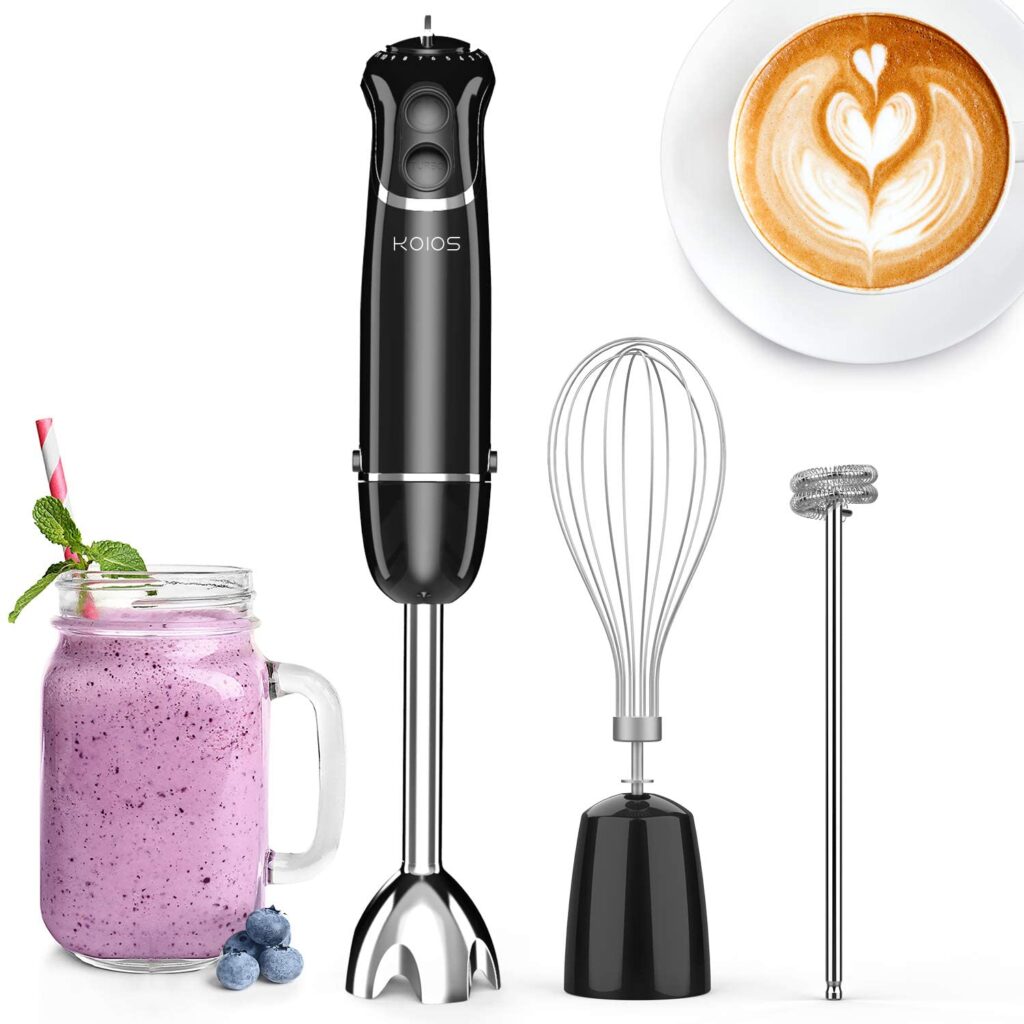 For the Kitchen Mom
Apart from blending, she can use it as a egg beater, whisk and milk frother, handy and will save her some space in the kitchen.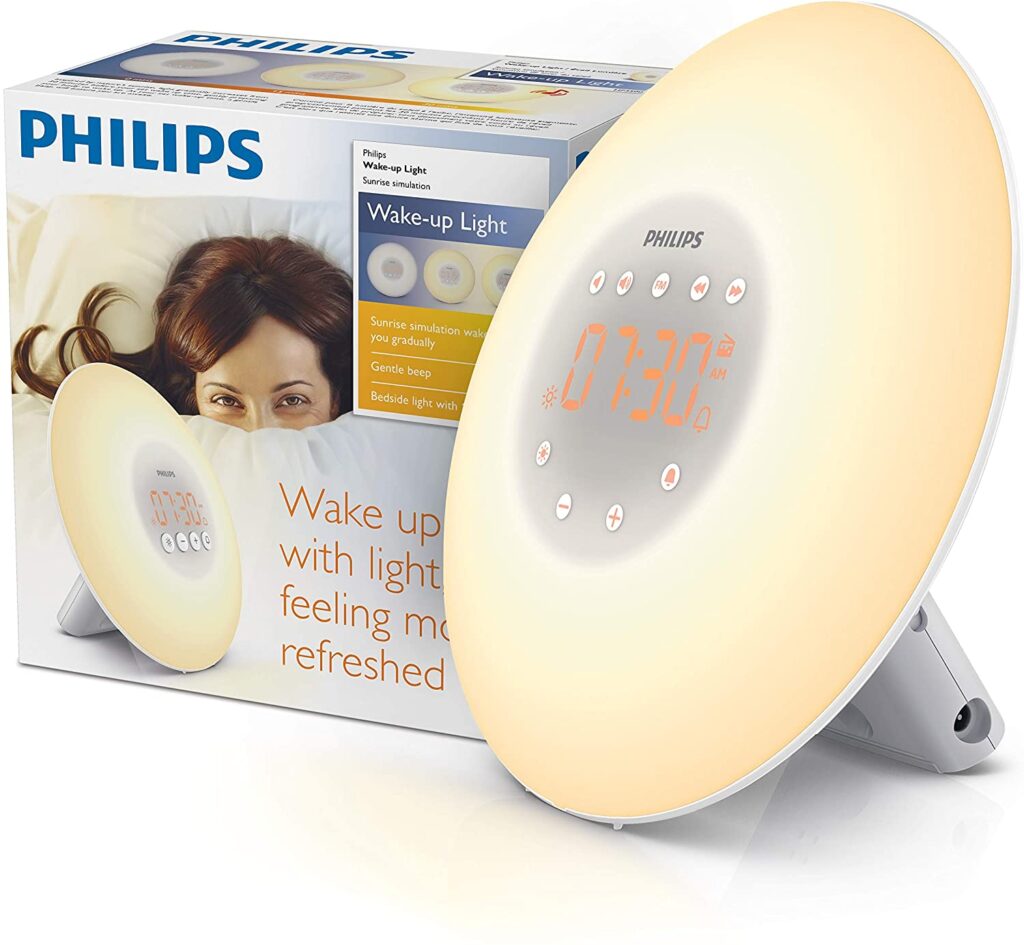 For the Mom that needs Sunshine
Not an ordinary alarm clock, this will wake up your mom feeling more refreshed, with Sunrise Simulation and sound gradually increasing in volume to complete the wake up experience which is clinically proven and recommended by physicians and pharmacists for establishing a healthy sleep and wake routine. She will love more each morning.
---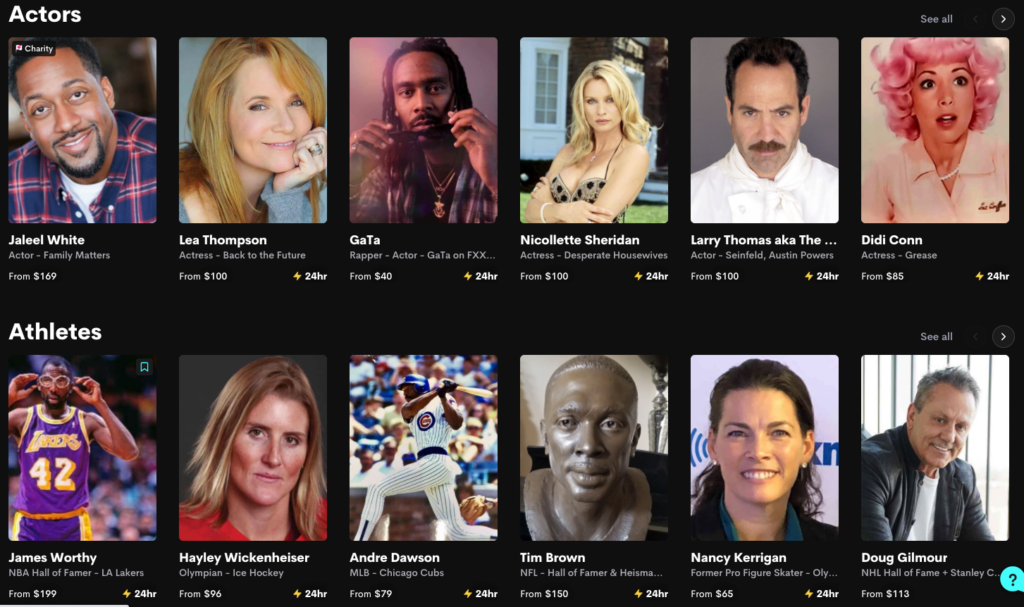 A Gift for Mom that Loves Celebrities: Personalized Celebrities Videos
If you really want to surprise your mom, get her a personalized video message from a celebrity, you might even find her favorite celebrity or an actor from her favorite show or her favorite musician, there are 1000s to choose from. This will surely be a gift that she will remember for ever. We know this ca get a little expensive from certain celebrities, so why not make it from daughter and son, sisters or brothers.
---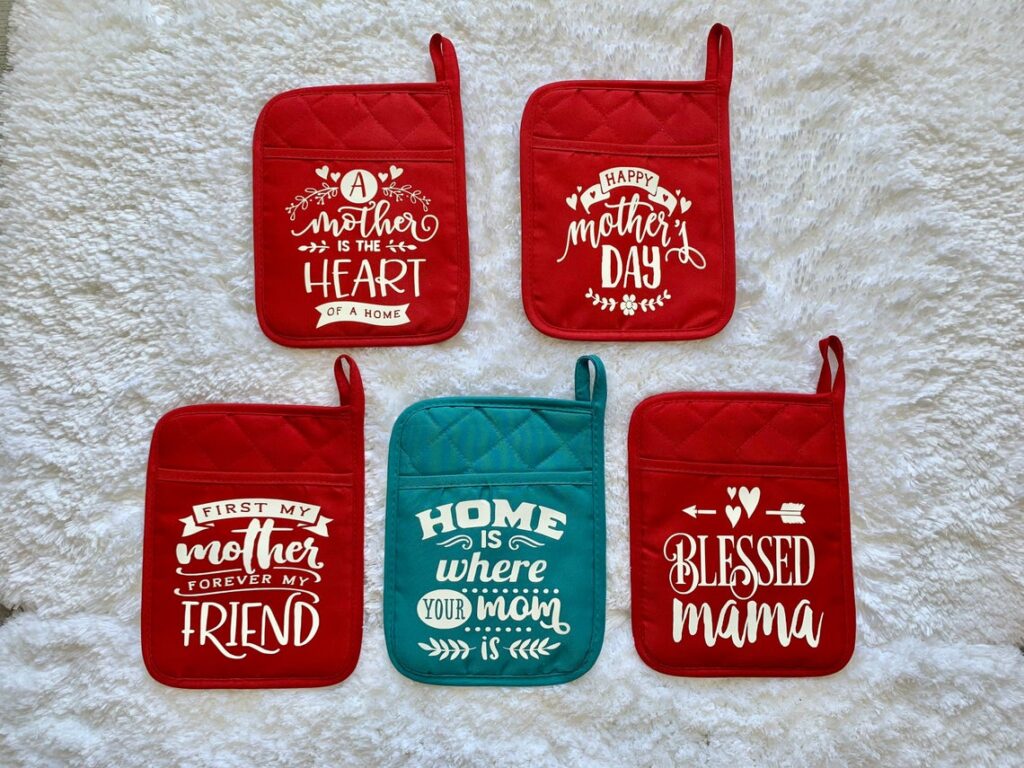 A Gift for Mom/Best Friend
Pot holders with a meaningful message for your special mom. This can be for mother's day, her birthday or christmas, from the daughter or from the son. Our favorite message "Home is where your mom is".
---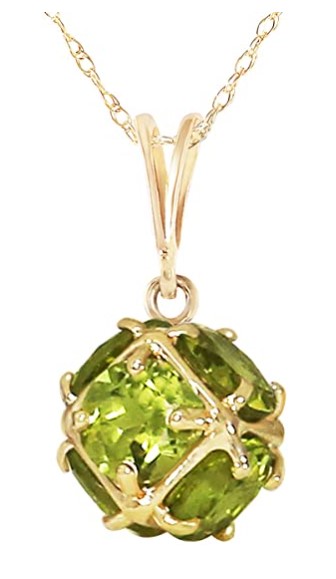 A Gift for Mom that Loves Green
If you are looking for an elegant gift for your mom, this classy necklace will fit perfectly on your beautiful mom. And let's face it, she surely deserves it.
---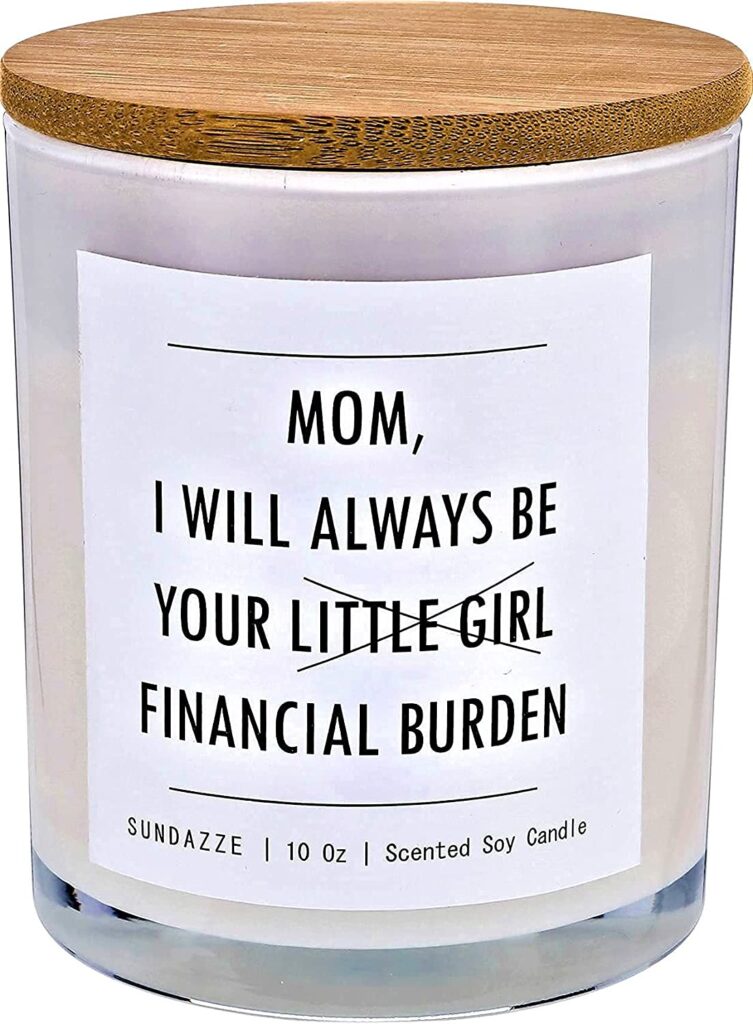 A Gift for Mom with a Sense of Humor
Why not a funny gift but with a nice scent. This will make your mom laugh especially if she has a good sense of humor and you really are her financial burden but still her little girl. This organic soy 25oz candle will burn for 70 hours.
---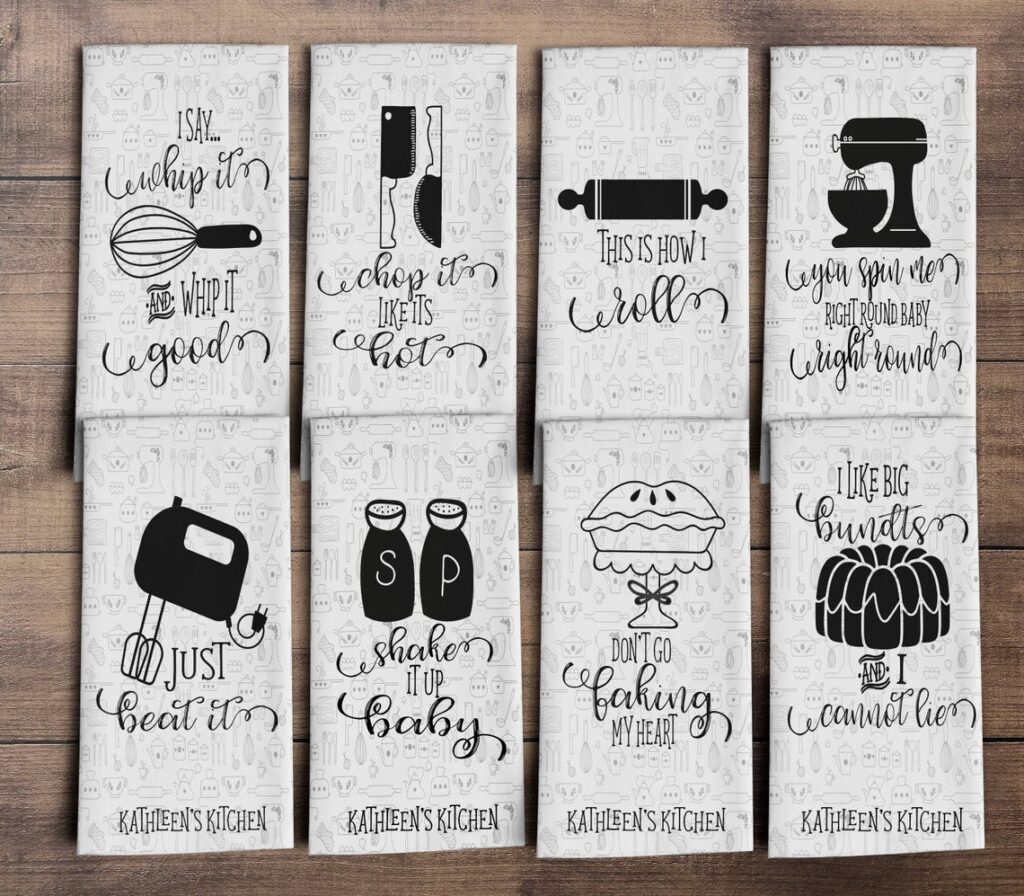 Funny Dish Towels for Mom
A funny gift is always more fun to give. These dish towel will make your moms kitchen more fun, you have an option to personalize the bottom test "Mom's kitchen" for example and if you want more than one they have a great discount.
---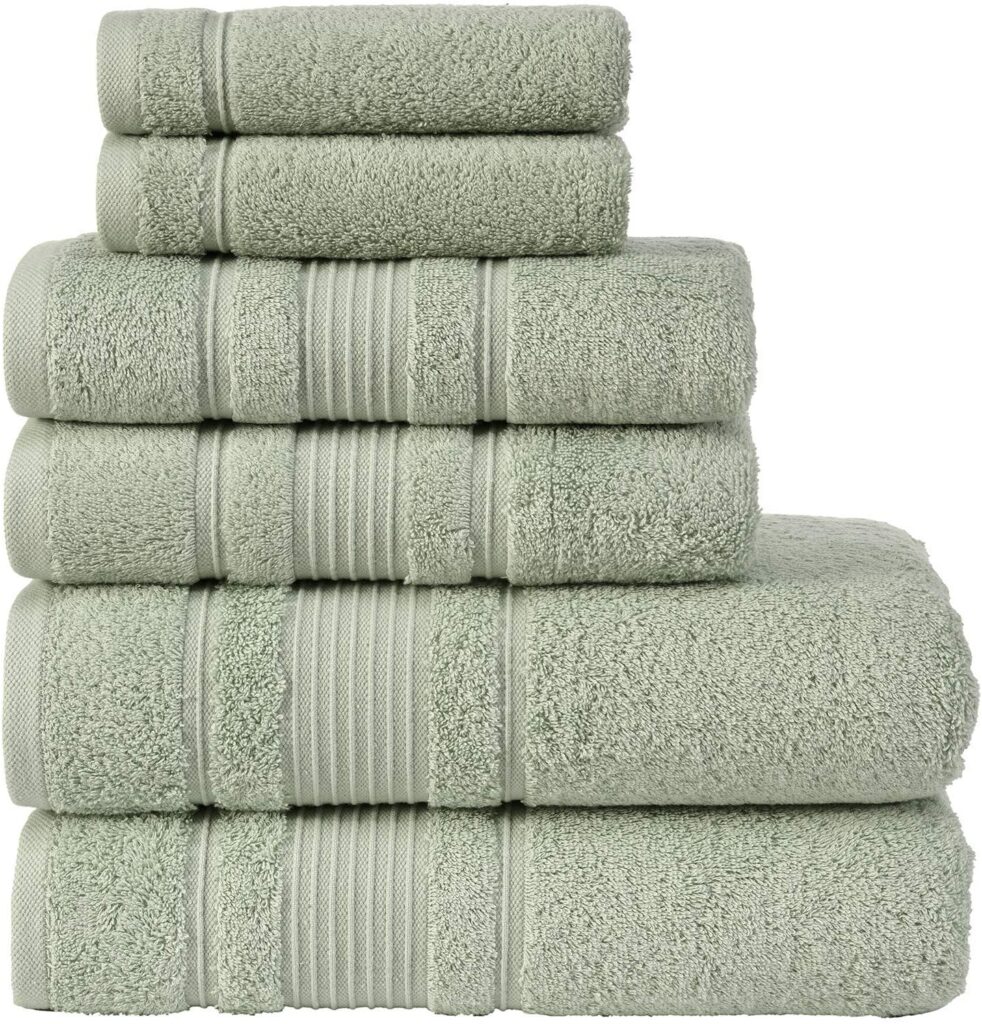 Turkish Cotton Towels Gift for Mom
These super soft Turkish bath towels will make your mom feel like she's at the spa. Available in eight different colors.
---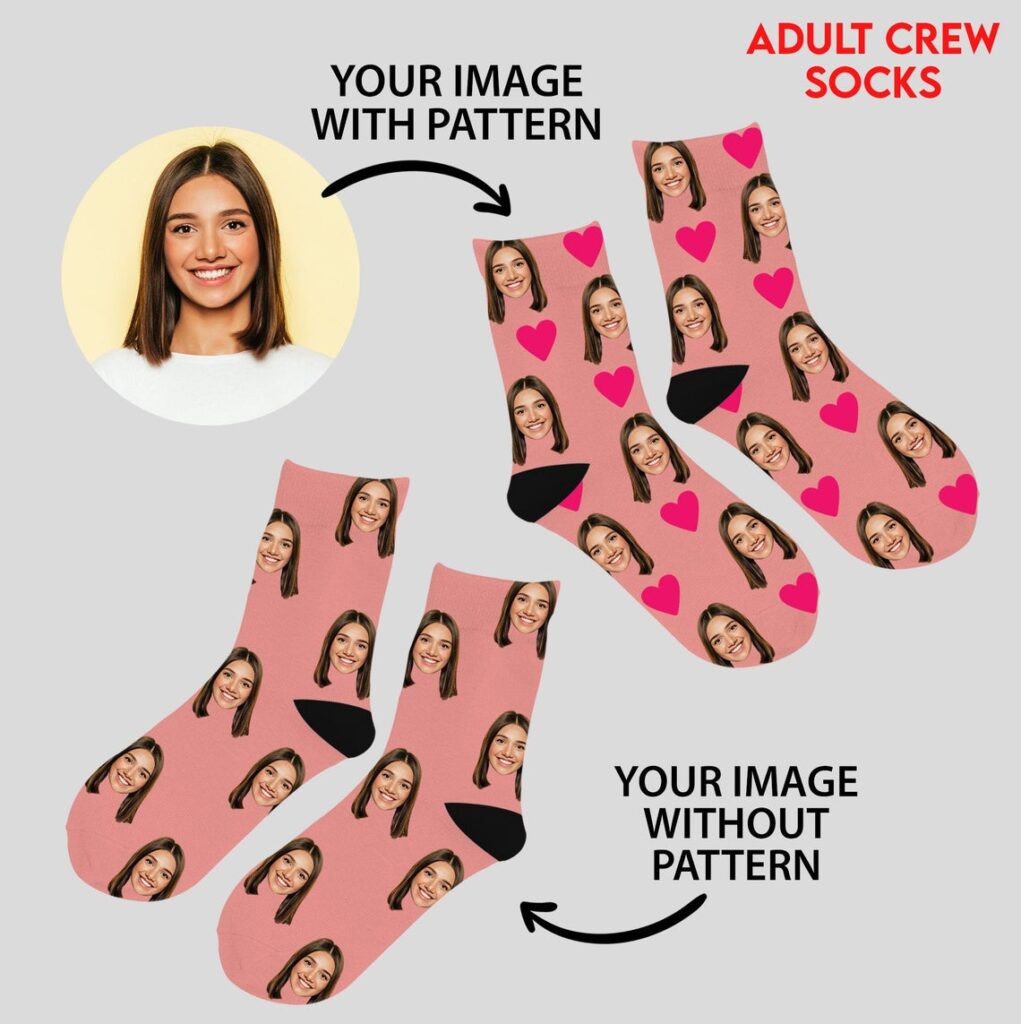 Funny Gift for Mom
We can't get enough of funny gifts, as described in the image you can get either your face or your moms face on these custom printed socks. Will smile every time she puts them on.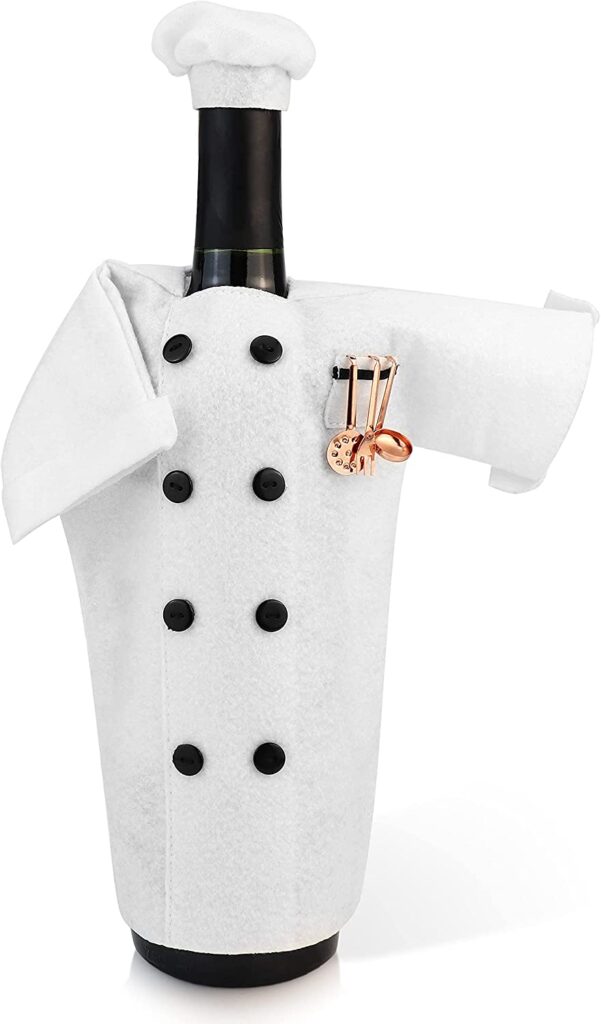 A Gift for Mom that Loves Wine
Does you mom like wine? First pick a nice bottle of wine, here's an article Choosing a wine in a supermarket to help you pick the right one. Grab that perfect bottle of wine and gift it to you mom in this cute chef wine cover, this will surely make her smile.